Lazada Daily Cashback Vouchers
Collect and Use these vouchers
Get all the best deals via our Social Media! Follow Us!
Lazada 7.7 Terhangat Sale is happening from 7-9 July 2023. Enjoy RM9 off for every RM90 spend with Lazada Bonus! Collect from 3 – 9 July 2023 and use from 7 – 9 July 2023. Get the biggest savings during this sale. Enjoy great discounts of up to 77% off, 77% daily cashback and fast and free shipping with no minimum spend*.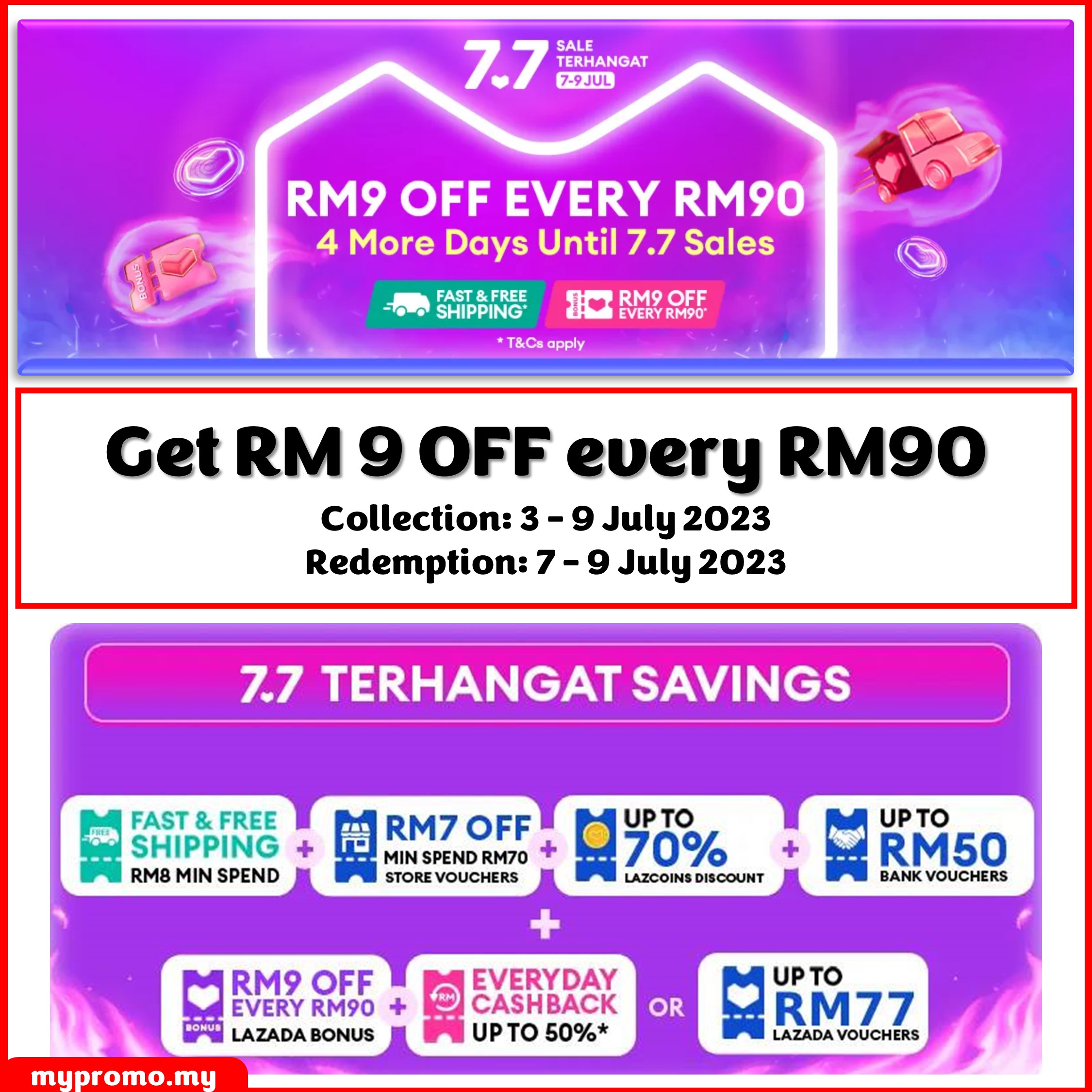 Lazada Bonus is BACK for 7.7 Terhangat Sale!

Lazada Bonus for 7.7 Sale Terhangat
Collect Lazada Bonus from 3- 9 July
Collect Here: https://mypromo.my/laz/bonus
Details:
• Get RM 9 OFF every RM90
• Collection: 3 – 9 July 2023
• Redemption: 7 – 9 July 2023
Maximize Savings:
• Lazada Bonus can be stackable on itself.
• Bonus can be stackable with Free Shipping, Store, LazCoins and payment vouchers!
• Stackable with confirmed Cashback
Lazada 7.7 Terhangat Sale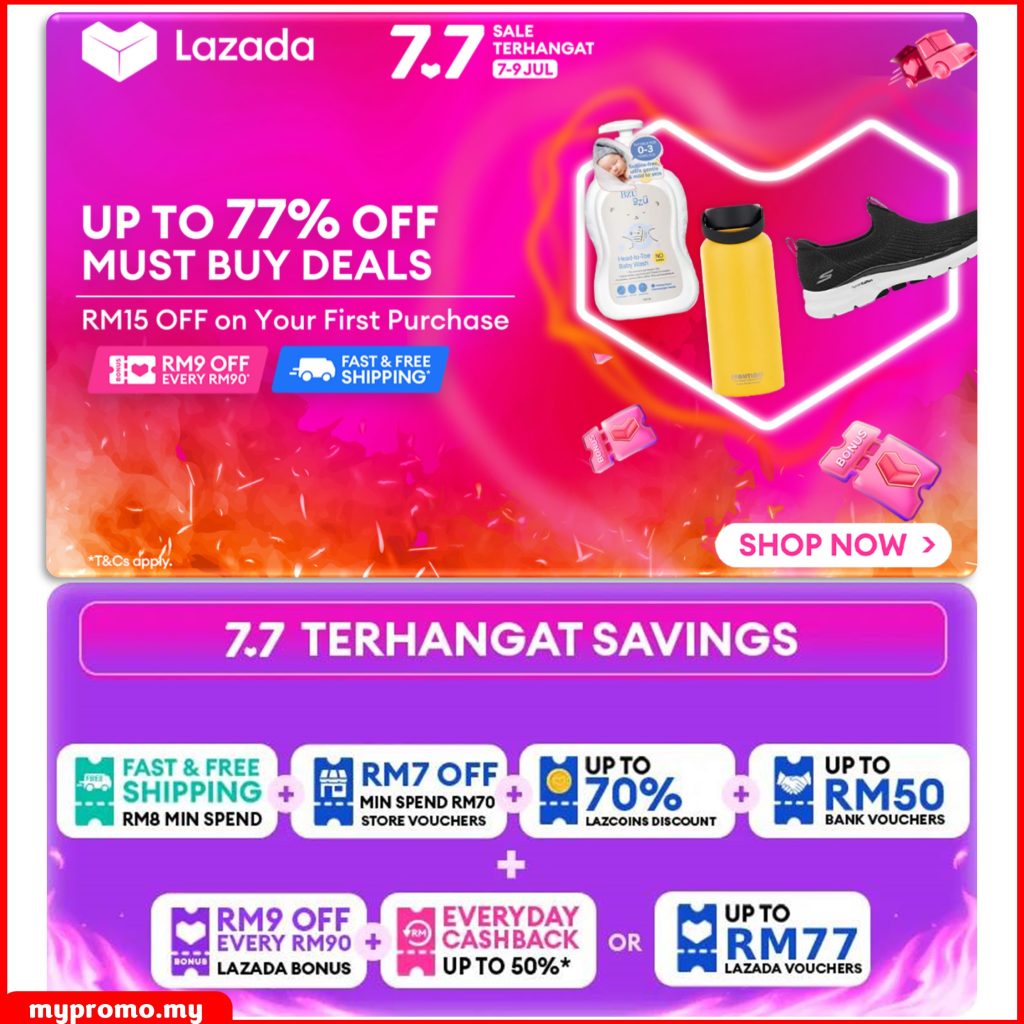 Lazada 7.7 Sale Terhangat
Collect Vouchers and Add to Cart now!
Shop Now: https://mypromo.my/laz/77
Fast and Free Shipping
77% Cashback
Lazada Bonus – RM9 Discount Every RM90
Brand Mega Offer 70%

More Vouchers to Collect

Free Shipping Vouchers
• https://mypromo.my/laz/shipping
Bank Vouchers
• https://mypromo.my/laz/bank/voucher
TNG eWallet Vouchers
• https://mypromo.my/laz/tng
Boost Voucher
• https://mypromo.my/laz/boost
Cashback Vouchers
• https://mypromo.my/laz/cashback
Store Vouchers
• https://mypromo.my/laz/voucher
NEW – Lazada Blind Box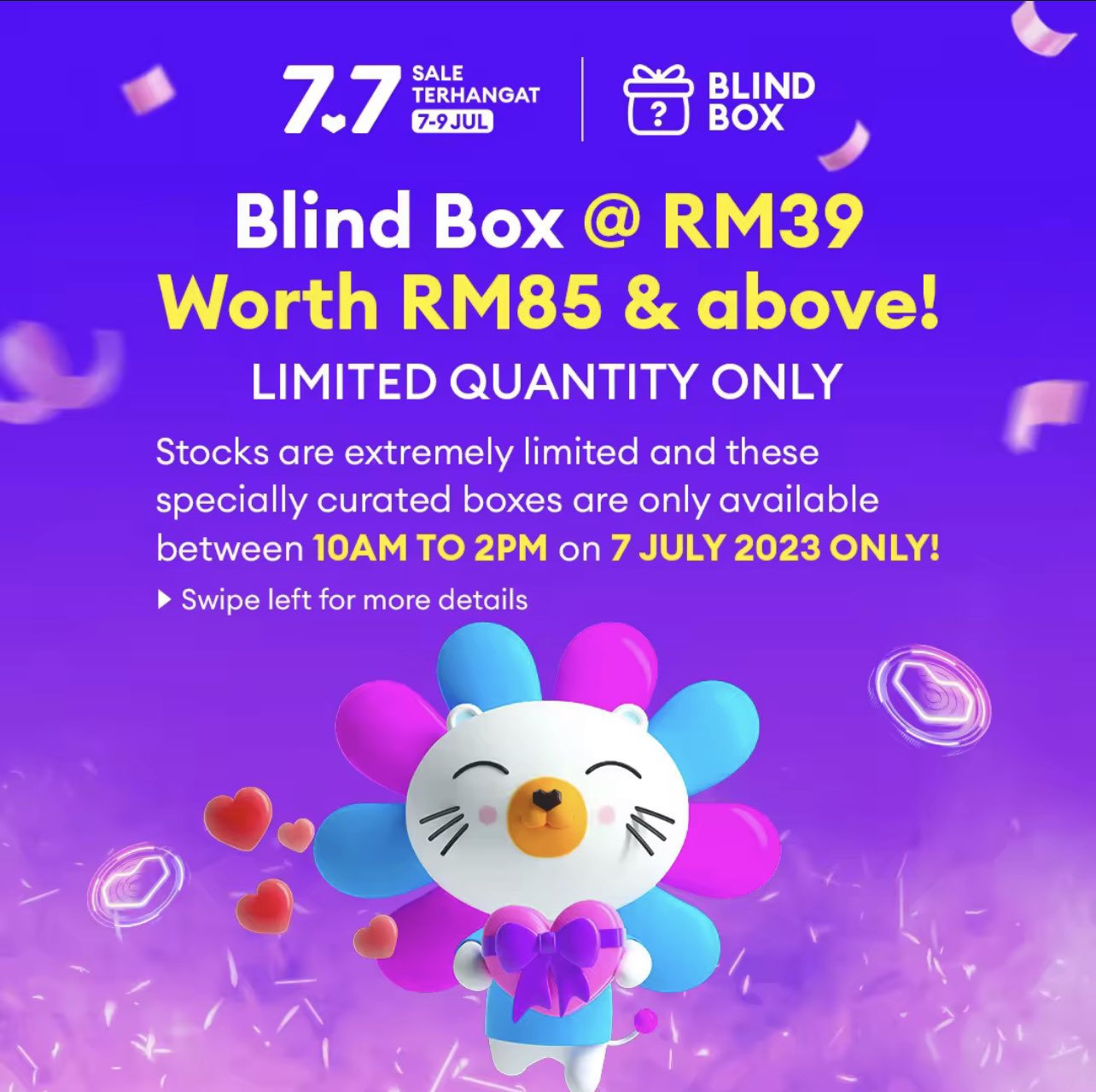 Blind Box at RM39 [worth RM85 and above]

Link: https://mypromo.my/blindbox

Check out all the participating brands. Any particular brand you are interested?

*No More Surprise Box, Only Blind Box
More Promotions, Offers and Vouchers from Shopee and Lazada
LAZMALL OFFICIAL BRAND STORE
Shop for branded goods with an original guarantee. Shop with confidence from Official Brand Stores at LazMall that promise 100% original products. Enjoy 1000+ Global brands at your fingertips such as Nike, Adidas, Maybelline, L'Oréal, Huggies, Olay, Unilever, Nestle, P&G, Herschel, Pampers and many more. We will be offering you more exclusive new brand launches – FIRST IN SOUTHEAST ASIA.
ADVANTAGES OF MAKING THE FIRST ORDER
Get an extra RM15 exclusive voucher and free shipping for your first order. Earn 'Lazcoins' every time you log into the app, collect vouchers from Lazada and Lazada Sellers!
BUYER'S GUARANTEE
Check product comments, rate sellers and connect with sellers directly! Unsatisfied? You can return the item for a full refund.
SECURE PAYMENT
Payment options can be done in several ways provided. Cash on delivery, in installments, LazWallet and secure banking transactions provided in the app
PERSONAL RECOMMENDATIONS
Shopping is made easier with algorithmic product recommendations to ensure the products, offers and vouchers, according to your taste, are Just for You.
BEST CATEGORY
Enjoy shopping and home delivery with a wide selection from electronics, sports gear, beauty, kitchenware, gaming, cars & motorcycles, fragrance, health, men's & women's fashion and more!
mypromo's Payday  WhatsApp Groups
Want to receive promos and deals via WhatsApp?
Join our 9.9 Sale groups!
1. Only Admin Can Post
2. 9.9 Sale Chit Chat Group
All Are Welcome!
Sign Up for New Accounts and Get Rewarded

mypromo.my: Referral Codes Center
Get Rewarded When you sign up with Referral Codes