Get all the best deals via our Social Media! Follow Us!
Just in*
Mega Day – Lazada 8th Birthday Campaign
Click here to claim: https://www.lazada.mypromo.my
RM8 off min spend RM59
Voucher Codes:
fromlazadatoyou
lazadatemanyou
staysafewithlazada
keepcalmandlazada
lazadawithyou
lazshopfromhome
lazadahasitall
key in the codes in the search, and claim (Fast before all ran out)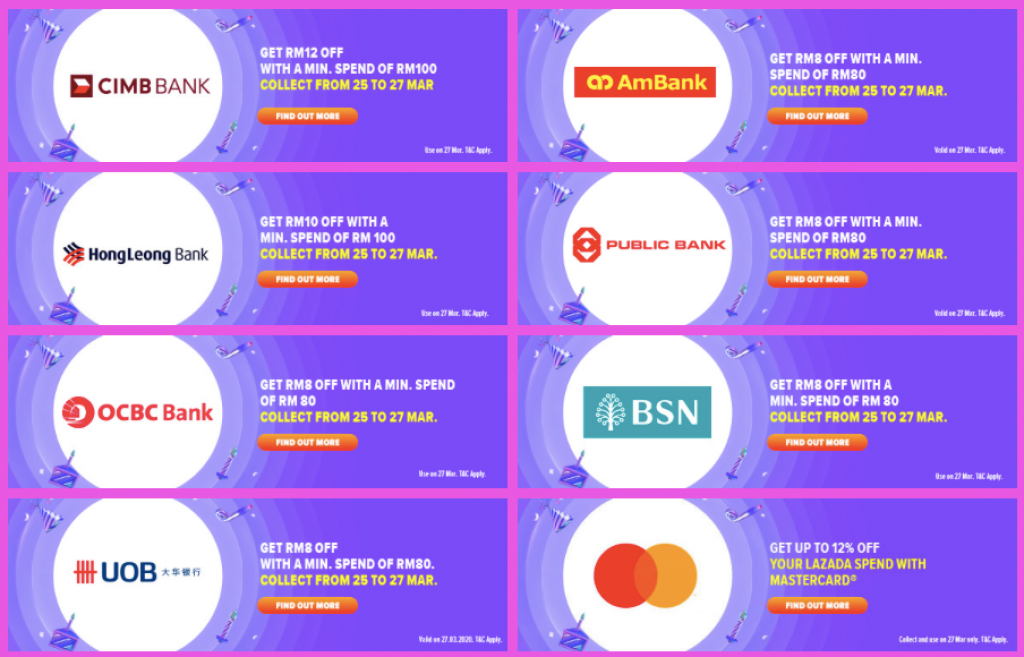 Will be available on 25 March onwards.
Valid on 27 March only.
Remember to Like and Share on your social media.
Citibank: Discount RM 15 on a minimum spend of RM 100
Collect @ https://invol.co/cllz9t
Maybank: Discount RM 12 on a minimum spend of RM 100
Collect @ https://invol.co/cllz9r
RHB: Discount RM 12 on a minimum spend of RM 100
Collect @ https://invol.co/cllz9o
HSBC: Discount RM 12 on a minimum spend of RM 100
Collect @ https://invol.co/cllz9l
AEON: Discount RM 12 on a minimum spend of RM 120
Collect @ https://invol.co/cllz9j
CIMB: Discount RM 12 on a minimum spend of RM 100
Collect @ https://invol.co/cllz9i
Ambank: Discount RM8 on a minimum spend of RM80
Collect @ https://invol.co/cllz9g
HLB: Discount RM 10 on a minimum spend of RM 10
Collect @ https://invol.co/cllz9e
PBB: Discount RM8 on a minimum spend of RM80
Collect @ https://invol.co/cllz9d
OCBC: Discount RM8 on a minimum spend of RM80
Collect @ https://invol.co/cllz9b
BSN: Discount RM8 on a minimum spend of RM80
Collect @ https://invol.co/cllz9a
UOB: Discount RM8 on a minimum spend of RM80
Collect @ https://invol.co/cllz97
Sign Up for New Accounts and Get Rewarded

mypromo.my: Referral Codes Center
Get Rewarded When you sign up with Referral Codes