Lazada Daily Cashback Vouchers
Collect and Use these vouchers
Get all the best deals via our Social Media! Follow Us!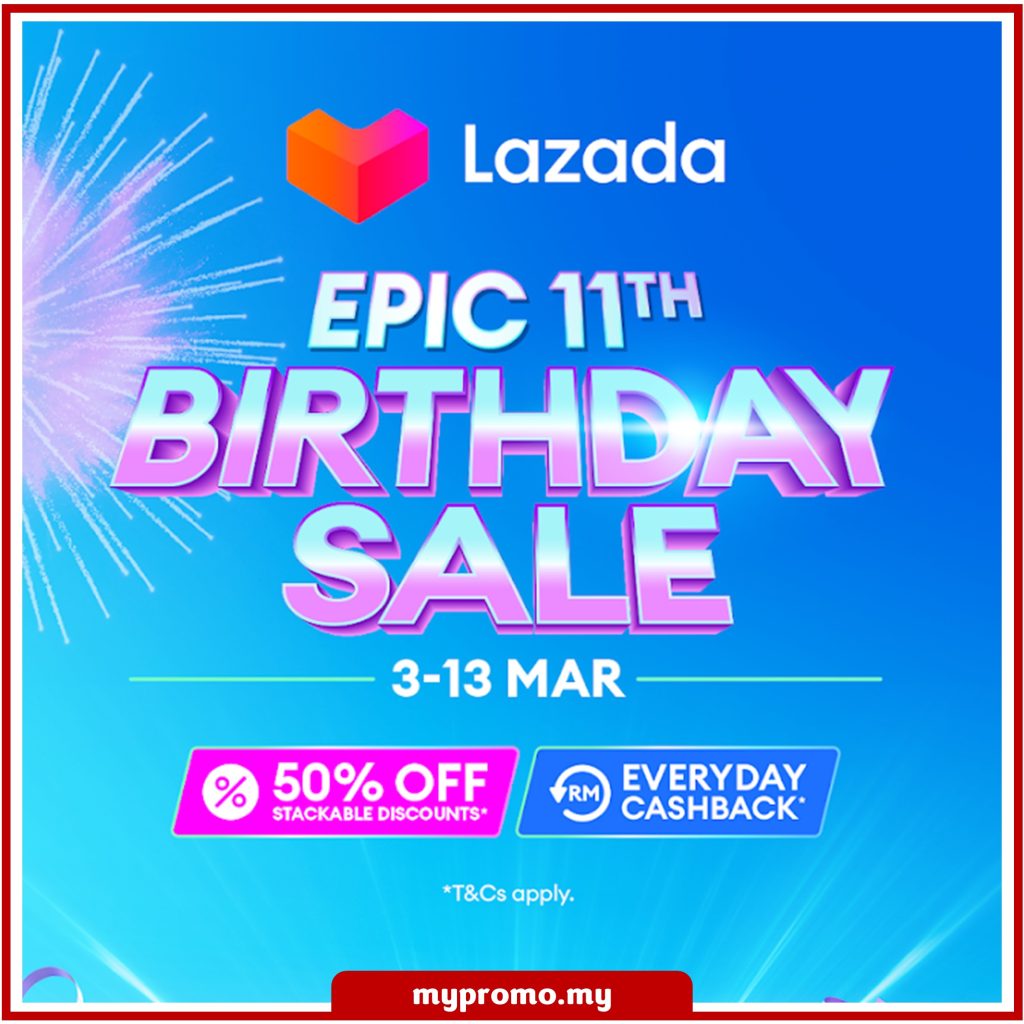 Lazada Birthday sale 2023 is here and they are going to celebrates their Epic 11th birthday with a big bang! You can expect a lot of vouchers from banks, stores and Lazada, great deals, flash sales, Crazy Brand Mega Offers, Lazada Bonus, contests and more.

Lazada 3.3 Epic Birthday Sale
Collect Vouchers & Add to cart
Epic 11th Birthday Sale Chup Dulu!
Link: https://mypromo.my/lazada/chupdulu
You can Chup Dulu (pay deposit first) for selected items from 19 Feb-2 March & pay remaining balance on 3rd March from 2 AM-11.59.59PM!
● Deposit Period: 19 Feb-2 March
● Check Out Period: 03 March 2AM – 11.59.59PM
● Pay 10% Deposit
Bank Vouchers – Collect & Use from 03.03 to 13.03
Link: https://mypromo.my/lazada/voucher
Mastercard – 12% off capped at RM12
All Citi Cards – RM 18 min spend RM 100
Lazada Citi Credit Card – RM 25 min spend RM 100
RHB Credit Cards – RM20 min spend of RM 150
CIMB Mastercards – RM50 off min spend of RM580
CIMB Mastercards – RM15 off min spend of RM150
All CIMB Cards – RM15 off min spend of RM150
Affin Bank – RM13 off min spend of RM150
Lazada Bonus
Link: https://mypromo.my/lazada/bonus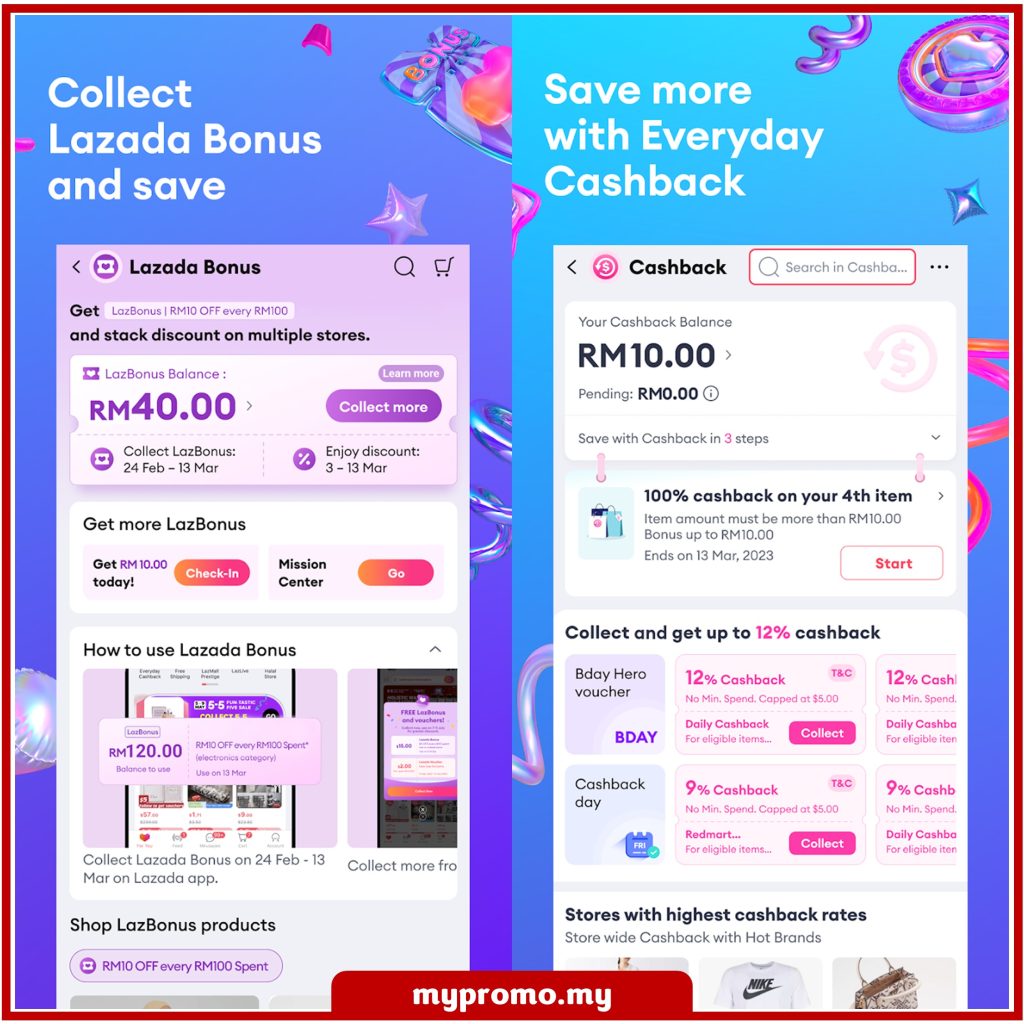 Collection: now -13 March
Redemption: 03-13 March
Mechanics
• RM 10 off every RM 100 (applicable to all categories except for digital goods & retail)
• Users to collect Lazada Bonus during teasing period to be used during mega day(s)
• Lazada Bonus can be stackable on itself, i.e.,
• For RM 10 every RM 100
• Bonus can be stackable with seller, platform, payment vouchers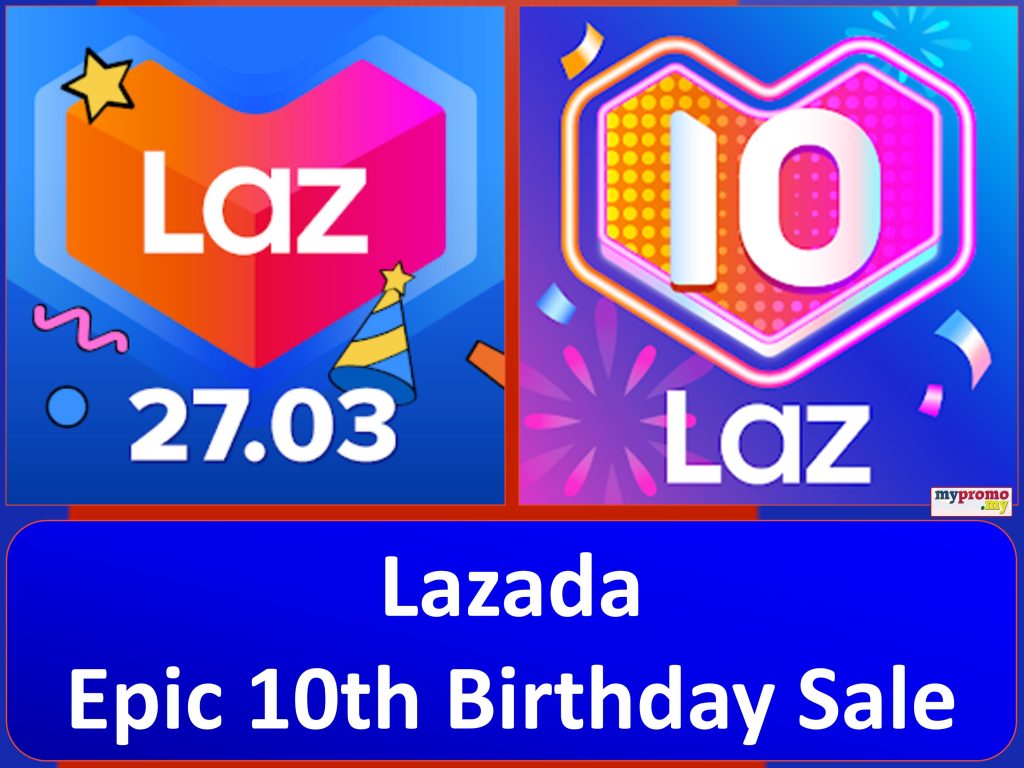 Lazzie Star
Link: https://mypromo.my/lazzie
Lazzie Star is back with Cake Master for Lazada 10th Birthday!
"Bake a cake, level up & win amazing prizes"
Game Period: 16 – 26 March | Redemption Only: 27 – 29 March
Total in Levels: 30 Levels
Title Ranks (6 in total): Apprentice -> Junior Cake Chef -> Pastry Sous Chef -> Baker Master -> Cake Star
User Journey
There are a total of 30 levels to be completed in order to be a Cake Star.
To complete each level, users will need to get baking cream to bake the birthday cake by completing missions (Share, Browse store, Add to cart, Checkout), playing a mini game and sharing & inviting friends to play Lazzie Star.
Users will be rewarded with Lazada Bonus once they have completed each level.
When users reach 5 unique levels – 10, 15, 20, 25, 30, they get a chance to participate in a draw for awesome prizes!
In addition to that, users can come in daily to bake their cake and collect vouchers at Lazzie Star's Voucher Store.
Lazzie Hunt
Hunt the best rewards using Lazzie in celebration of Lazada 10th Birthday!
"Colllect Lazzie for Rewards"
Game Period: 21 March – 8 May 2023
Visit Main Page now: Lazada Epic 11th Birthday Sale
Lazada Birthday Sale x Bank Vouchers
Link: https://mypromo.my/laz-partnership
Vouchers will be made available for collection at midnight. The vouchers are going to be HOT!
We list out links to each bank if you need to collect any specific bank vouchers.
Enjoy Crazy Double Offer and save RM16 when you pay your Bill or Mobile Top Up on 27-29 March!
Go Here: https://mypromo.my/digitalgoods
Pay RM80 and enjoy RM10 + RM6 Rebate!
Enjoy:
1. RM10 Off Min Spend RM80
Use Code: LAZBkYBq
Lazada Birthday Sale x MEMBER'S REWARD
Link: https://mypromo.my/lazada/tng
Birthday's Deals:
• Collect RM25 Voucher
• No min spend
• Use on 27 – 29 March
Under Armour
Link: https://mypromo.my/laz-underarmour

• Up to 65% Off
• Buy 3 Extra 35% Off | Buy 2 Extra 25% Off
• 15% Off Vouchers
• Lazada Bonus RM10 Off every RM100
• Use Code UACIMB for extra RM30 Off
Casio
Birthday Deals:
• Midnight Voucher – 20% Off
• All Day Voucher – 15% Off
• Lazada Bonus RM10 Off Every RM100
• Crazy Brand Mega Offer
Buy Casio G-Shock GD-400-1B2 Black Resin Band Men Sport Watch @ RM299 (Before voucher & Bonus)
Add to cart now: https://invol.co/cl9vd64
Best time add to your Casio collections!
Don't Miss Out on Daily Vouchers 60% OFF Vouchers* and Free Shipping
Lazada's 10th Birthday sale brings you MAJOR savings! Shop essentials to trends with Lazada Malaysia Birthday sale and get exclusive daily discount vouchers. Plus, free shipping on your most-wanted items!
Shop on Lazada app for convenience, everything you want is one tap away! Want to treat yourself? Celebrate with RM10 Lazada Bonus, 50% Coin Cashback*, 60% deals with Brand Mega Offers and more!
That's not all, Crazy Flash Sale brings you epic RM10 to steal. So keep your eyes peeled and your fingers ready and add your items to cart before they're gone!
Lazada Birthday Sale Has Everything You Need
Here at Lazada, we have everything you need! From home essentials to lifestyle pleasures. Stay home, we deliver. Free shipping + major discounts! What better way to shop than to shop on the Lazada app?
Beauty Deals To Steal!
Lazada Birthday Sale brings you exclusive skincare and makeup deals! Be the best version of yourself this holidays with limited brand deal.
Stay Healthy With Lazada!
It can be hard taking care of your health, but not when Lazada's 10th Epic Birthday Sale has you covered!
We have the best supplements, exercise equipment and sport accessories for you to stay healthy and in shape at home.
Never Go Hungry With Lazada!
Lazada Malaysia 10th Birthday Sale has all your daily grocery shopping needs. Get your groceries delivered to your door-step by shopping on our Lazada app! We bring you the best grocery at lowest possible price! Check out Lazada's grocery store now!
So what are you waiting for? Lazada Malaysia's 10th Epic Birthday Sale starts now!
More Promotions, Offers and Vouchers from Shopee and Lazada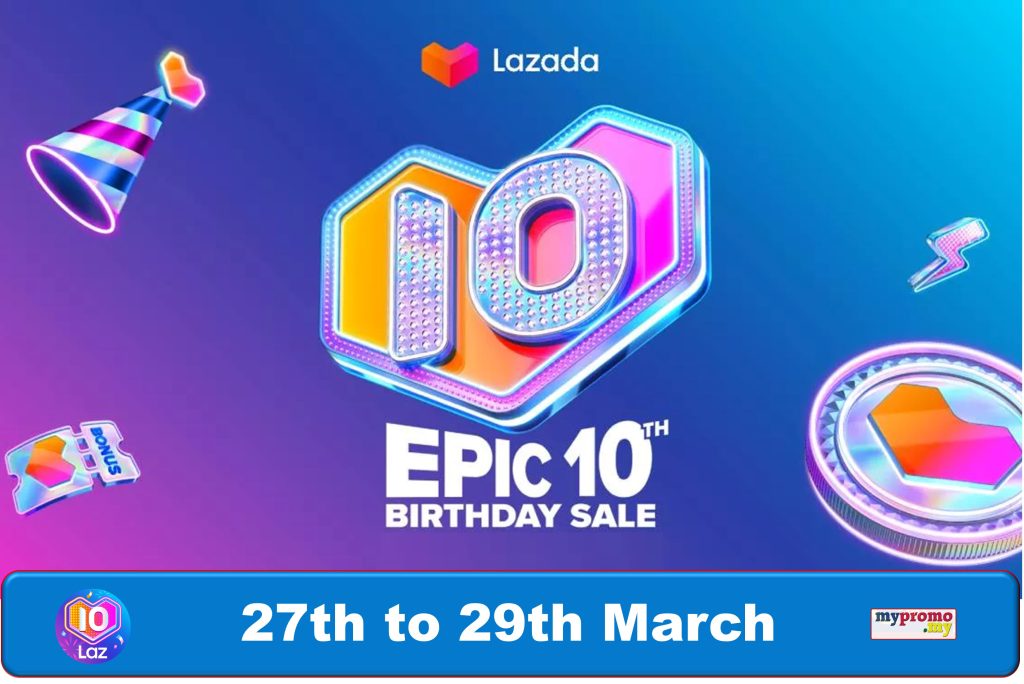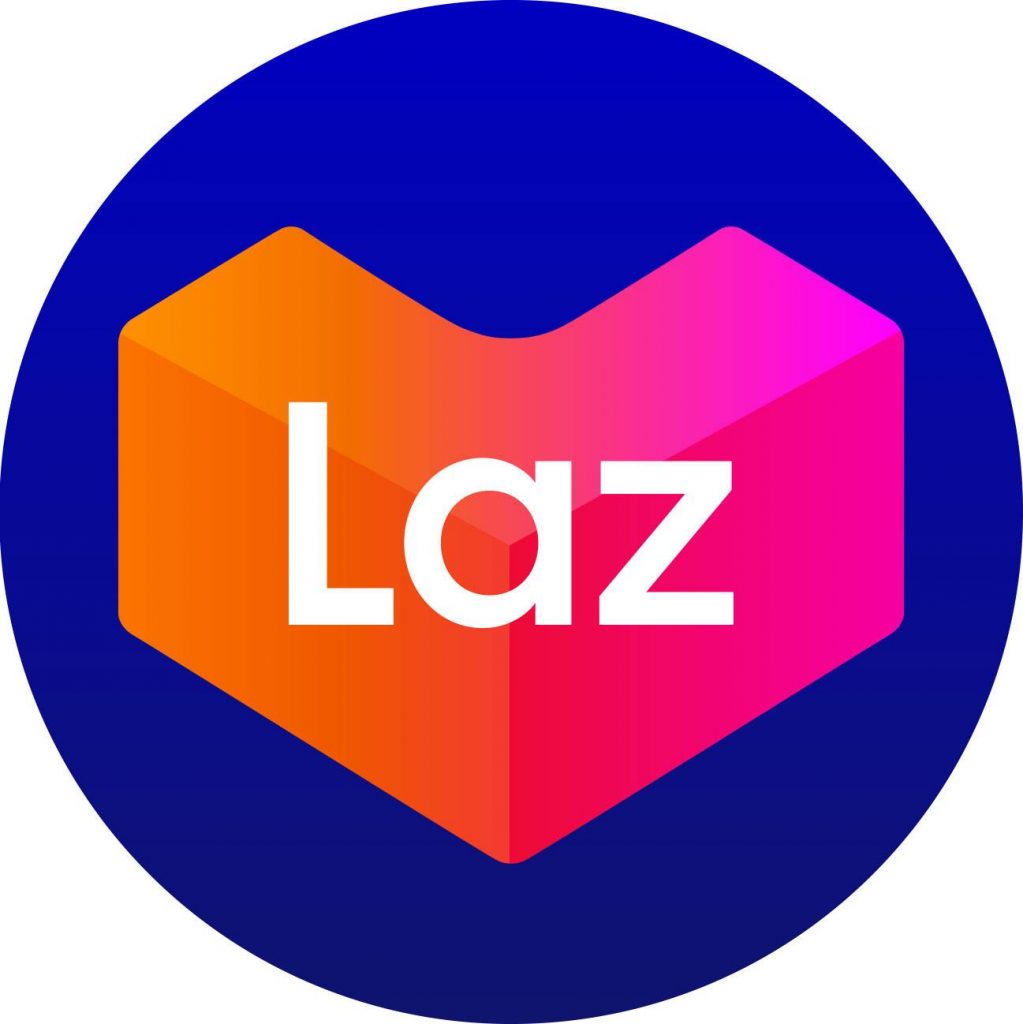 mypromo's Payday  WhatsApp Groups
Want to receive promos and deals via WhatsApp?
Join our 9.9 Sale groups!
1. Only Admin Can Post
2. 9.9 Sale Chit Chat Group
All Are Welcome!
Sign Up for New Accounts and Get Rewarded

mypromo.my: Referral Codes Center
Get Rewarded When you sign up with Referral Codes