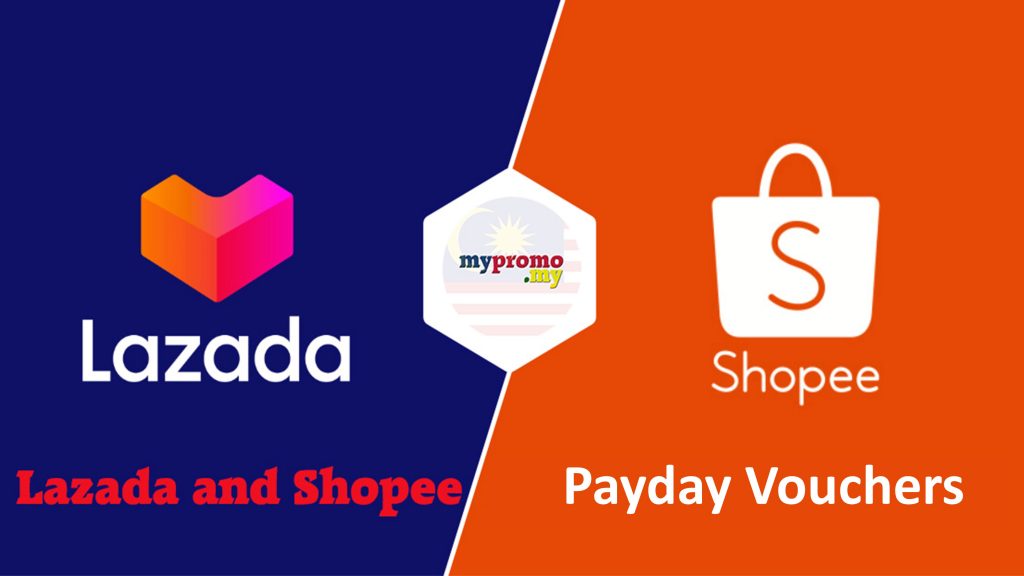 Shopee and Lazada PayDay Sale offers great discounts on your favourite items from your favourite brands. Add your items to cart now, collect all available vouchers and don't forget to checkout at midnight 25 September!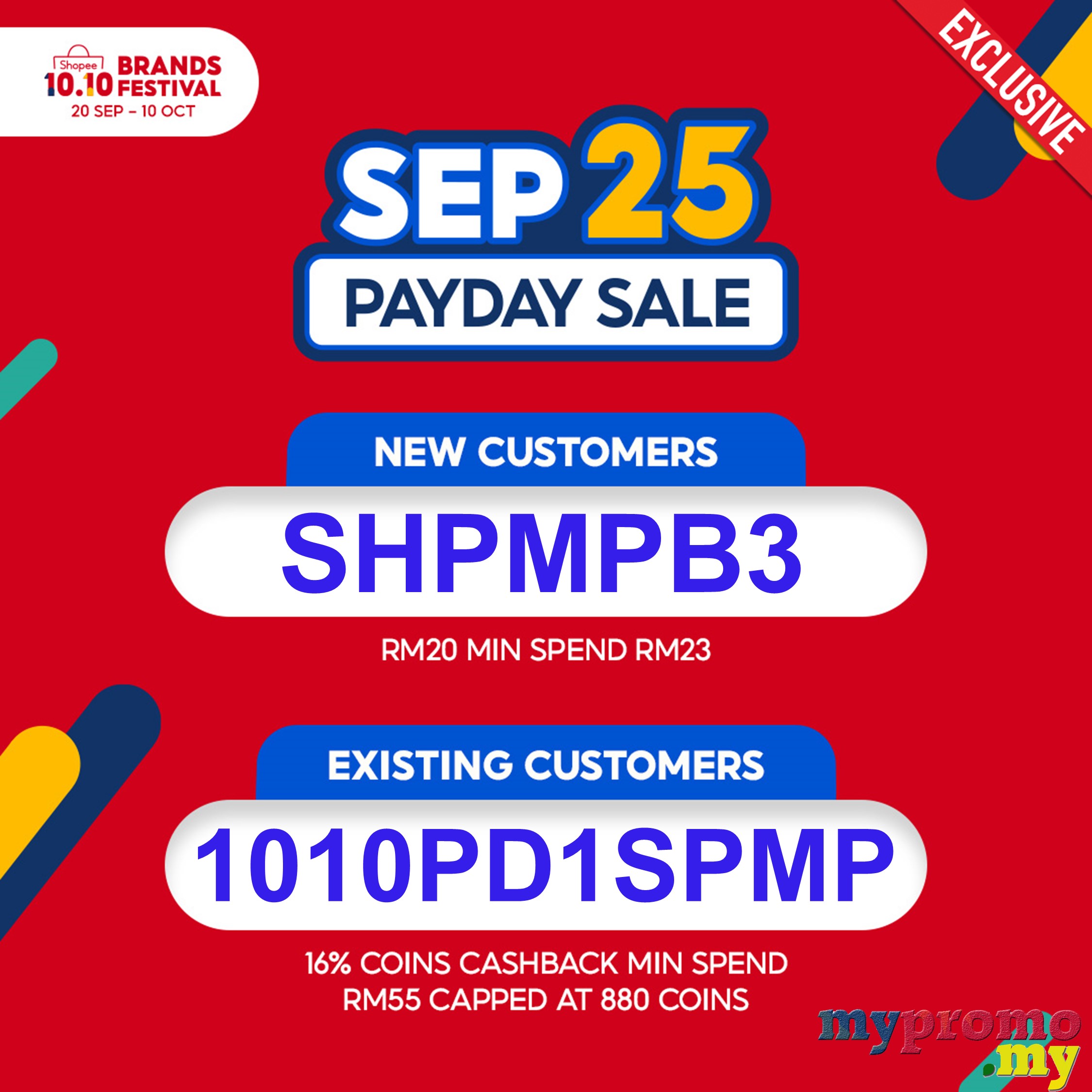 Shopee Payday Sale 25.09 Exclusive Voucher codes for mypromomy followers.
Be the firsts to claim!
How to claim:
1. Copy Code:
2. Go to Shopee Voucher Page: https://shp.ee/frdmg29
3. Paste Code and  Apply
Copy Code: 1010PD1SPMP
Value: 16% Coins Cashback min spend RM55 capped at 880 coins
For Existing Customer
Copy Code: SHPMPB3
Value: RM20 min off spend RM23
For New Customer
Shopee Payday Bank Voucher Codes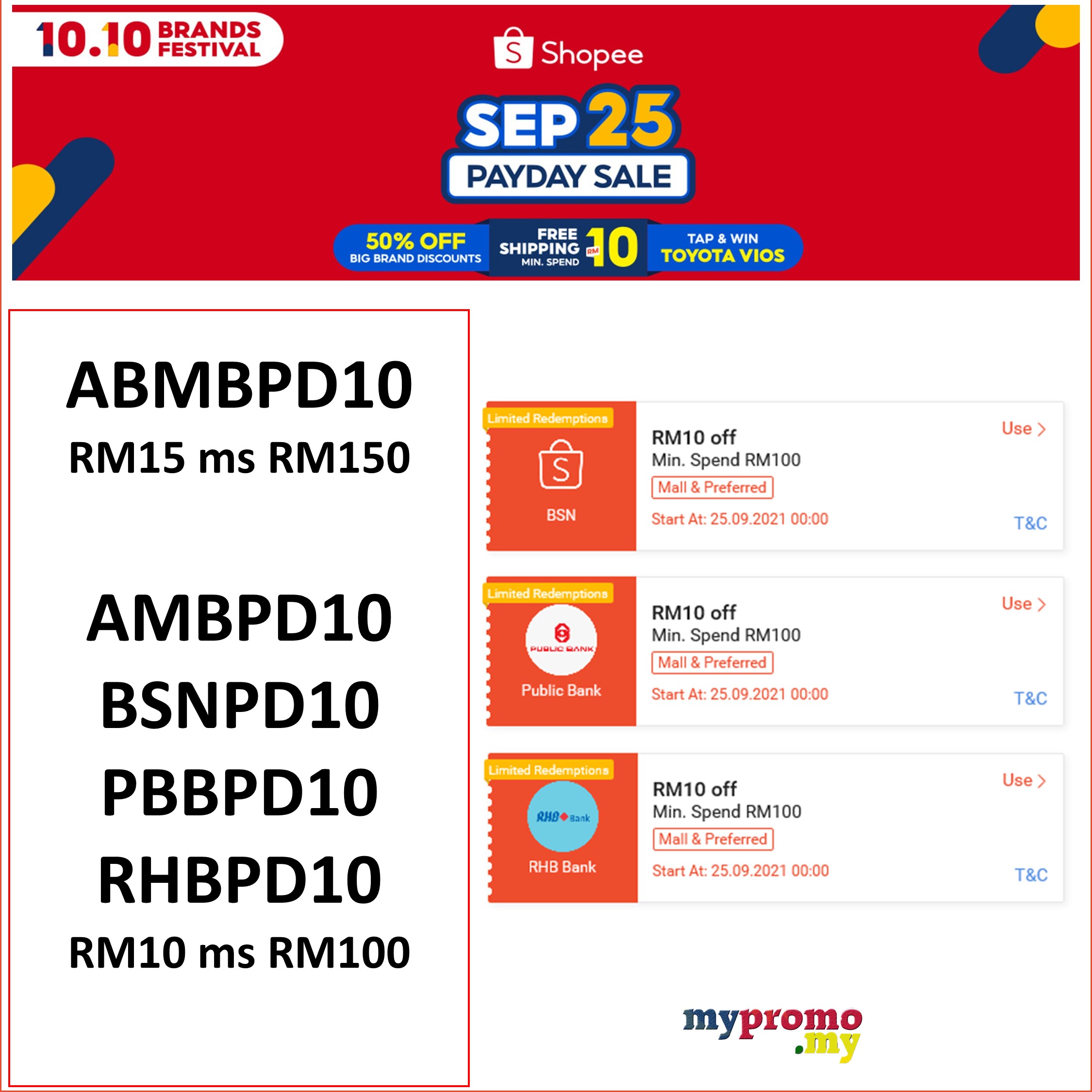 Payday vouchers:
Copy Bank Code: ABMBPD10 | AMBPD10 | BSNPD10 | PBBPD10 | RHBPD10
Bank: Alliance Bank
Code: ABMBPD10
Value: RM15 Off Min Spend RM150
Bank: AmBank
Code: AMBPD10
Value: RM10 Off Min Spend RM100
Bank: BSN
Code: BSNPD10
Value: RM10 Off Min Spend RM100
Bank: Public Bank
Code: PBBPD10
Value: RM10 Off Min Spend RM100
Bank: RHB
Code: RHBPD10
Value: RM10 Off Min Spend RM100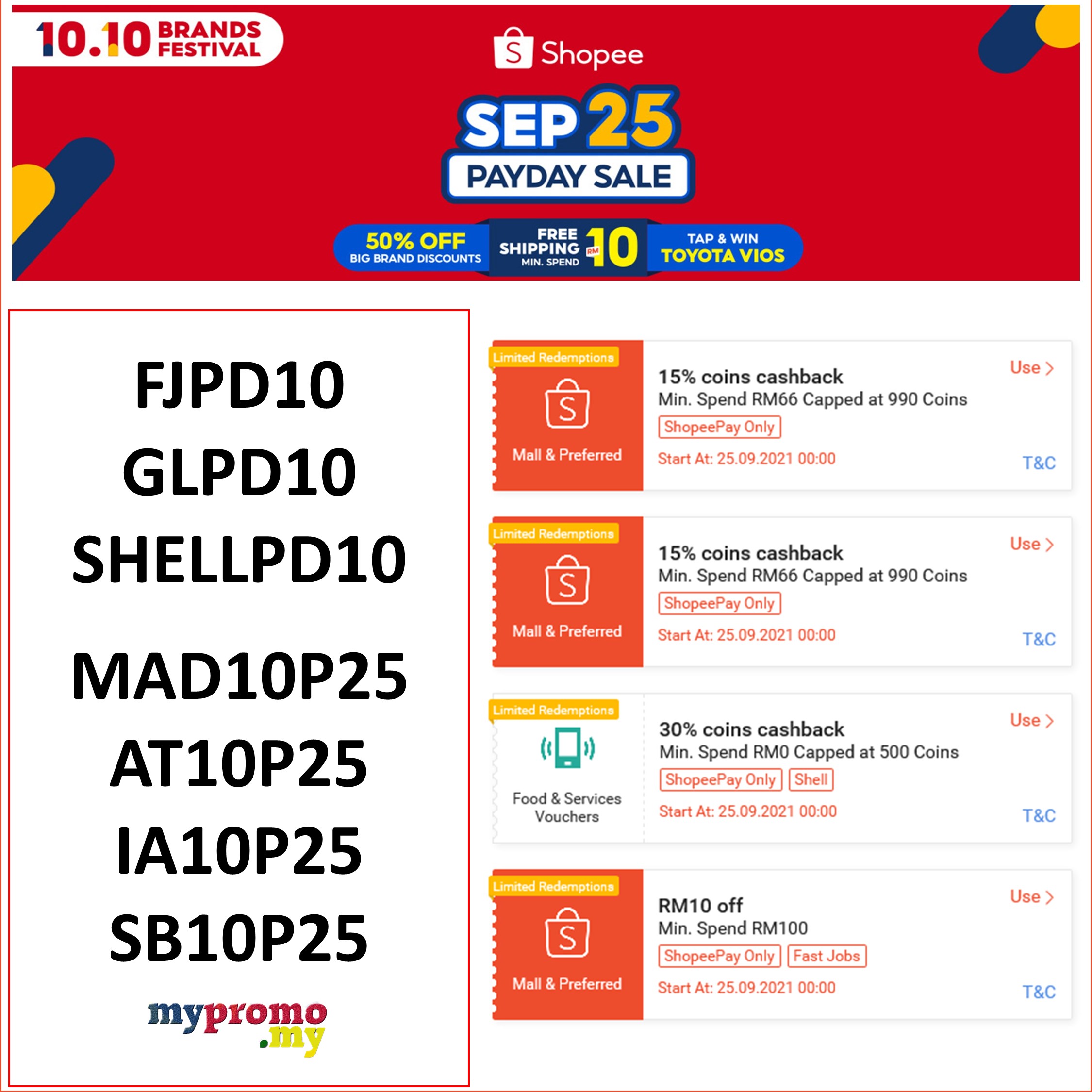 More Vouchers:
FJPD10 | GLPD10 | SHELLPD10 | MAD10P25 | AT10P25 | IA10P25 | SB10P25
Partner: Affiliate Rewards
Code: MAD10P25
Value: 15% coins cashback Min. Spend RM66 Capped at 990 Coins
Partner: Affiliate Rewards
Code: AT10P25
Value: 15% coins cashback Min. Spend RM66 Capped at 990 Coins
Partner: Affiliate Rewards
Code: IA10P25
Value: 15% coins cashback Min. Spend RM66 Capped at 990 Coins
Partner: Affiliate Rewards
Code: SB10P25
Value: 15% coins cashback Min. Spend RM66 Capped at 990 Coins
Partner: Gamuda Land
Code: GLPD10
Value: RM10 Off Min Spend RM100
Partner: FastJobs
Code: FJPD10
Value: RM10 Off Min Spend RM100
Partner: Shell
Code: SHELLPD10
Value: 30% Coins Cashback, capped at 500 Coins
Apply For Credit Card via RinggitPlus or CompareHero
Buy Malaysia 95% Coins Cashback Vouchers
More Promotions, Offers and Vouchers from Shopee and Lazada