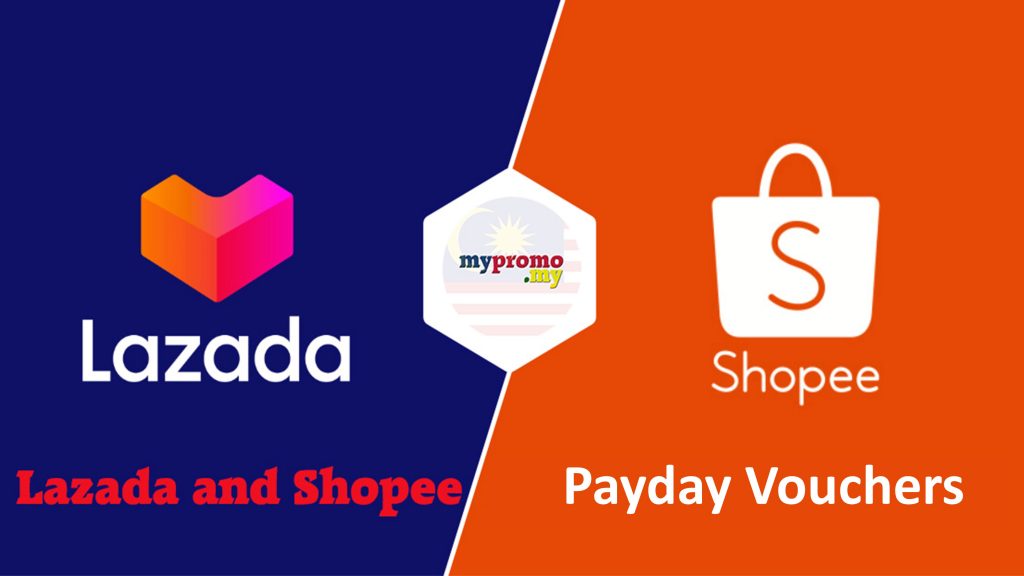 Shopee and Lazada PayDay Sale offers great discounts on your favourite items from your favourite brands. Add your items to cart now, collect all available vouchers and don't forget to checkout at midnight 25 January!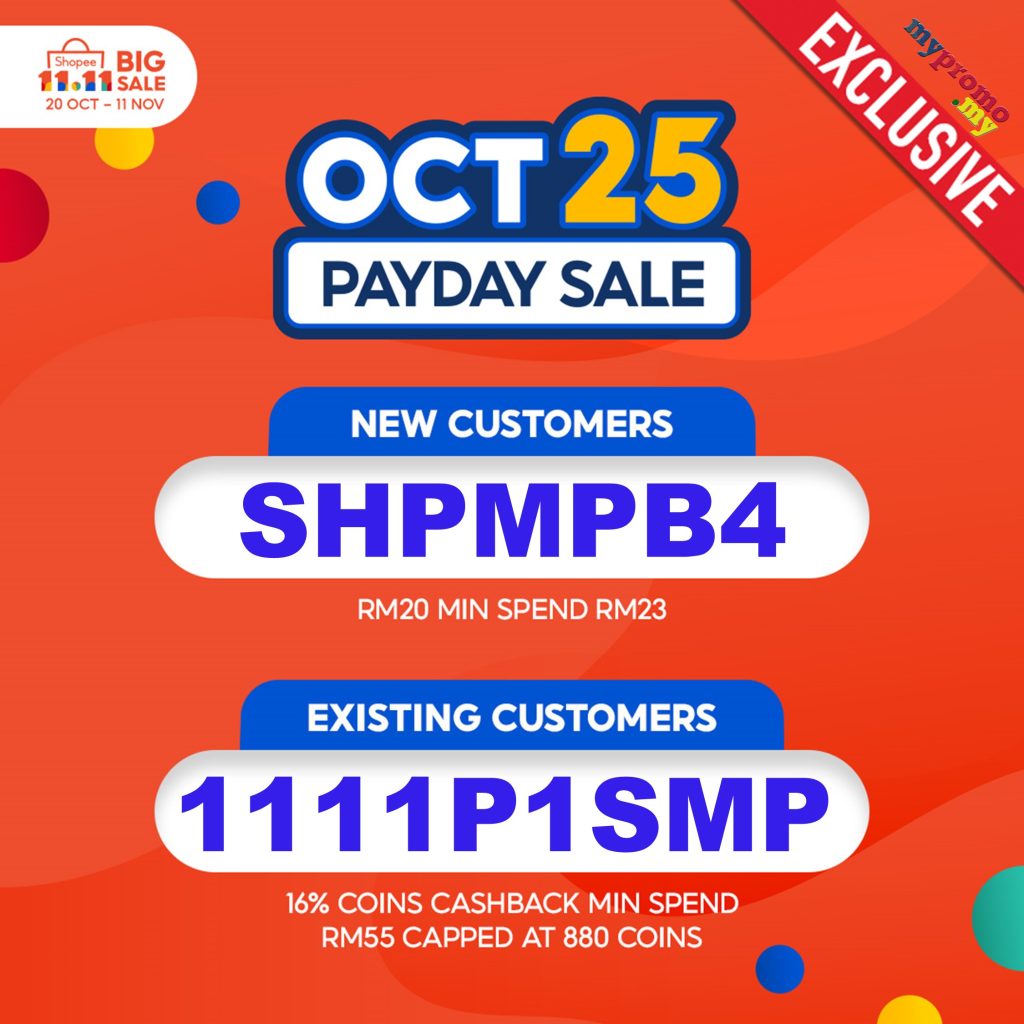 Shopee 11.11 Payday Sale 25.10 Exclusive Voucher codes for mypromo.my followers.
Be the firsts to claim!
How to claim:
1. Copy Code:
2. Go to Shopee Voucher Page: https://shp.ee/frdmg29
3. Paste Code and  Apply
Voucher Code: 1111P1SMP
Value: 16% Coins Cashback min spend RM55 capped at 880 coins
Valid: 25th October
For Existing Customers
Voucher Code: SHPMPB4
Value: RM20 min off spend RM23
Valid: 25th October and 11th November
For New Customers
Shopee Payday Bank Voucher Codes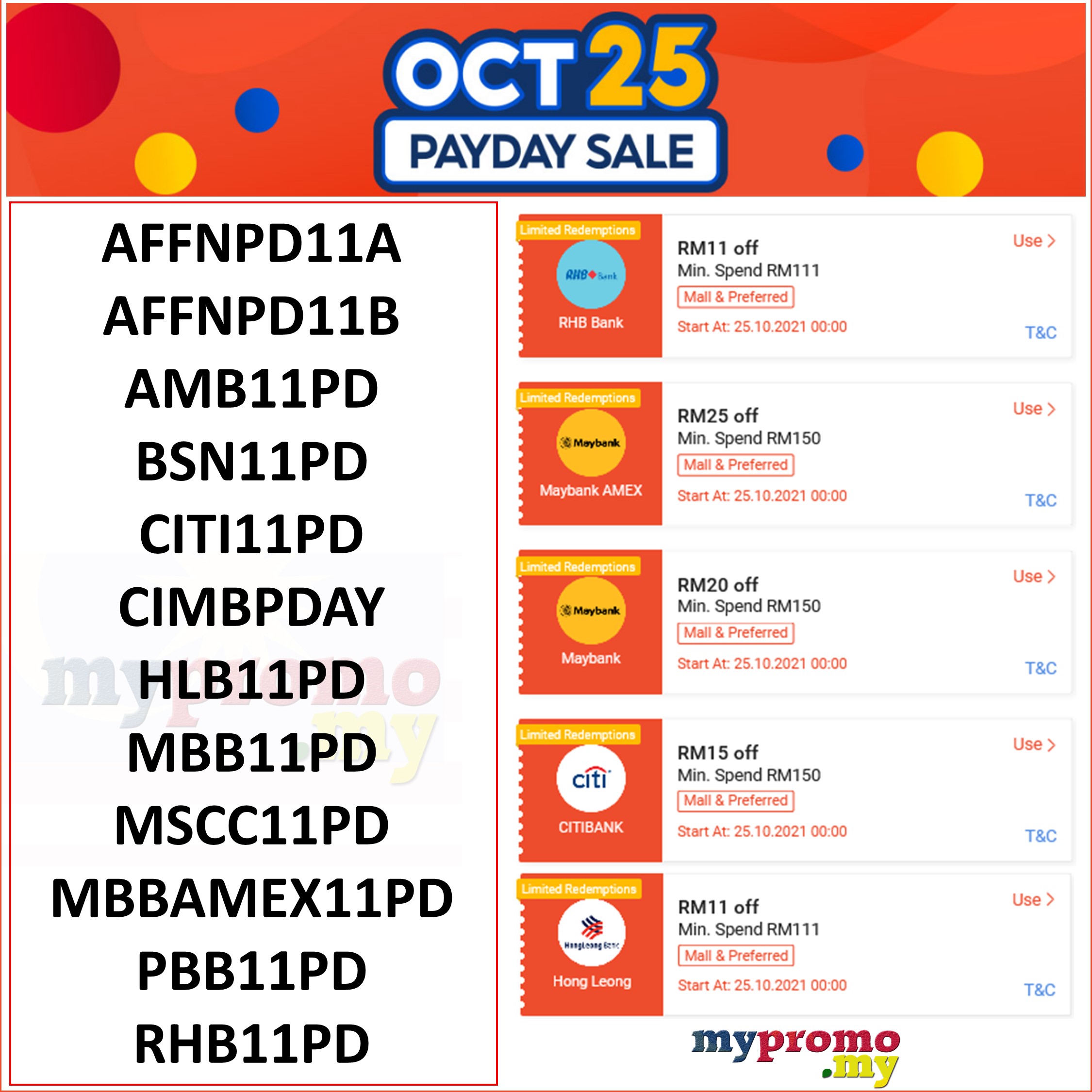 Bank: Affin
Code: AFFNPD11A
Value: RM20 ms RM180
Bank: Affin
Code: AFFNPD11B
Value: RM30 ms RM280
Bank: AmBank
Code: AMB11PD
Value: RM11 ms RM111
Bank: Alliance Bank
Code: ABMB11
Value: RM15 ms RM150
Bank: Alliance Bank
Code: ABMB11B
Value: RM50 ms RM500
Bank: BSN
Code: BSN11PD
Value: RM11 ms RM111
Bank: CIMB
Code: CIMBPDAY
Value: RM15 ms RM150
Bank: CIMB
Code: CIMB11B
Value: RM50 ms RM500
Bank: Citibank
Code: CITI11PD
Value: RM15 ms RM150
Bank: HLB
Code: HLB11PD
Value: RM11 ms RM111
Bank: Maybank
Code: MBB11PD
Value: RM20 ms RM150
Bank: Maybank Shopee Credit Card
Code: MSCC11PD
Value: RM28 ms RM150
Bank: Maybank AMEX
Code: MBBAMEX11PD
Value: RM25 ms RM150
Bank: Public Bank
Code: PBB11PD
Value: RM11 ms RM111
Bank: RHB
Code: RHB11PD
Value: RM11 ms RM111
Bank: AEON Credit
Code:
Value:
Bank: Bank Islam
Code:
Value:
More Shopee 11.11 Payday Voucher Codes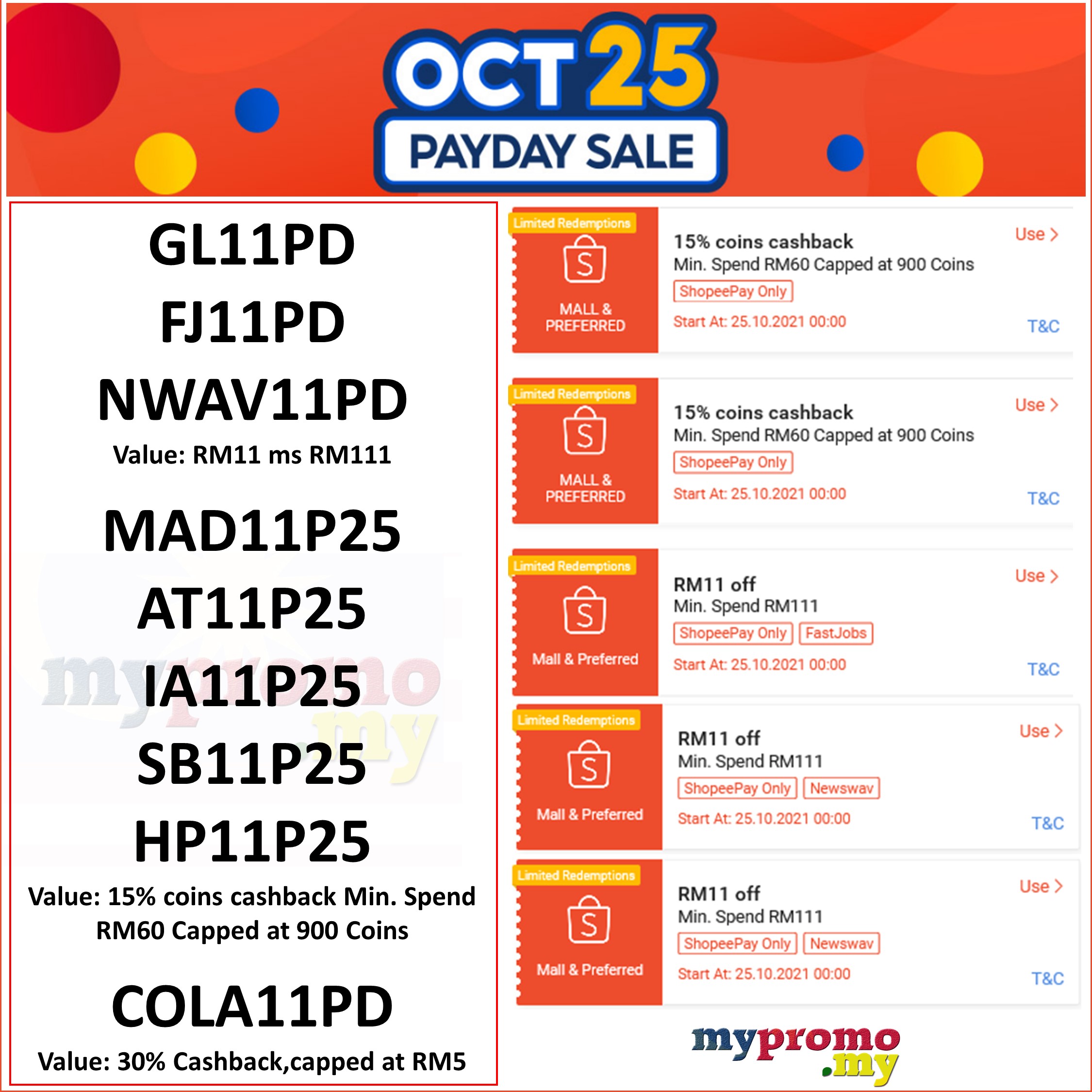 Partner: Gamuda Land
Code: GL11PD
Value: RM11 ms RM111
Partner: FastJobs
Code: FJ11PD
Value: RM11 ms RM111
Partner: Coca-Cola
Code: COLA11PD
Value: 30% Cashback,capped at RM5
Partner: Affiliate Rewards
Code: MAD11P25
Value: 15% coins cashback Min. Spend RM60 Capped at 900 Coins
Partner: Affiliate Rewards
Code: AT11P25
Value: 15% coins cashback Min. Spend RM60 Capped at 900 Coins
Partner: Affiliate Rewards
Code: IA11P25
Value: 15% coins cashback Min. Spend RM60 Capped at 900 Coins
Partner: Affiliate Rewards
Code: SB11P25
Value: 15% coins cashback Min. Spend RM60 Capped at 900 Coins
Apply For Credit Card via RinggitPlus or CompareHero
Midnight Sale Special RM25 Each

Get items at super low prices! RM25 Only for limited time and limited quantity! Add to cart now and check out ASAP at midnight 25th October.
Add to Cart Now: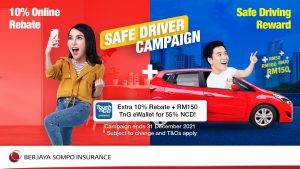 More Promotions, Offers and Vouchers from Shopee and Lazada