Telegram Channel
Updated Daily with the Best Deals and Offers
Get all the best deals via our Social Media! Follow Us!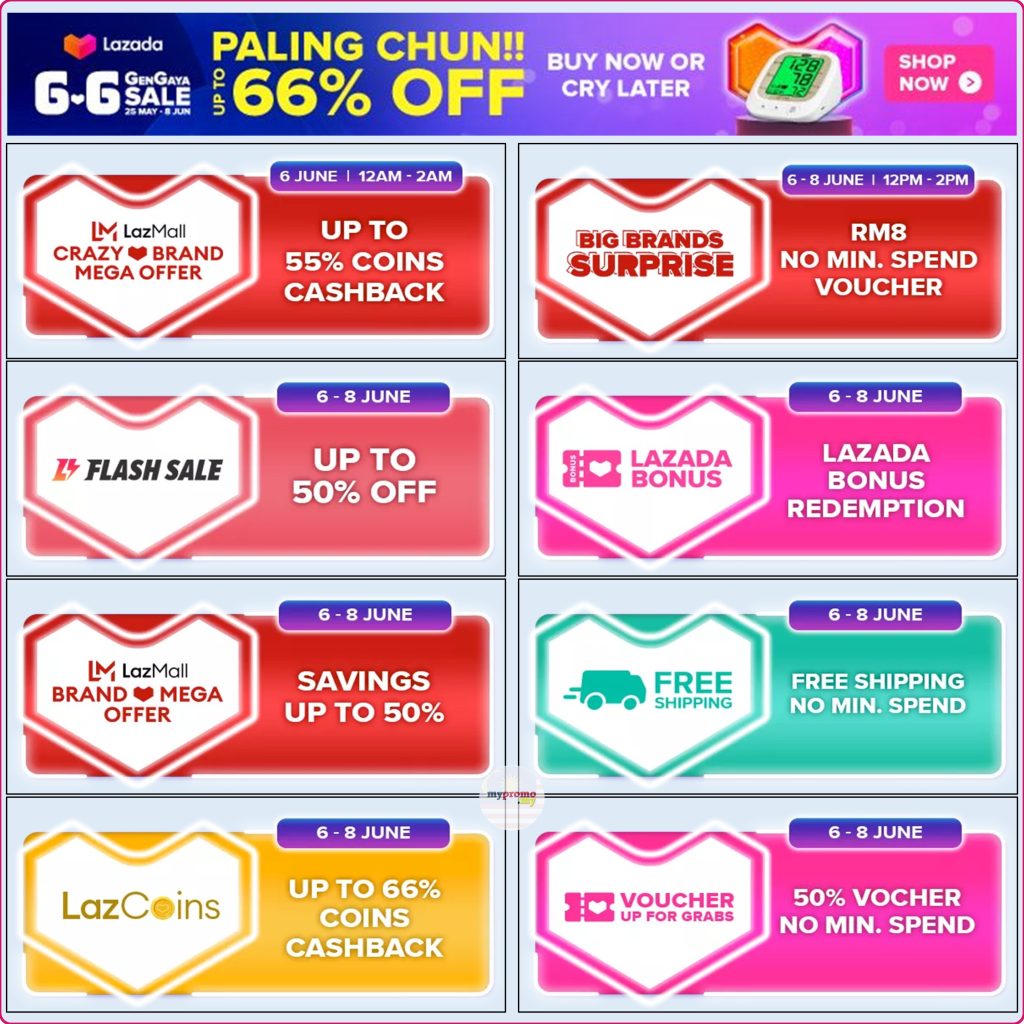 Lazada 6.6 GenGaya Sale from 6-8 June 2022! During this 3-Days Sale, Lazada will have Lazada Bonus RM10 off every RM100 spend, Coins Cashback Up to 66% and Free Shipping with no minimum spend – AND MORE!
Lazada is making your month of June an EXTRA CUN one!

Lazada 6.6 Gen Gaya Sale
Go to Main Page
All you need to know x Lazada 6.6 Gen Gaya Sale
Happening Daily:
Lazada Bonus: RM 10 OFF RM100 spend
12AM – 2AM: Crazy Brand Mega Offer (Coins Cashback Up to 55%)
12PM – 2PM: Big Brand Surprise (RM8 No Min Spend Voucher)
2PM-8PM: Brand Mega Offer (Up to 50% Off)
8PM onwards : Crazy Brand Mega Offer Last Call
Lazada 6.6 Sale Offers & Deals
Crazy Flash Sale: RM0.66 or RM6.66 Deals 
Seller Vouchers: 60% No Min Spend
Free Shipping No Min Spend
Up to 66% Coins Cashback 
Flexi Combo: Buy 2 Get 10% Off, Buy 3 Get 20% Off
Discount Up to 60% Off
Mesti Beli: Lowest Deals
Set Reminders:
1-8 June: Feed Posting + Voting
Coins – Browse mission, coin takeover, cybercoin cashback up to 66%
3-6 June, 4PM-6PM: Livestream Festival (See Now, Buy Now)
6-8 June, 9PM-10PM: 6.6 LazLive
Top Brands Must Check Out
Lazada 6.6 Quiz Race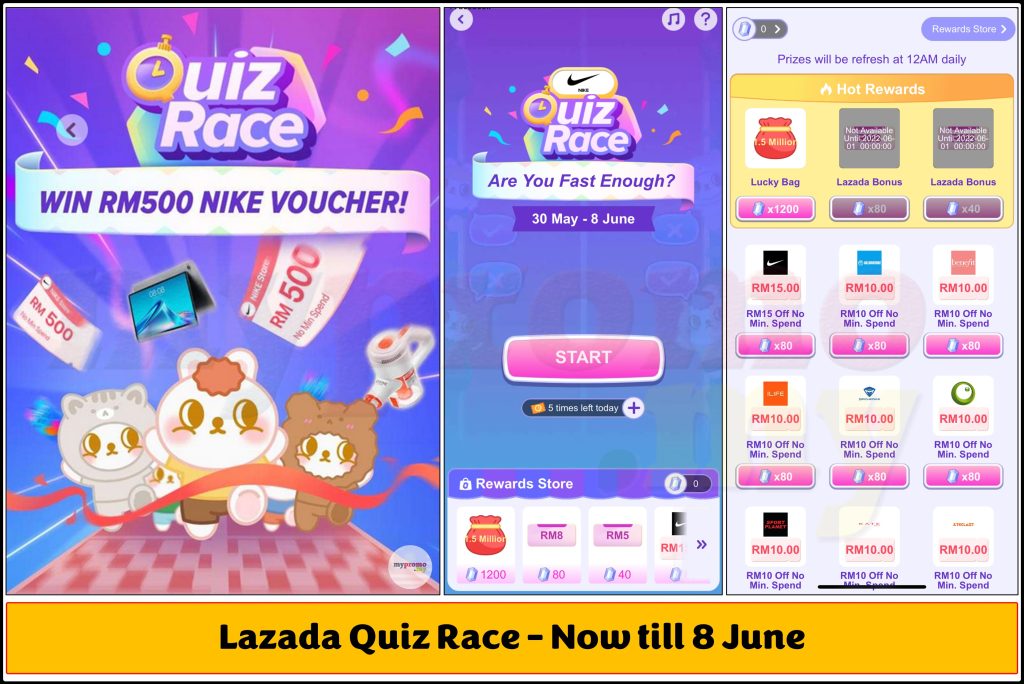 Quiz Race – New Lazada 6.6 GenGaya Game is Up! Are You Fast Enough? From 30 May to 8 June 2022, let's play Quiz Race to test your knowledge!
Link: https://mypromo.my/lazada/quiz
Read fast, answer fast & win prizes worth up to RM500!
Are you up to it? Try it now

Lazada 6.6 Quiz Race
Win Up to RM500 Voucher!
Rewards include:
Platform vouchers, Lazada Bonus, Seller vouchers, Free Shipping vouchers and Prizes!
Game Period: 30 May to 8 June 2022
All About Lazada Quiz Game
How to play QuizGame?
a. 1 ticket is required to play each time.
b. After the game has started, you will be presented with questions to answer before the countdown ends.
c. If you choose the right answer, you will be rewarded with some Gems, and then proceed to the next question.
d. If you choose the wrong answer, the game will end immediately. At this point, if you wish to continue the game, you can use coins to exchange for a ticket to revive yourself.
e. At the end of all the questions, you will be awarded with a number of Gems according to the number of questions answered correctly. Gems can be used to exchange for Rewards at the Rewards Store.
*If you withdraw from the page during the game, the game ends immediately and the ticket you spent on playing the game will not be returned to you.
How to earn more Tickets to play?
a. You will receive 5 free tickets to start with. If the number of tickets drop below 5 at any time, 1 ticket will be generated every 2 hours up to a maximum of 5 tickets.
b. Redeem Tickets with LazCoins
c. Invite Friends
d. Place an Order
e. Browse a Store
How to Redeem rewards?
a. Redeem platform vouchers, Lazada Bonus, seller vouchers or a one-time gift bag with Gems in the Rewards Store anytime during the game period (i.e., until the end of 8 June 2022). You will only be able to redeem your Gems within the game period, and not after.game period, and not after.
b. The prizes in the gift bag may be any of the following: Free Gifts, free shipping vouchers, Lazada Bonus or platform vouchers. You may redeem the gift bag any time before 6 June 2022, but you can only open it on 6 June 2022 itself.
c. Apart from the one-time gift bag, you will also be subject to a redemption limit for each reward. All rewards are limited in stock and refreshed at 12 am MYT every day!
How to earn more Gems?
a. The more correct answers you choose, the more Gems you will win.
b. Kindly note that if you don't use the Gems, they will be cleared on 12am MYT on 8 June. Please use them in time during the game period.

More Promotions, Offers and Vouchers from Shopee and Lazada
mypromo Telegram Channel
Want to receive  daily promos and deals via Telegram?
Join Our Channel Today

All Are Welcome!
Sign Up for New Accounts and Get Rewarded

mypromo.my: Referral Codes Center
Get Rewarded When you sign up with Referral Codes