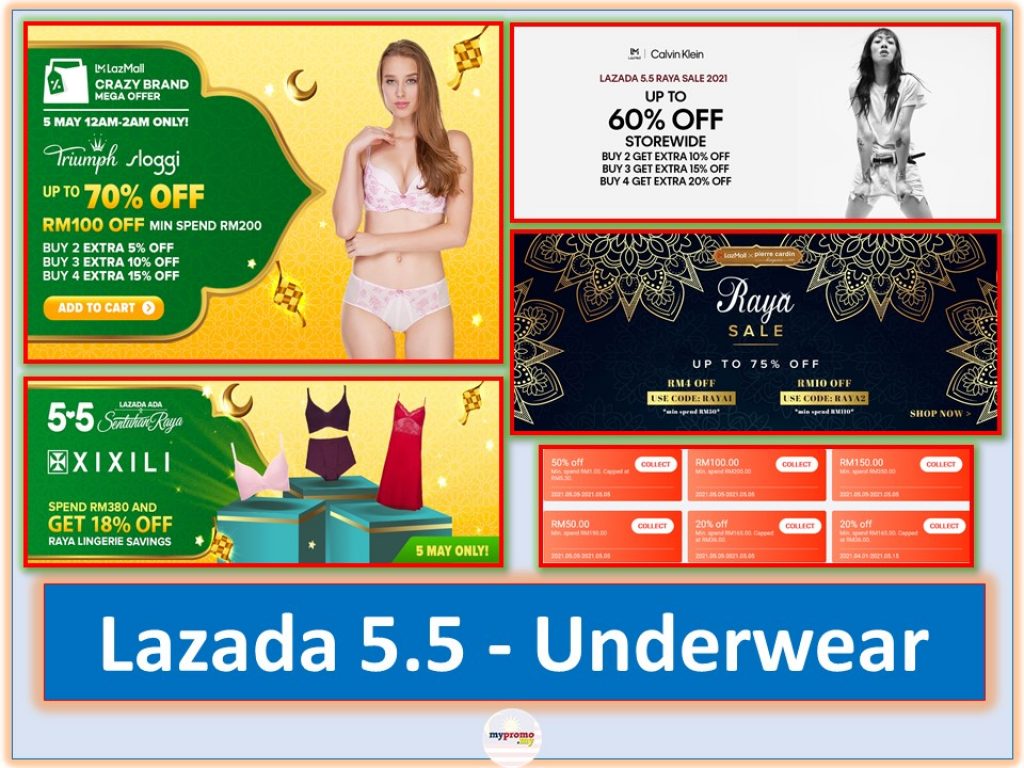 Lazada 5.5 Raya is happening on 5 May! Check out Underwear offers and promotions during this sale. Collect your vouchers, add to cart and check out at 5.5 midnight for the best deals! Get the best deals for Triumph, Xixili, Calvin Kelin and other top Underwear brands,
Don't miss out crazy flash sale up to 99% Discount + RM5 free shipping on 5th May. Collect Daily Lazada Bonus to be use on 5.5. Get RM10 Off Every RM100 Spend. Daily Flash Sale.Underwear
Lazada 5.5 Crazy Brand Mega Offer x Sportswear Promo List for your reference
Collect Vouchers, Add to cart now and Checkout at Midnight.
Underwear Offers List
Triumph
Shop: https://bit.ly/Laz-Triumph
Promotion: Up to 70% Off + Extra 15% OFF min 4 items + Extra RM150 Off Voucher
XIXILI
Shop: https://invol.co/cl2c95m
Promotion: Extra 18% Off Voucher
Pierre Cardin
Shop: https://invol.co/cl2c96d
Promotion: Up to 75% Off + RM10 Off Voucher
Young Heart
Shop: https://invol.co/cl2c957
Promotion: 50% Off Voucher
Calvin Klein
Shop: https://invol.co/cl3uayj
Promo: UP TO 60% OFF + Extra 20% OFF min 4 items + Extra RM90 Off Voucher
6IXTY8IGHT
Shop: https://invol.co/cl3uaz5
Promo: RM20 Off Voucher
Sorella
Shop: https://invol.co/cl3ub0d
Promo: UP TO 67% OFF + Extra 15% OFF Voucher
Dulasi
Shop: https://invol.co/cl35rdi
Promo: Extra RM15 Off Voucher
For More Promo List: https://mypromo.my/lazada-5-5-raya-sale-compilations
Hot Tip: Always remember to collect your Lazada vouchers early. Once collected , the vouchers are yours to use on 5.5.
---
Lazada Grocery Store Midnight Sale

Lazada Grocery Store 20% Off Voucher is back for for collection!
Collect this voucher here now: http://bit.ly/LazRayaGrocery Lazada Ada Sentuhan Raya Sale. Collect this voucher today and use it on 5 May 2021 Raya Sale!
How to Collect Lazada Raya Bonus:
Go here: http://bit.ly/LazRayaGrocery
Collect the 20% Off Voucher
Don't forget to collect all other high value vouchers in that page
50% Off Vouchers | RM40 Off Vouchers | RM30 Off Vouchers and more!!
Start adding your items to your cart and enjoy EXTRA 20% off on Raya Sale day!

Lazada 5.5 Raya Sale: Midnight 12am-2am Sale For Diapers and Milk
Remember to collect early.
Go Crazy during midnight sale – Link: https://bit.ly/Laz-Grocery
Important Links You Need to Visit
https://bit.ly/LazRayaVouchers
https://bit.ly/LazRayaCBMO
https://bit.ly/LazRayaBonus
https://bit.ly/LazRayaGrocery
Bank and Partner Vouchers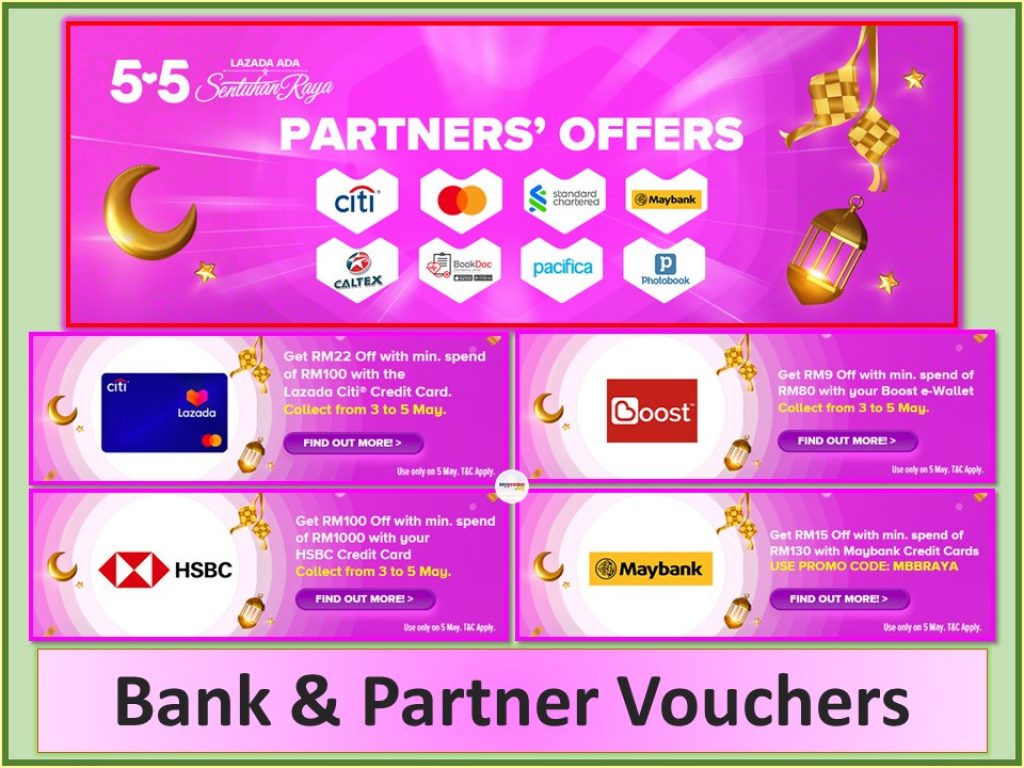 Collect Lazada Bank Vouchers here: https://mypromo.my/lazada-5-5-raya-sale-bank-voucher-promo-code
Collect Shopee Bank Vouchers here: https://mypromo.my/shopee-5-5-pesta-raya-vouchers
More Promotions, Offers and Vouchers from Shopee and Lazada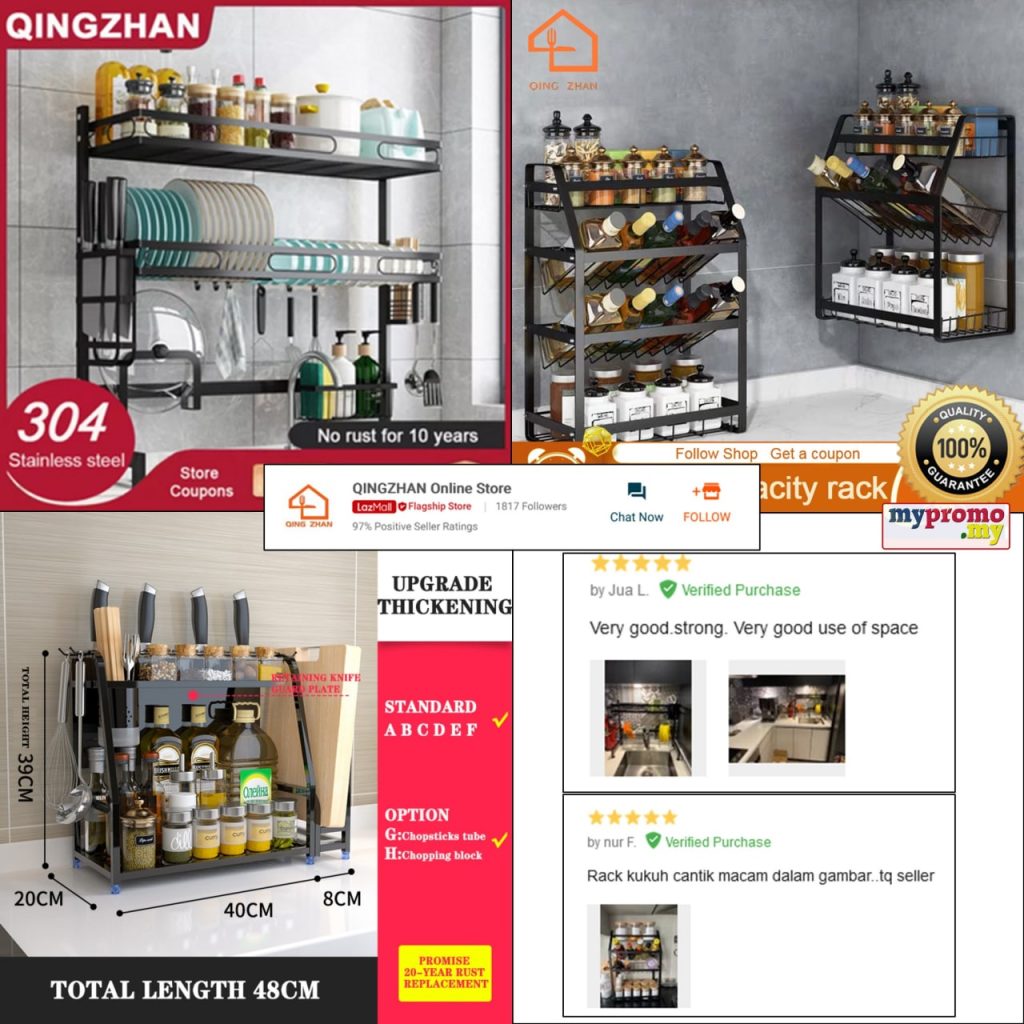 Get your kitchen organized with products from QINGZHAN (LazMall)
Dishwasher rack stainless steel
Buy Now: https://c.lazada.com.my/t/c.1SvOEV
• The frame structure is sturdy, durable, does not rust, and has the principle of saving space.
• Easy to install
Stainless Steel Seasoning Rack
Buy Now: https://c.lazada.com.my/t/c.1Svr2k
• Dish rack structure is sturdy, durable and do not rustSmart organizer with space saving principle·
• Come with cutting board holder and cutlery organizer. 1 side for dish and another side for cups
Multifunctional seasoning rack storage
Buy Now: https://c.lazada.com.my/t/c.1SvsRd
• Storage: Spices/oil/pancake cart/forks and knives/chopsticks
• Material: stainless steel, carbon steel, anti-rust