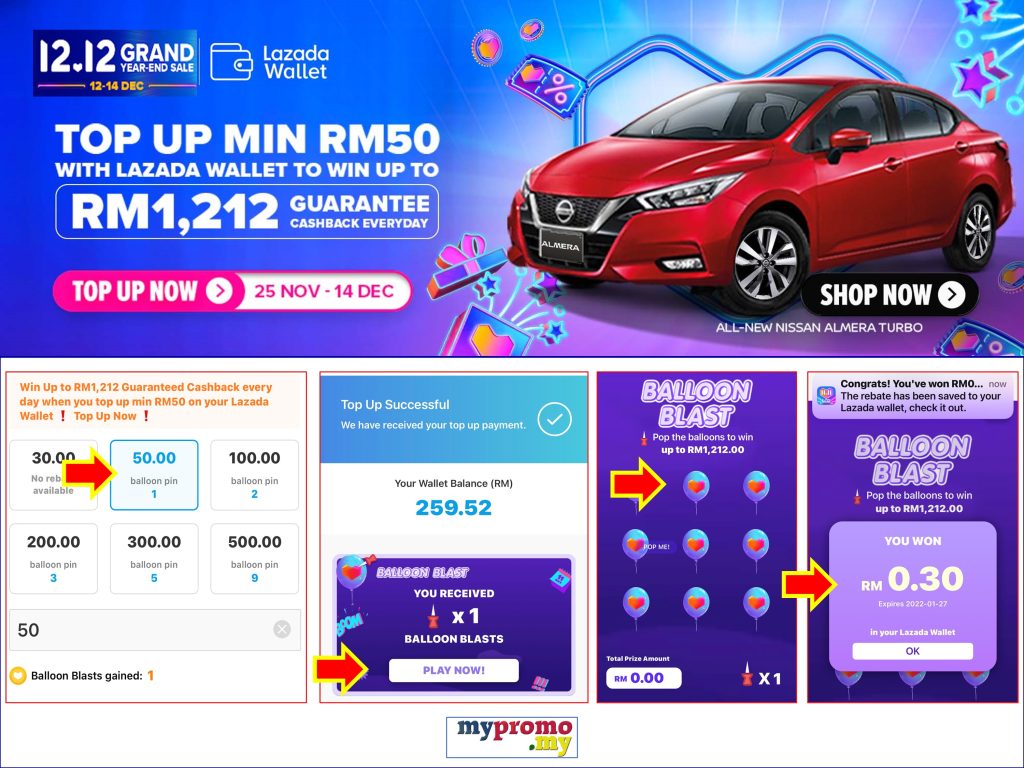 Lazada Wallet Top Up Balloon Blast is back for 12.12 The Grand Year End Sale 2023. Top up min RM50 win up to RM1212! Effortless shopping at your fingertips. An online premier shopping mall that features awesome sales, exciting promos and discount vouchers. Enjoy Great saving, up to 50% Off! Enjoy RM15 off your first purchase.
The most anticipated LAZADA 12.12 Grand Final Year-End Sale is here! You will be spoilt for choices and save more with vouchers and deals! Get RM10 off for every RM100 spend!
Top Up Wallet Now

Lazada Wallet Top up for 12.12 Grand Year End Sale
Get all the best deals via our Social Media! Follow Us!

Full Details: HERE
Lazada 12.12 Bonus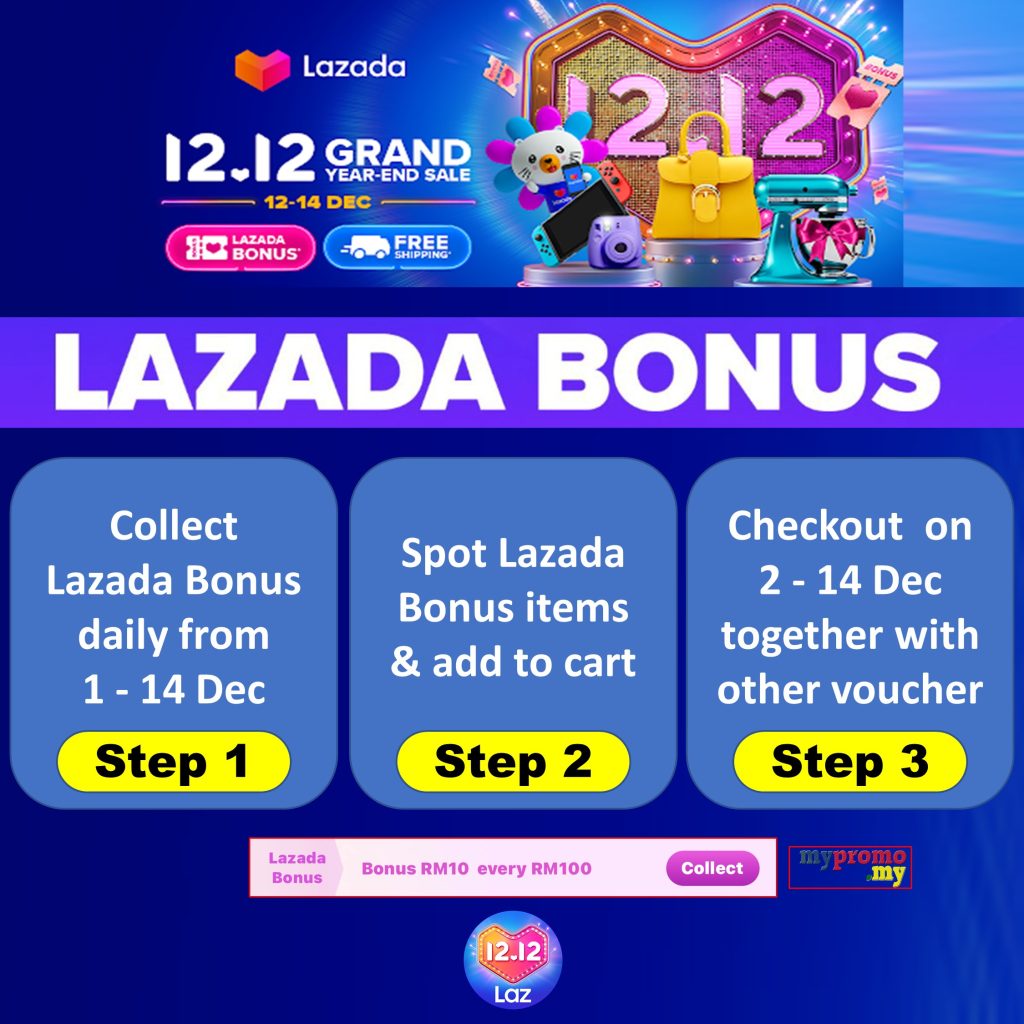 Go here: http://mypromo.my/laz-bonus
Collect Lazada Bonus
Spot Lazada Bonus items and Add to Cart.
Check Out on 12 – 14 December together with other vouchers.

Lazada Bonus for 12.12 Grand Year End Sale
You will get RM10 off for RM100 spend. So, if you are planning to buy expensive items from Lazada during the 12.12 Sale, make sure you collect and accumulate all the bonus everyday! You may use the Lazada Bonus along with bank and/or brand vouchers to enjoy more savings!
Mechanics
● RM 10 off every RM 100 (applicable to all categories except for digital goods & retail)
● Users to collect Lazada Bonus during teasing period to be used during mega day(s)
● Lazada Bonus can be stackable on itself, i.e.,
● For RM 10 every RM 100
● Bonus can be stackable with seller, payment vouchers
● Maximum incentive per user determined by system
Main Mechanic: RM10 off every RM100
Date:
Collection: 1st to 14th Dec
Redemption: 12th to 14th Dec
Highlight!
Cross store redemption: Can combine multiple store during checkout and use Bonus
THE LAZADA 12.12 SALE!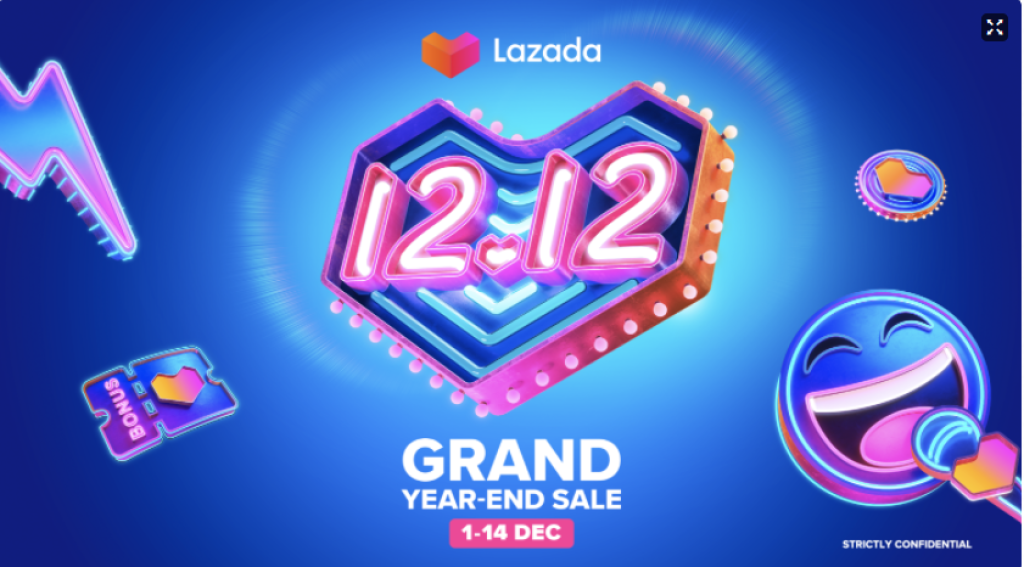 Celebrate the holiday season! Get Christmas gift-ideas through the 12.12 Sale from 12 – 14 December, featuring all these benefits!
Free Shipping
Vouchers for First Orders
Collect Daily Lazada Bonus
Lowest Prices
What are you waiting for? Start shopping the best quality deals at amazing prices with Lazada 12.12 Grand Year-End Sale!
Make your holiday shopping the best ever with all the best deals and free shipping online! Have fun with these numerous year-end festivities and the 12.12 Year-End Sale. Get the lowest prices and other deals through 12.12 with:
The Best Branded Deals Throughout the Day with LazMall!
Collect Daily Bonuses!
Free Shipping on a Wide Range of Products!
Hourly Deals for the Must-Buy Products!
12.12 Sale Main Page
> https://mypromo.my/laz1212
12.12 Voucher Page
> http://mypromo.my/laz-voucher
12.12 x Crazy Brand Mega Offer:
> http://mypromo.my/laz-cbmo
12.12 x Crazy Flash Sale:
> http://mypromo.my/flashsale
12.12 x Bonus:
> http://mypromo.my/laz-bonus
12.12 x Free Shipping:
> http://mypromo.my/laz-freeshipping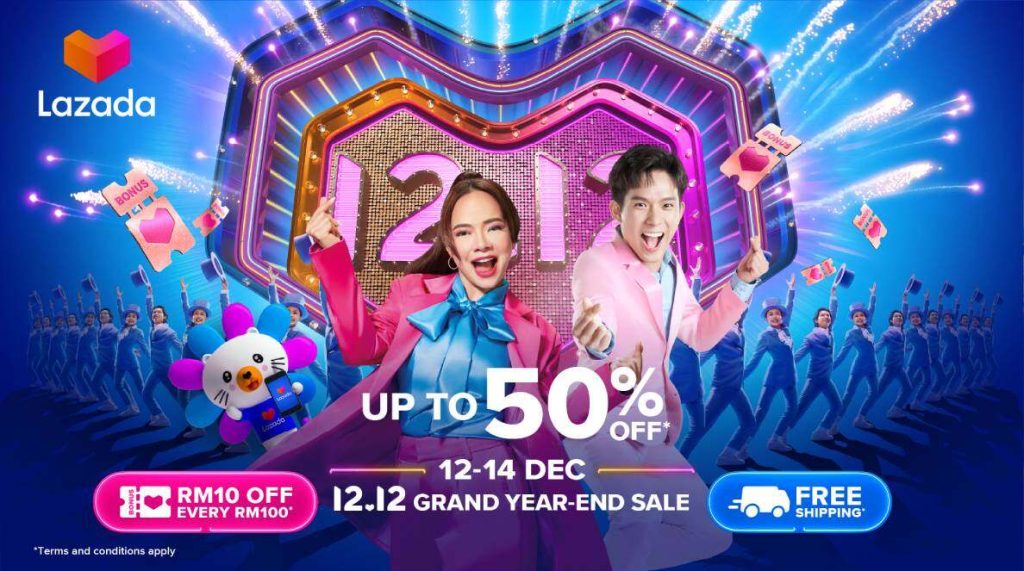 12.12 Sale Calendar
Free Shipping Max: 12th to 14thDec
Lazada Bonus: 1st to 14th (collection), 12th to 14th (redemption)
Chup Dulu:1st dec to 11th Dec (Check out on 12th Dec)
LazMall Brand Day: 6th to 11th Dec
Cybercoin Cashback
Lazzie Hunt: 26th Nov to 14th Dec
CBMO: 12Dec (12am to 2am Only)
Big Brand Surprise: 12pm to 2pm daily (12th to 14th Dec)
BMO Last Call: 12th to 14th Dec (8pm to 12am)
Surprise Box
Category Focus Calendar
2 Dec: Fashion
3 Dec: Electronic
4 Dec: FMCG
8 Dec: FMCG
9 Dec: Fashion
10 Dec: Electronic
Boost RM8 Off Voucher
> http://bit.ly/Laz-Boost
NEW Shop Malaysia Online Sale Vouchers
> https://bit.ly/Laz-SMO
More Sale 12.12: https://mypromo.my/tag/sale1212
Garnier 12.12 Special Offers on Shopee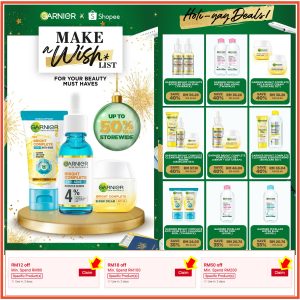 Check out more 12.12 Sales, Offers, Promotions and Deals
Lazada 12.12 Bank Vouchers
Collect & Use from 12.12 to 14.12
Get all the best deals via our Social Media! Follow Us!
Shopee 12.12 Bank Vouchers
Claim Vouchers Now and Use on 12.12