Get all the best deals via our Social Media! Follow Us!
Usher in the Chinese New Year with 8% OFF all* activities on Klook & 50% OFF selected special activities – promo begins 8th Jan 2020: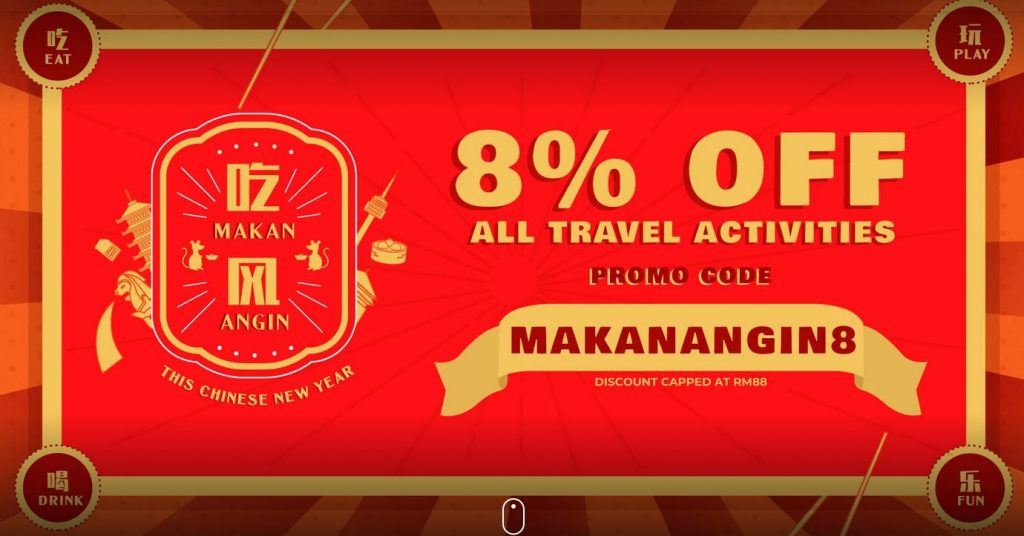 Terms & Conditions
Site-wide Promotion
Promo code MAKANANGIN8 entitles you to 8% off sitewide, with discount capped at RM88.
Promotion is valid for all activities except Universal Studios Japan tickets, express passes, Swiss Travel Pass, Swiss Half Fare Card and JR Pass.
Promotions starts 12.00am, 8 January 2020 and ends 11.59pm, 28 January 2020.
50% OFF
Promo codes for 3 activities will be released at 12.00pm every Friday (10/01/2020, 17/01/2020, 24/01/2020, 31/01/2020).
Promotion is valid only on selected activities.
Limited to 1 ticket per user and first 100 checkouts.
To enjoy this promotion, (i) Go to the your desired activity page as listed above (ii) Select ONE ticket from the specific category mentioned below of the particular activity you are selecting (iii) In checkout page, select the 'Promo Code' section and key in the promo code which will be revealed at 12.00pm (iv) Check that the final amount has been discounted accordingly before clicking "Pay Now".
Each activity is limited to the following categories only of which the selection of any other package or type of tickets will not be able to be checked out:
10 January 2020: Hong Kong Disneyland Park Ticket 1-Day Ticket (Valid Until 18 Apr 2020) – Adult ticket only | Chao Phraya Princess Cruise All packages – Adult tickets only | Zoo Negara (National Zoo of Malaysia) Malaysian Admission Ticket + Panda Centre – Adult tickets only
17 January 2020 Singapore Night Safari Open Dated Ticket All packages – Adult tickets only | Tokyo Tower Main Deck Admission All packages – Adult tickets only | N Seoul Tower Ticket Combos in Seoul All packages – Adult tickets only
24 January 2020 JR West Kansai Pass (1, 2, 3 and 4 Day Rail Pass) Admission ticket – Adult tickets only | Desaru Coast Adventure Waterpark Ticket in Johor Bahru Admission ticket – Adult tickets only | Phuket Fantasea Ticket All packages – Adult tickets only
31 January 2020 Lotte World 1 Day Pass Fast Past Type (None), All Ticket Types | ArtScience Museum: Marina Bay Sands Admission Ticket All packages – Adult tickets only | Ocean Park Hong Kong (QR Code Direct Entry) 1 Day E-Ticket – Adult tickets only
General Terms and Conditions
Promo code is valid for Malaysian users and for one-time use only.
Prices listed may be subject to service charge and prevailing government taxes where applicable. Privileges cannot be exchanged for cash or used in conjunction with other promotional programmes, offers, discount cards, vouchers or VIP privileges, unless otherwise stated.
Klook reserves the right to require payment of fees or charges for any Services offered by Klook. You shall pay all applicable fees or charges, as described on this Website in connection with such Services selected by you.
Klook reserves the right to change its price list for fees or charges at any time, upon notice to you, which may be sent to you by email or posted on this Website. Your use (or continue to use) of the Services offered by Klook following such notification constitutes your acceptance of any new or revised fees or charges."