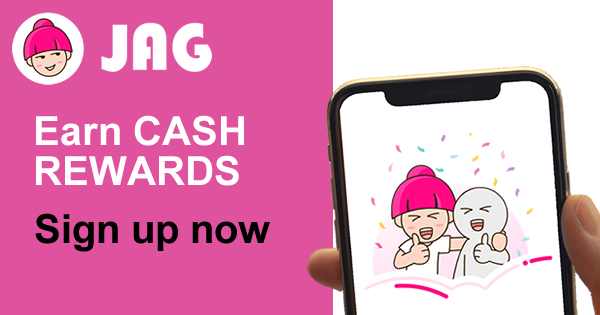 JAG App: Sign Up and Earn Cash Rewards

Lazada Daily Cashback Vouchers
Collect and Use these vouchers
Get all the best deals via our Social Media! Follow Us!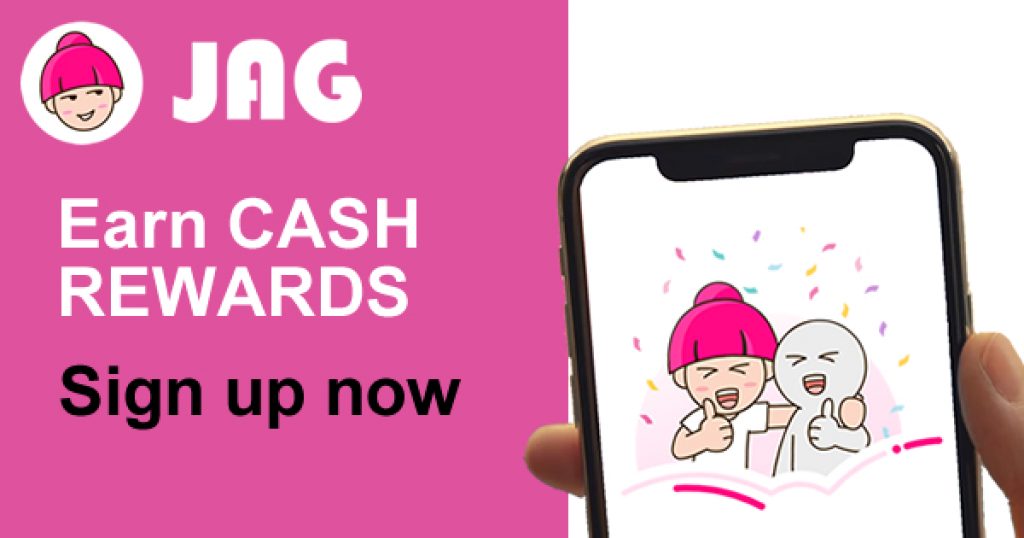 Earn real CASH or Cash Vouchers from stores like AEON, McDonald's, TESCO, Giant, KFC and more! And you can also claim e-wallet reload pin for Boost and Touch n' Go.
Just follow these simple steps and you are on your way to make some pocket money by watching advertisement or by participating fun missions like sharing with you friends through Facebook, WhatsApp, messenger or Line.
Step 1: Fill out the registration form below to join JAG and download JAG mobile app to stay up-to-date with latest promotions and rewards.
Sign up form: Website

JAG App: Sign Up and Earn Cash Rewards

Tab to sign up


Step 2:
1.Fill in your particulars.
2. Use this referral code: ottoeggsy

That's it. Very simple sign up steps.
Step 3:
Login to your JAG account, and start participating different activities to earn JAG points!
If you need help on how to sign up or how to complete activities:
WhatsApp us (BM/Eng).
Next is, to check your account or app to see if you get new activities that you can perform to earn points. The activities are generally very easy to complete.

Activities that you may get:
1. Watch a video or advertisement.
2. Copy and paste a prepared message and share it on your facebook, messenger or WhatsApp
3. Get friends to click on the link you shared.
4. Follow Instagram accounts.

Once you have completed the activities, you will earn points. See the picture below:
With the points you collected, you can redeem:
1. Boost Reload Pin (RM10, RM50, RM100)
2. Touch n Go ewallet Reload Pin (RM10, RM50, RM100)
3. Cash
4. e-Vouchers (Grab, Lazada, Tesco etc)
5. Shopping Vouchers (Aeon, BIG, KFC, McDonald's etc)
6. Reload (Digi, Hotlink, U-Mobile, Celom)
7. Donation
When you've collected enough points, redeem any cash vouchers or prizes you want and JAG will mail it to your home or send it through email!

Start now: Use this referral code: ottoeggsy and sign up!
Be a JAG Micro-influencers TODAY!
---
See more Sign Up Rewards:

mypromo.my: Referral Codes Center
Get Rewarded When you sign up with Referral Codes
---
mypromo's Payday  WhatsApp Groups
Want to receive promos and deals via WhatsApp?
Join our 9.9 Sale groups!
1. Only Admin Can Post
2. 9.9 Sale Chit Chat Group
All Are Welcome!
Sign Up for New Accounts and Get Rewarded

mypromo.my: Referral Codes Center
Get Rewarded When you sign up with Referral Codes