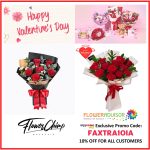 FlowerAdvisor Valentine's Day Flowers x 10% Off

Lazada Daily Cashback Vouchers
Collect and Use these vouchers
Get all the best deals via our Social Media! Follow Us!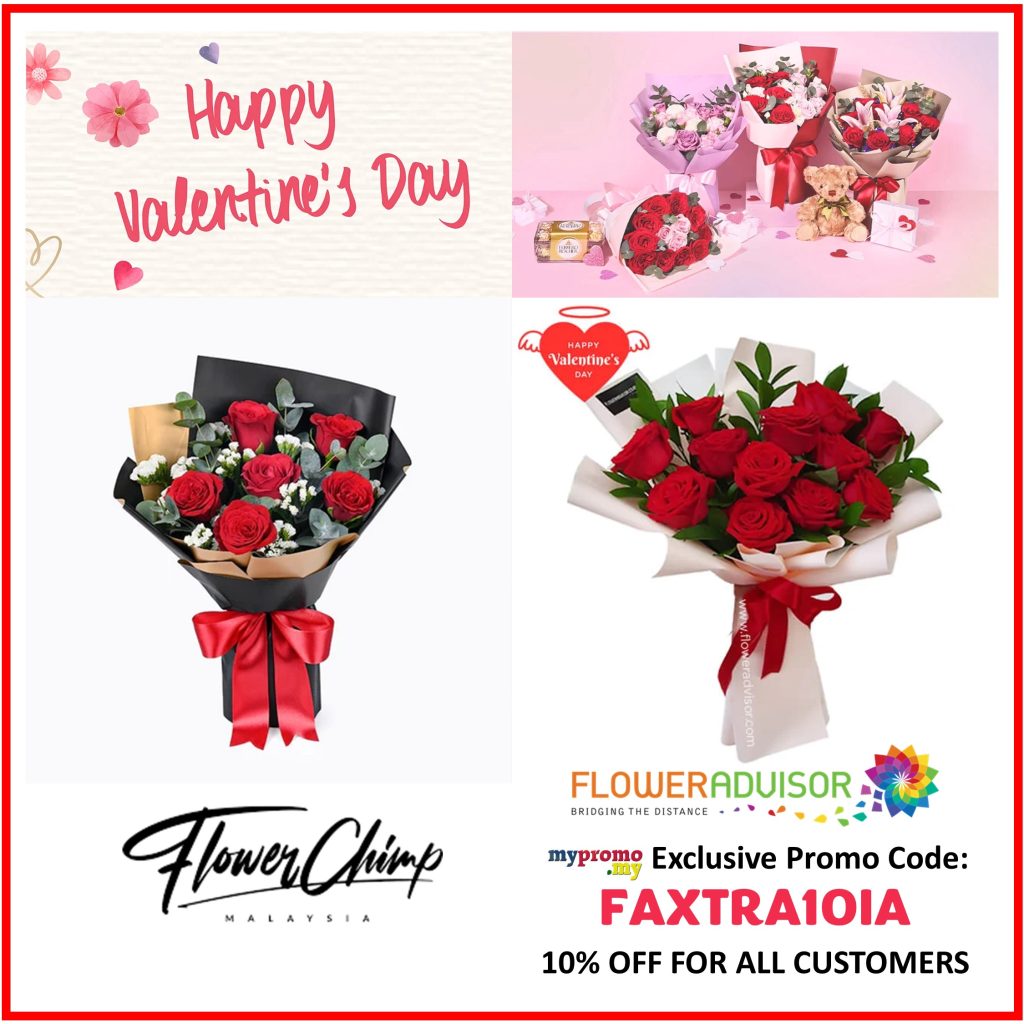 Shop collection of Valentine's Day Flower Bouquets at FlowerAdvisor and send the ultimate sign of love throughout Malaysia. Enjoy 10% off with exclusive promo code!
Shop Now at FlowerAdvisor

FlowerAdvisor Valentine's Day Flowers x 10% Off
FlowerAdvisor
https://mypromo.my/floweradvisor/vday
Exclusive Promo Code: FAXTRA10IA
Value: 10% OFF FOR ALL CUSTOMERS
FlowerChimp
https://mypromo.my/flowerchimp/vday
Celebrate the essence of love this Valentine's Day with a beautiful bouquet of fresh flowers delivered straight to your loved one's door in Malaysia. Choose from a variety of romantic arrangements to surprise your sweetheart.
Due to extremely high demand during Valentine's day week (Feb 11 – 15), it is advisable to place your order as early as possible!
VDAY 2023 – My Heart's Desire FA25267
MYR 493: A box consisting of 24 Ferrero Rocher chocolates, 17 red roses, and baby breath. A perfect combination of chocolates, flowers, and baby breath that will make your Valentine's Day gift sweet, romantic, and thoughtful. Buy Now: https://invol.co/clgco0m
VDAY 2023 – Heart's Haven FA25292
MYR 795: A heart-shaped bouquet of 60 red roses that is a perfect way to express your passionate love and affection for that special someone. The bouquet is arranged in a unique and special shape of heart to make it more romantic and memorable. Buy Now: https://invol.co/clgco32
VDAY 2023 – Love's Tenderness FA25268
MYR 382: A box of 22 red roses arranged in a heart shape. A classic and romantic gesture that will express your love and affection in a grand way on Valentine's Day. BUY NOW: https://invol.co/clgco48
More collection of Valentine's Day Flower Bouquets at FlowerAdvisor: https://mypromo.my/floweradvisor/vday
Start Your Valentine's Day Celebrations with A Flower Delivery
Ahh, love – that wonderful, thrilling experience when two individuals surrender to the depths of their emotions and infatuations for each other. That's what Valentine's Day 2023 is all about, and at Flower Chimp, we are here to help you celebrate this special occasion in style. If you've been apart from your partner or loved one for too long due to movement restrictions in Malaysia, you can still show your love and appreciation with a beautiful bouquet of flowers.
Our online shopping platform and steady stream of fresh blooms make it easy to have stunning flowers delivered right to your doorstep. Don't let distance or restrictions keep you from celebrating this precious moment – choose Flower Chimp to surprise your boyfriend, girlfriend, wife, or husband with the perfect Valentine's Day gift.
Valentine's Day Specials for Your Boyfriend or Girlfriend
When you are head over heels in love with someone, you will stop at nothing to demonstrate your admiration and enchantment for that person. There are a million different ways that you can accomplish it, but giving flowers is the simplest and most significant option during this season of love. Flowers are the focus of all we do here at Flower Chimp. Just like you feel deeply about the person you love, we feel deeply about flowers.
On this very memorable day, everyone should be given flowers as a token of your appreciation. Because Valentine's Day may be a time for firsts – a first girlfriend or boyfriend, a first kiss, a first engagement party, or even a first anniversary – we have designed flowers to celebrate the exciting milestones that may occur during this holiday.
Baby's Breath – The Perfect Valentine's Day Flower Delivery
This Valentine's Day, don't let baby's breath be the overlooked flower in your arrangements! These tiny, delicate blooms may be small in size, but they pack a big punch when it comes to adding a touch of whimsy and romance to your bouquet, basket, or standing arrangement. Baby's breath is a budget-friendly option that won't break the bank, but still adds a fresh and airy touch to any floral arrangement. Plus, it pairs beautifully with a variety of other flowers, from classic roses to exotic orchids.
So why not get creative this Valentine's Day and gift your sweetheart a bouquet full of fresh air and baby's breath? These dainty flowers deserve a chance to shine, so don't be afraid to include them in your Valentine's Day arrangements.
The Best Flowers For Valentine's Day 2023
In addition to roses, here are some other flower options for Valentine's Day:
Lilies. These large, fragrant flowers are a popular choice for Valentine's Day bouquets. They come in a variety of colors, including white, pink, and red.
Carnations. These inexpensive and widely available flowers are a popular choice for Valentine's Day bouquets. They come in a range of colors, including red, pink, and white.
Chrysanthemums. These brightly colored flowers are a popular choice for Valentine's Day bouquets. They come in a variety of colors, including red, pink, and yellow.
Orchids. These exotic and elegant flowers are a popular choice for Valentine's Day bouquets. They come in a variety of colors, including white, pink, and purple.
The key to picking the most romantic flowers for Valentine's Day is to think about what will make your special someone feel loved and appreciated. Whether you go for classic roses or something a little more unique, the most important thing is to choose flowers that are a perfect match for your relationship. So go ahead and let your heart lead the way – after all, nothing says "I love you" quite like a bouquet of flowers that truly speak to the soul.
Flower Bouquets As Valentine's Day Gifts
Valentine's Day is the ideal opportunity to show your affection to that special someone in your life. And what better way to do it than with a stunning bouquet of flowers from a local flower shop? At Flower Chimp, we have a wide range of Valentine's Day flowers, including classic red roses, tulips, and other beautiful blooms, to make a lasting impression on your loved one.
Our website is your go-to place for all your flower delivery needs in Kuala Lumpur on Valentine's Day. With plenty of flower arrangements to choose from, you'll surely find the perfect bouquet to express your love and wow your wife or girlfriend.
You can be sure that your flowers will arrive on time and in pristine condition because we provide quick delivery alternatives, such as same-day and express delivery. Additionally, our florists hand-arrange each bouquet of flowers to create one that is absolutely stunning and of the greatest quality.
But, flowers are not only for romantic love but also for expressing love to friends. Our colourful and lush flowers bouquets and plants are perfect for spreading happiness and passion to your closest friends.
For a truly romantic gesture, consider one of our elegant red roses bouquet, beautifully arranged and packaged in a luxurious box. Or, if you're looking for something a little different, our dried flowers arrangements are perfect for adding a touch of timeless romance to your gift.
No matter what your style or budget, you'll find the perfect Valentine's Day flower bouquet to suit your needs on our website. So, why wait? Browse our selection today and make your loved one's day with a stunning bouquet of flowers.
At Flower Chimp, we always aim to impress with our quality flowers and passionate service. Shop now and bring a smile to your loved one's face this Valentine's Day.
Valentine's Day Bouquet To Make Their Day | Same-Day Delivery
Time may pass, but the beauty of a flower bouquet will never go out of style. While fresh flower bouquets have been a standard Valentine's Day present for decades, we at Flower Chimp want to shake things up with our modern approach to bouquet design and delivery. When you order a bouquet of flowers from us, you can trust that a skilled florist has selected, curated, and arranged the blooms. Florists in your area are just one example of the many hardworking experts who make up our team; they work tirelessly to make sure your flower arrangements get to you on time and in pristine condition.
On this day dedicated to love, nothing beats a bouquet of flowers to brighten someone's day. Since we usually send flowers to those we love, why not send yourself a bouquet to show that you appreciate yourself?
Trouble deciding what to buy? You can trust Flower Chimp to help you choose the perfect Valentine's Day bouquet.
Spice Up Valentine's Day Plans with Flowers
Flowers are to gifts as bread is to butter. Presents complete the ensemble of flowers with added goodies. Think about it, which one would you rather receive? A Valentine's bouquet of flowers or a Valentine's bouquet with ice cream, cake, chocolates, and a cute teddy saying "I love you"? The choice is obvious. You could also add your own gifts to spice up the gift or as a bonus. Naughty or playful gifts such as edible underwear or toys for sensual pleasure are perfect for Valentine's Day gifts with flowers. They imply more than you could speak in words. Whether you're just married, dating, engaged, or just passed a 20th wedding anniversary, Valentine's Day MUST be celebrated with a bang!
mypromo's Payday  WhatsApp Groups
Want to receive promos and deals via WhatsApp?
Join our 9.9 Sale groups!
1. Only Admin Can Post
2. 9.9 Sale Chit Chat Group
All Are Welcome!
Sign Up for New Accounts and Get Rewarded

mypromo.my: Referral Codes Center
Get Rewarded When you sign up with Referral Codes