Get all the best deals via our Social Media! Follow Us!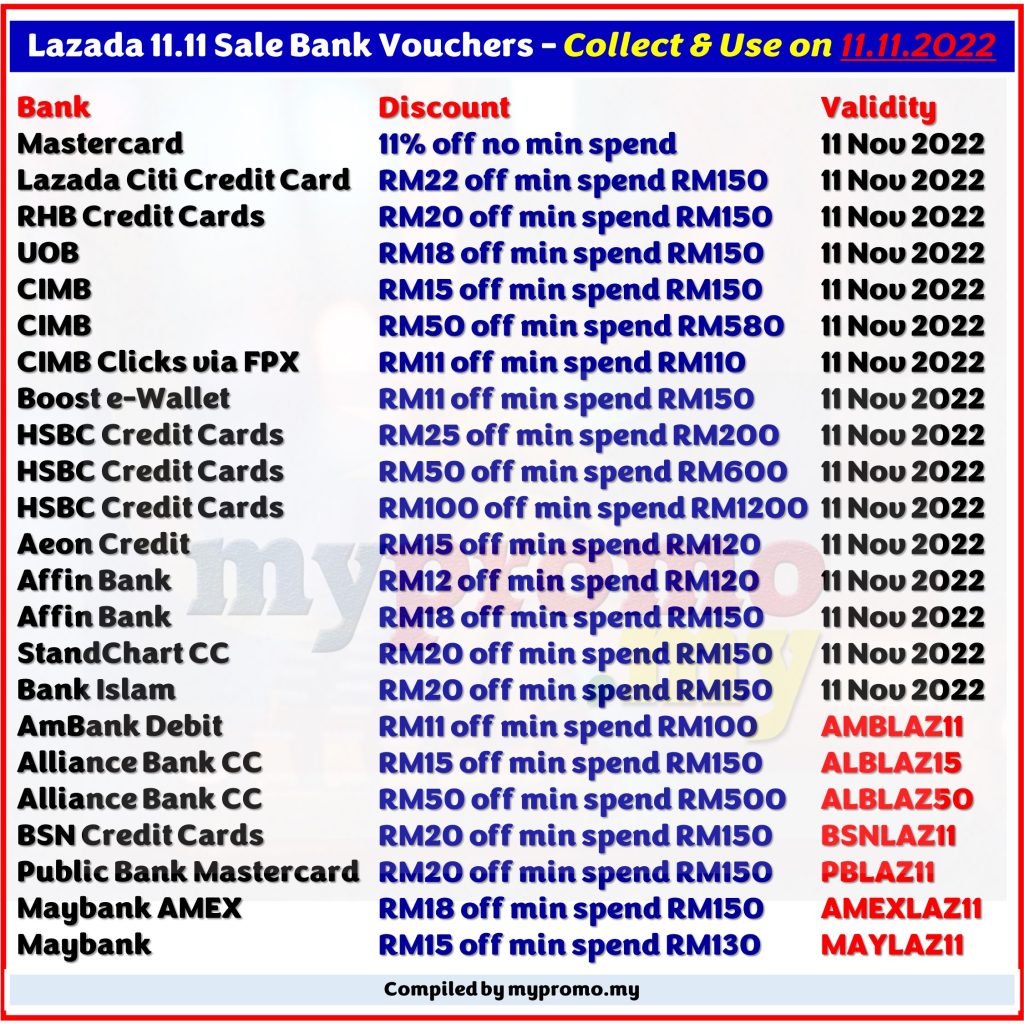 Complete List of Bank + ewallet Vouchers for Lazada 11.11
Main Page > https://mypromo.my/laz/bank/voucher
Collect vouchers at 12AM sharp.
*Top up timings are at 12pm, 4pm & 8pm throughout the offer period.
If you need specific bank/ewallet vouchers, follow the links below for faster collection.
Mastercard
Discount: 11% off no min spend
Collect HERE: https://click.accesstra.de/go/A219gUoQ
Lazada Citi Credit Card
Discount: RM22 off min spend RM150
Collect HERE: https://click.accesstra.de/go/I9A6RJ6z
RHB Credit Cards
Discount: RM20 off min spend RM150
Collect HERE: https://click.accesstra.de/go/Dx80nNz7
UOB
Discount: RM18 off min spend RM150
Collect HERE: https://click.accesstra.de/go/lKd65Gy2
CIMB
Discount: RM50 off min spend RM580
Discount: RM15 off min spend RM150
Collect HERE: https://click.accesstra.de/go/xPomuCud
CIMB Clicks via FPX
Discount: RM11 off min spend RM110
HSBC Credit Cards
Discount: RM25 off min spend RM200
Discount: RM50 off min spend RM600
Discount: RM100 off min spend RM1200
Collect HERE: https://click.accesstra.de/go/H4UXvjGQ
Bank Islam
Discount: RM20 off min spend RM150
Apply Code HERE: https://click.accesstra.de/go/18IjNIpd
AEON Credit
Discount: RM28 off min spend RM250
Discount: RM15 off min spend RM120
Collect HERE: https://click.accesstra.de/go/GeSKBfFu
Affin Bank
Discount: RM12 off min spend RM120
Discount: RM18 off min spend RM150
Collect HERE: https://click.accesstra.de/go/4AEXvit0
Standard Chartered Bank Credit Cards
Discount: RM20 off min spend RM150
Collect HERE: https://click.accesstra.de/go/C4i6JHRj
TNG eWallet
Discount: RM5 off min spend RM50
Collect HERE: https://mypromo.my/laz/TNG
Boost e-Wallet
Discount: RM11 off min spend RM150
Collect HERE: https://click.accesstra.de/go/SuzbziPs
Discount: RM5 off min spend RM80
Collect HERE: https://mypromo.my/laz/boost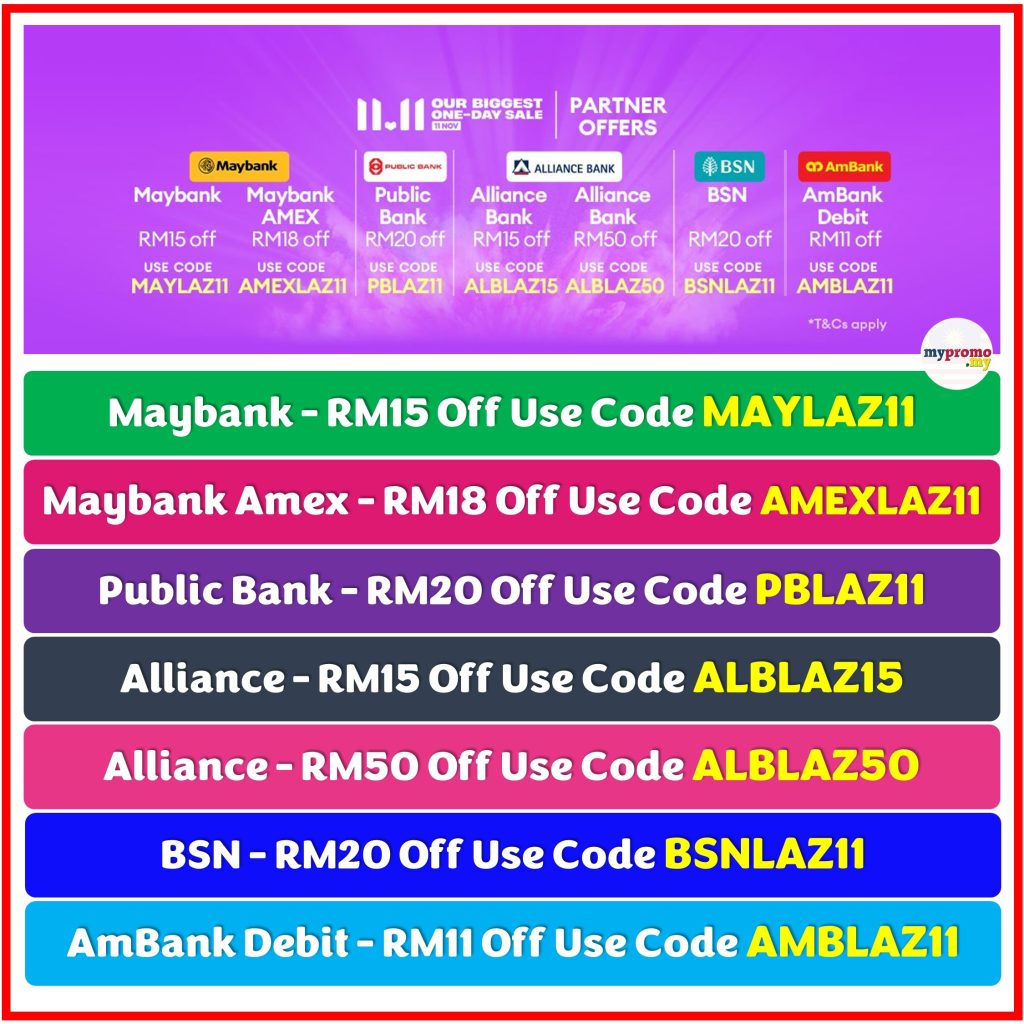 Lazada 11.11 Bank Voucher Code
Apply the code here: https://mypromo.my/laz/cart
Alliance Bank Credit Cards
Discount: RM15 off min spend RM150
Use Promo code: ALBLAZ15
Alliance Bank Credit Cards
Discount: RM50 off min spend RM500
Use Promo code: ALBLAZ50
AmBank Debit
Discount: RM11 off min spend RM100
Use Promo code: AMBLAZ11
BSN Credit Cards
Discount: RM20 off min spend RM150
Use Promo code: BSNLAZ11
Public Bank Mastercard Credit Cards
Discount: RM20 off min spend RM150
Use Promo code: PBLAZ11
Maybank AMEX
Discount: RM18 off min spend RM150
Use Promo code: AMEXLAZ11
Maybank
Discount: RM15 off min spend RM130
Use Promo code: MAYLAZ11
Sign Up for New Accounts and Get Rewarded

mypromo.my: Referral Codes Center
Get Rewarded When you sign up with Referral Codes