Lazada Daily Cashback Vouchers
Collect and Use these vouchers
Get all the best deals via our Social Media! Follow Us!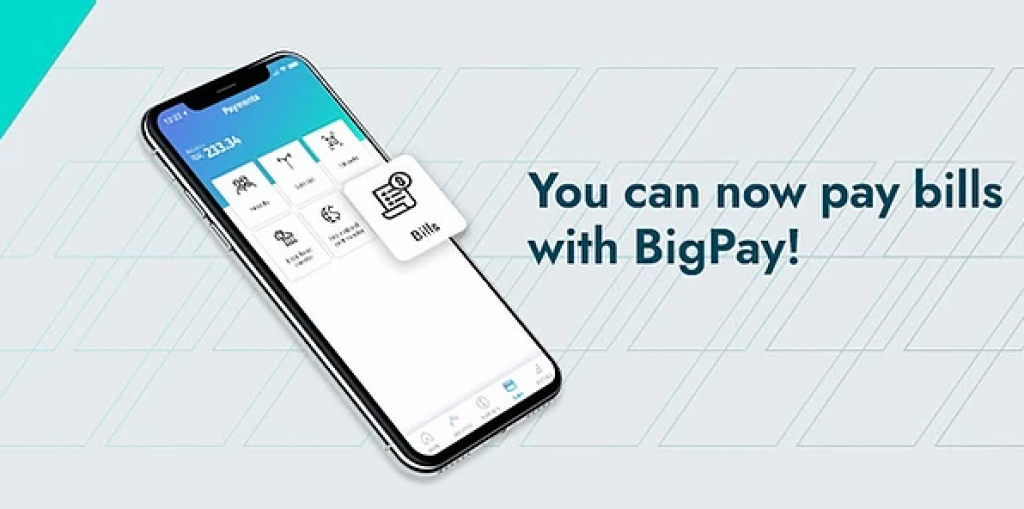 It's Much Easier to Earn BIG Points Now!
Update your BigPay app today and enjoy a new Bill Payments feature today. You can now settle your bills with over 20 billers. In addition to that, the upgrade also lets you set payment reminders, split bills among family members and friends, and earn BIG Points as you carry out your financial obligations.
Over 20 billers are currently available via the BigPay app including telcos, internet providers, water and electricity such as Astro, Celcom, Air Selangor, Sabah Electricity, Sarawak Energy Berhad and many more– unfortunately, no Tenaga Nasional Berhad (TNB) yet. BigPay will continue to expand the list of billers so its users can keep track and manage their finances easily.
Sign up now – it's completely free. Use our referral code and you will get RM10 when you sign up!
Our referral code: B7EQSVZHJ7
Sign Up Here: http://bigpay.link/referrals
Pay Your Bills
Here's a quick step-by-step walkthrough of how simple it is to pay your bills with the BigPay app.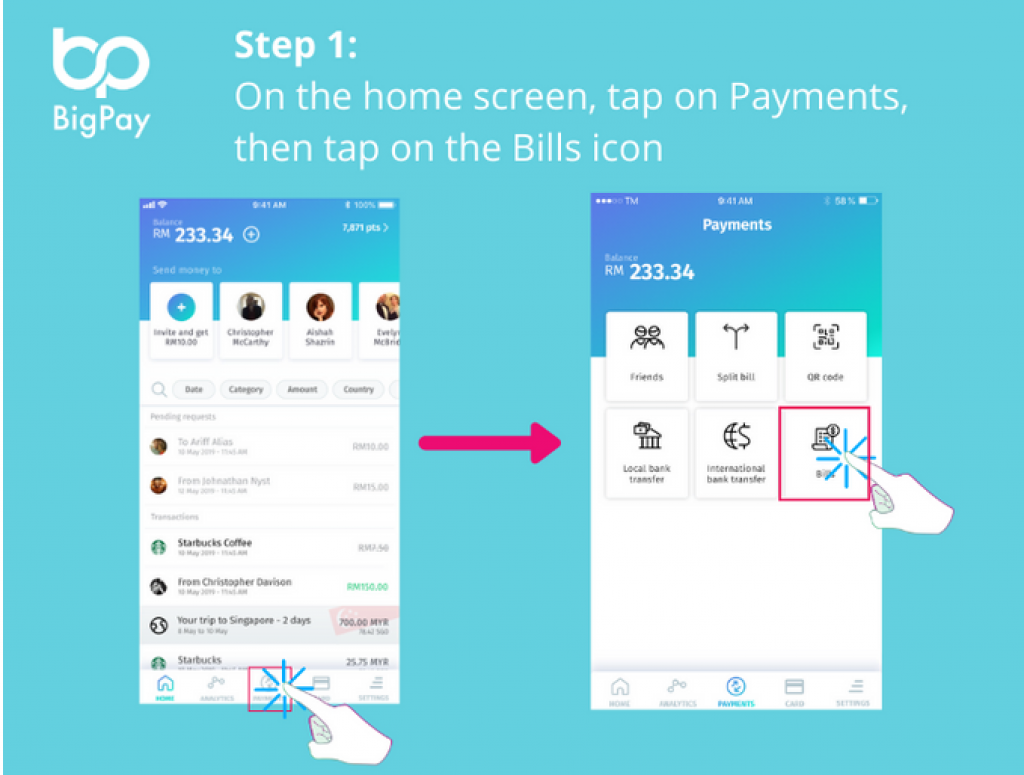 From BigPay's home screen, head to the Payments tab and tap on Bills
Select your biller and key in your amount and details
Set your automatic monthly reminder
Confirm your OTP upon receiving it (note – NEVER share your OTP to anyone else!)
Your transaction is done!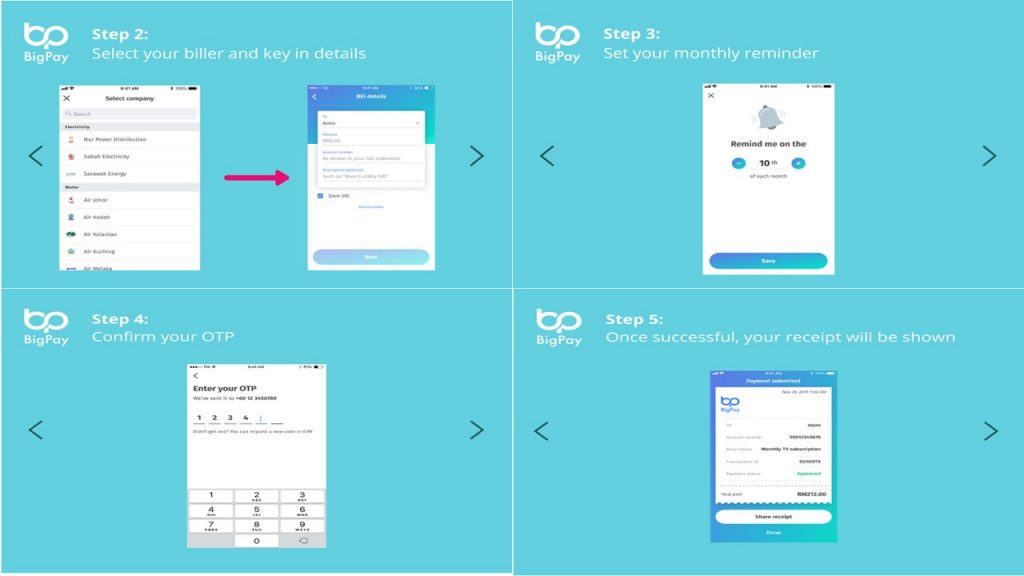 How to split your bills with BigPay?
If you've been manually splitting your monthly bills between housemates, friends or even family, here's some good news – you can do it automatically with BigPay!
Here's how: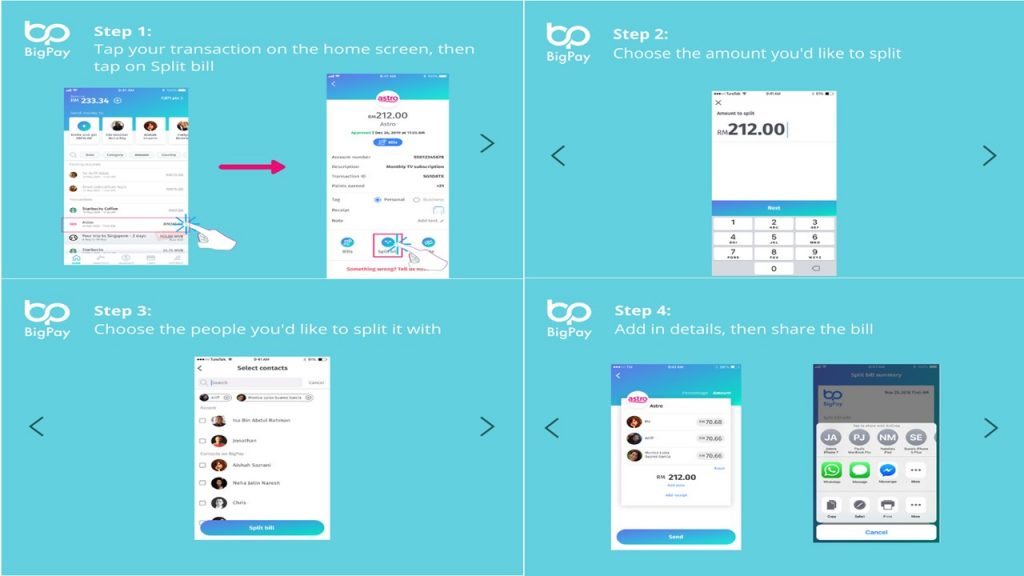 From BigPay's main screen, tap on your completed bill payment transaction, then tap on Split bill
Key in the amount you'd like to split
Choose the people you'd like to split it with
Add in additional details, then proceed to share the bill
Introducing Bill Payments with BigPay!
Paying bills should be easier and hassle-free, and we've made our new Bill Payments feature as simple as it can be.
3 key reasons why you should pay your bills with the BigPay app
1. ⏰ Never miss another bill again
We've created a useful monthly reminder tool within your BigPay app to make sure you stay alert to your recurring bills!
This way, you'll never have to worry about scheduling reminders, missing payments or paying late fees ever again!
2. ? Split your bills hassle-free
Here's a cool feature that no other apps out there can offer you – you can split your bills with your friends and family!
Gone are the days when you'll have to calculate your bill monthly, send the correct amount to the people you're splitting it with and give them your bank details.
Sharing a bill has never been easier – just pay and split with the BigPay app! If you're renting a house, this will make sharing the bill so much easier with your housemates!
3. ? Turn everyday bills into your next holiday
Look, paying your monthly bills is a necessary part of life. It's also hardly the easiest thing to get excited about – but what paying your bills can turn into your next holiday flight?
Yes, you can earn BIG points with every RM20 on bills paid with the BigPay app!
Get Your BigPay today:
Sign up now - it's completely free. Use my referral code and you will get RM10 when you sign up! My referral code: B7EQSVZHJ7
Click on the button to copy the Referral Code. Paste the BigPay Referral Code.
Step by Step: SignUp with BigPay MasterCard and Get RM10
Step 1: Download the BigPay app: https://mypromo.my/bigpay
Step 2: Sign up paste in referral code: B7EQSVZHJ7
Step 3: Upload your IC and personal detail
Step 4: Wait for approval (could take up days)
Step 5: After approve, load RM20. Can use your credit card or debit card
Step 6: Wait for the card to be delivered to you
Step 7: Activate and enjoy RM10 reward for signing up!
mypromo's Payday  WhatsApp Groups
Want to receive promos and deals via WhatsApp?
Join our 9.9 Sale groups!
1. Only Admin Can Post
2. 9.9 Sale Chit Chat Group
All Are Welcome!
Sign Up for New Accounts and Get Rewarded

mypromo.my: Referral Codes Center
Get Rewarded When you sign up with Referral Codes