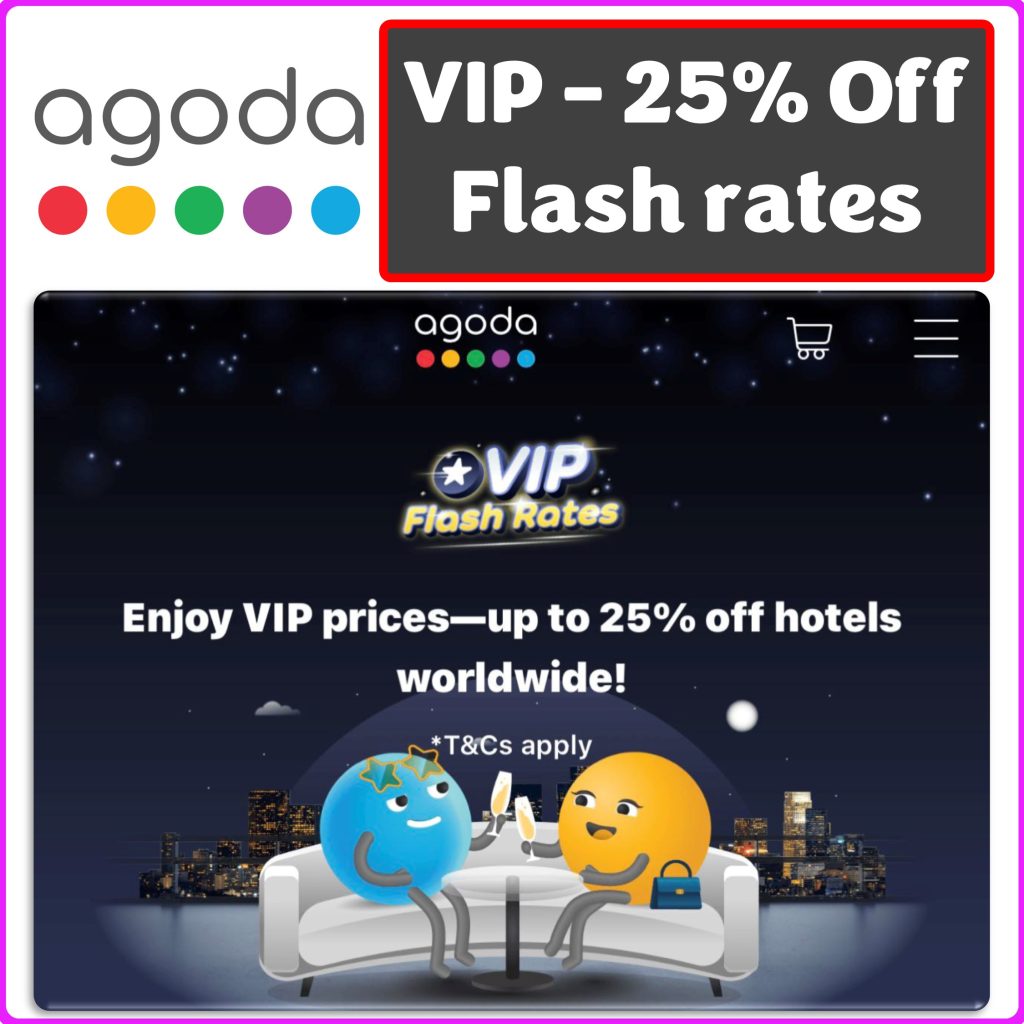 It's VIP Weekend on Agoda! Enjoy VIP Prices every Saturday and Sunday. Get up to 25% off participating hotels and other properties in your favourites destinations, as well as hotel perks like free breakfast and late check-out.
Book Now

Agoda x VIP Weekend Promotion
Up to 25% Off your booking.
Click here to browse VIP deals: https://mypromo.my/agoda/vip
Agoda Promotional Terms for VIP Flash Rates
Promotional Period: Every Saturday and Sunday from July, 2023 to September, 2023
Agoda is very pleased to offer promotional nightly rates ("Promotional Rates") for certain Agoda Bookings made during the Promotional Period and with check-in within 90 days of booking date("Promotional Bookings"). "Agoda Bookings" refers to bookings made through Agoda's online booking platform.
Provision of Promotional Rates, if any, to you shall be on a strictly as-is and as-available basis.
These promotional terms supplement the Terms of Use applicable to users of Agoda and available via the relevant link on the Agoda webpage at www.agoda.com ("Terms of Use"). Without limiting the rights of Agoda, the Cancellation Policy incorporated by the Terms of Use shall apply to any Promotional Booking made by you.
Any ambiguity in these promotional terms shall be construed in accordance with Agoda's interpretation.
Agoda may, at its sole discretion, immediately terminate this promotion at any time. However, Agoda shall make its best commercial efforts to honor Promotional Bookings made prior to any such termination. Notwithstanding anything to the contrary and to the maximum extent permitted by law, Agoda shall not be liable to you in connection with any Promotional Rates, Promotional Bookings, these promotional terms, or any other subject matter hereof.
Agoda's rights in relation to these promotional terms and/or the Terms of Use are complementary to the maximum extent possible, and each right of Agoda shall not be construed as limiting, restricting, or otherwise adversely affecting any other right of Agoda.
If any part of these promotional terms is found to be invalid, the remainder shall continue to be valid and the part found to be invalid shall be replaced with such new terms having a similar effect to the maximum extent possible.
Depending on each particular Promotional Booking made by you (if you make any), the Promotional Rate may be subject to additional taxes, fees, and/or other charges.
Please note that Agoda may display, on various promotional pages or graphics, tax-exclusive prices for your reference only; you should always check the tax-inclusive pricing displayed on the customer information page and payment information page (where you may enter your information before a booking is made.)
By making or benefiting from any Promotional Booking or benefiting from any Promotional Rate, you acknowledge and accept these promotional terms.
Agoda x Visa Infinite Visa Signature Promotions
Enjoy 14% off on international hotel bookings via Agoda using Visa Infinite and Visa Signature cards. Agoda is an online travel booking platform which offers a global network of 2 million properties in more than 200 countries and territories worldwide.
It provides travelers with easy access to a wide choice of luxury and budget hotels, apartments, homes, and villas to suit all budgets and travel occasions.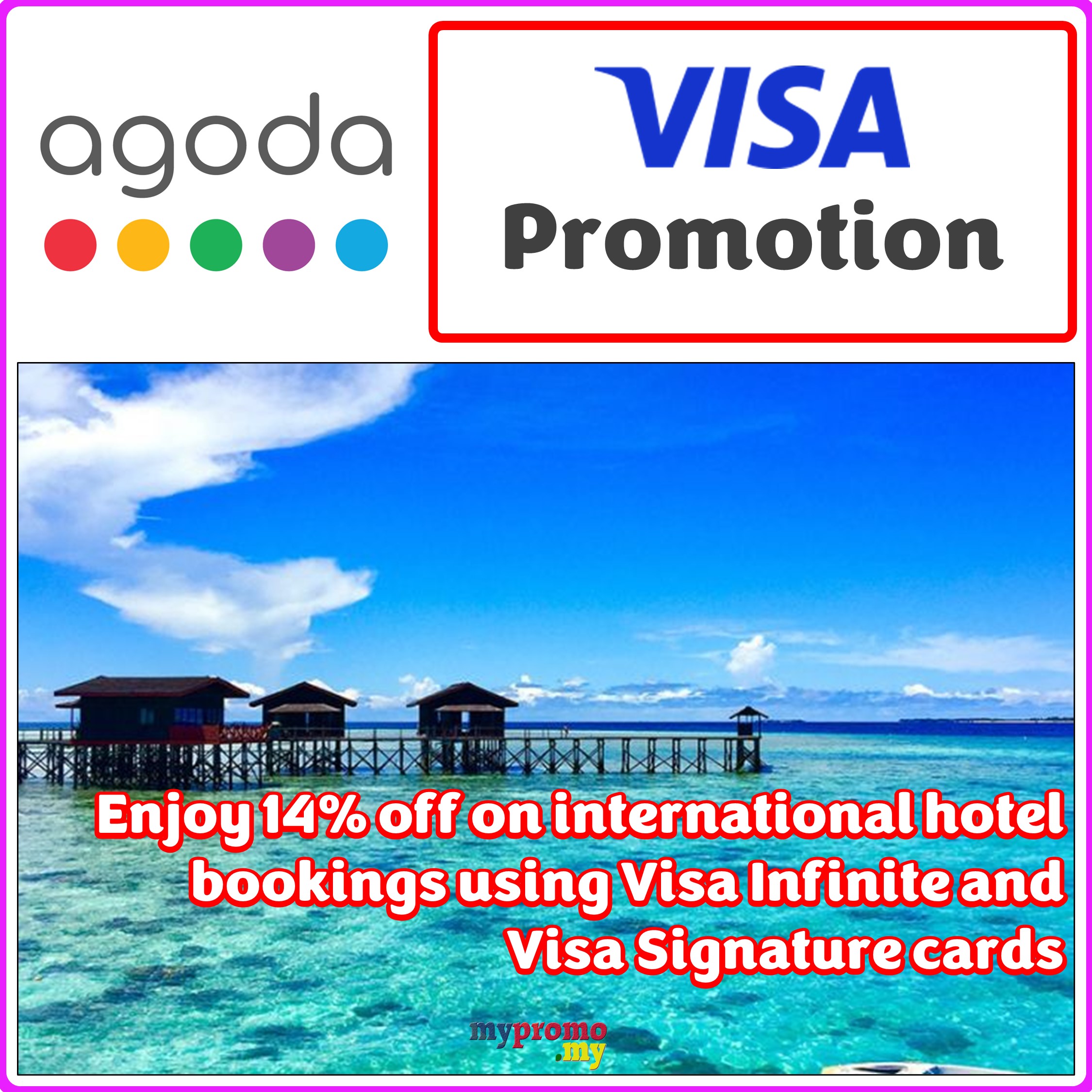 Agoda x Visa Card Promotion
Up to 14% Off your booking.
Agoda offers travelers a convenient way to book hotels, apartments, and homes around the world! This is a great opportunity for travelers to save on their next trip.

More Visa x Agoda Promotions
Destination: Worldwide
Card: VISA Card
Promo: 8% Off (RM120 cap per booking)
Valid Link: https://mypromo.my/agoda/visamy
Booking Period: Now – 31 Dec 2025
Stay Period: Now – 31 Mar 2026
Click here to book your hotel bookings!

Agoda x Visa Card Promotion
Up to 16% Off your booking. Offer is valid till 31 December 2022

Lazada Daily Cashback Vouchers
Collect and Use these vouchers
Get all the best deals via our Social Media! Follow Us!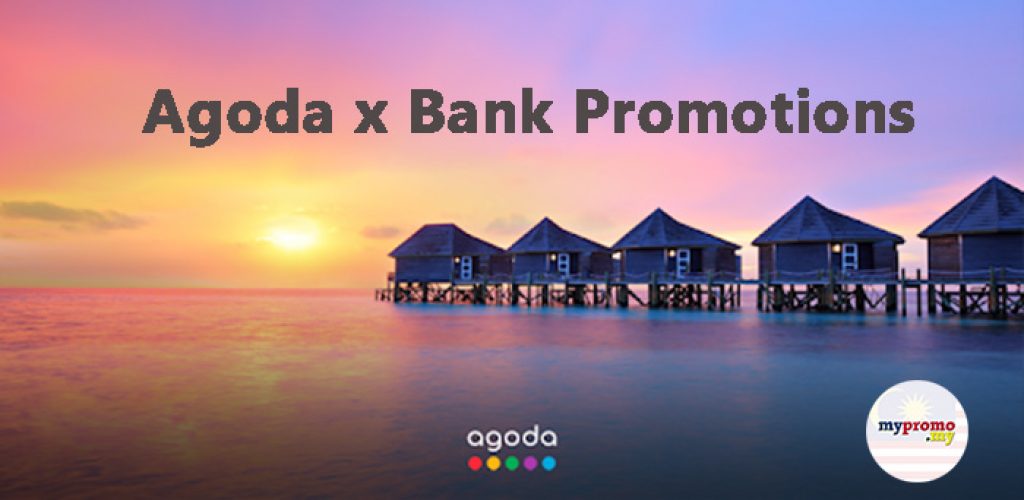 More Agoda x Bank Promotions Here: https://mypromo.my/agoda-bank-promotions/
Terms & Conditions
Details of the Promotion as follows:
| | | | | |
| --- | --- | --- | --- | --- |
| Booking Period | Stay Period | Discount | Destination | Card Type |
| Now – 31 Aug 2023 | Now – 30 Jun 2024 | 14% | Worldwide | Eligible VISA Infinite or Signature Card |
| Now – 31 Dec 2025 | Now – 31 Mar 2026 | 8% | Worldwide | Eligible VISA Card |
The Promotion is available to the qualifying and eligible cardholders of VISA cards issued in Malaysia which bears the VISA name and logo on the face of the card. Cardholders must settle payment with their valid VISA in order to enjoy the Promotion.
The Promotion is only applicable to the reservation of selected and designated merchant properties in certain destinations, made through a dedicated Promotion landing page only at following URL: agoda.com/visamy
The Promotion is subject to the terms and conditions of Agoda. In case of dispute, the decision of VISA and/or Agoda shall be final.
The Promotion is only valid for hotels that have the "Promotion Eligible" banner on the search results page and "Pre paid" ,"Pay now" and "Book Now, Pay later" room types only. Rooms that have the "Pay at the Hotel" flag do not qualify for the promotion.
The Promotion discount is capped at RM120 per transaction, on first come first served basis.
The Promotion discount is applicable to accommodation room charges only (excluding local taxes, service fees, extra charges, personal consumptions and the like).
The Promotion is non-transferable, non-cumulative, cannot be exchanged for cash or other products and cannot be used in conjunction with any other discount, promotions, discounted items and fixed price items (unless specified).
VISA and/or Agoda can change the terms of conditions at any point of time. The Promotion can be suspended or cancelled at any point in time without prior notice.
The Promotion is independent of, and unrelated to, any offer or arrangement between VISA and the cardholder (payment facility, etc.), which is at VISA's sole discretion and for which VISA is solely responsible and liable.
The Promotion discount will only be displayed on the booking form of the Promotion landing page after entering a valid VISA card number.
More Travel Offers and Promotions​ Here

mypromo's Payday  WhatsApp Groups
Want to receive promos and deals via WhatsApp?
Join our 9.9 Sale groups!
1. Only Admin Can Post
2. 9.9 Sale Chit Chat Group
All Are Welcome!
Sign Up for New Accounts and Get Rewarded

mypromo.my: Referral Codes Center
Get Rewarded When you sign up with Referral Codes