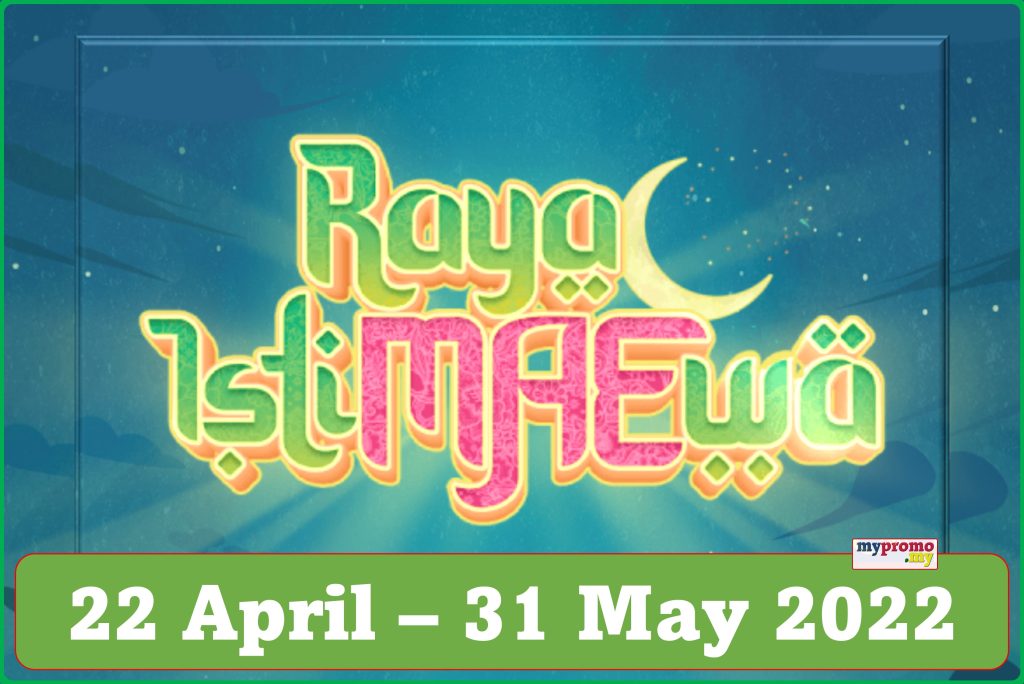 Perform eligible transactions to play the Raya IstiMAEwa game to win Proton X50, cash prizes and more. Raya IstiMAEwa Game ("Game") is only available on the MAE by Maybank2u app ('MAE App') downloaded from Google Play Store and Apple App Store.
No MAE Account? Sign Up today and get RM5 reward! (See steps below)
This game start from 22 April – 31 May 2022.
Perform Istimaewa transactions: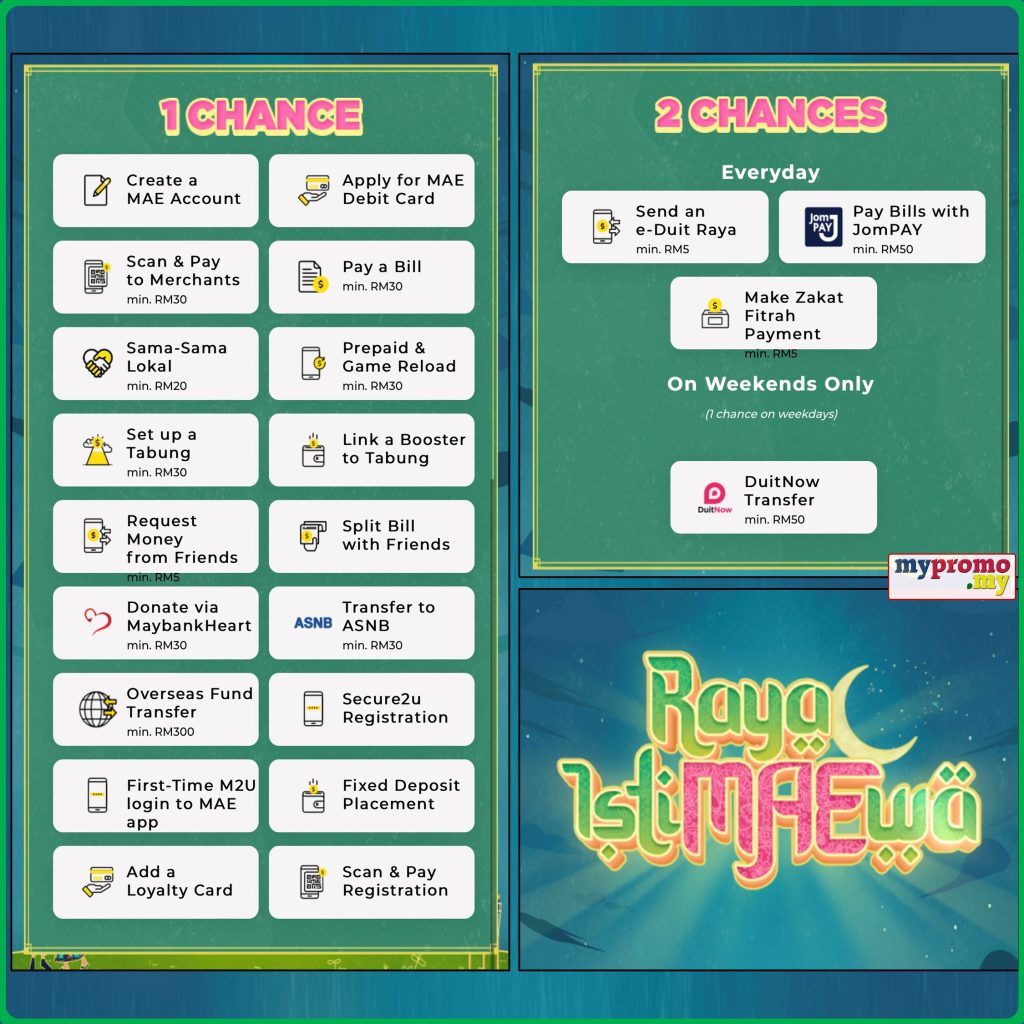 2 Istimaewa CHANCES
Everyday
Send an e-Duit Raya min. RM5
Jom PAY – Pay Bills with JomPAY min. RM50
Make Zakat Fitrah Payment min. RM5
On Weekends Only (1 chance on weekdays)
DuitNow – DuitNow Transfer min. RM50
1 Istimaewa CHANCE
Create a MAE Account
Apply for MAE Debit Card
Scan & Pay to Merchants min. RM30
Pay a Bill min. RM30
Sama-Sama Lokal min. RM20
Prepaid & Game Reload min. RM30
Set up a Tabung min. RM30
Link a Booster to Tabung
Request Money from Friends min. RM5
Donate via MaybankHeart min. RM30
Split Bill with Friends
Transfer to ASNB ASNB min. RM30
Overseas Fund Transfer min. RM300
Secure2u Registration
First-Time M2U login to MAE app
Fixed Deposit Placement
Add a Loyalty Card
Scan & Pay Registration
LUCKY Istimaewa PRIZES
Get all the best deals via our Social Media! Follow Us!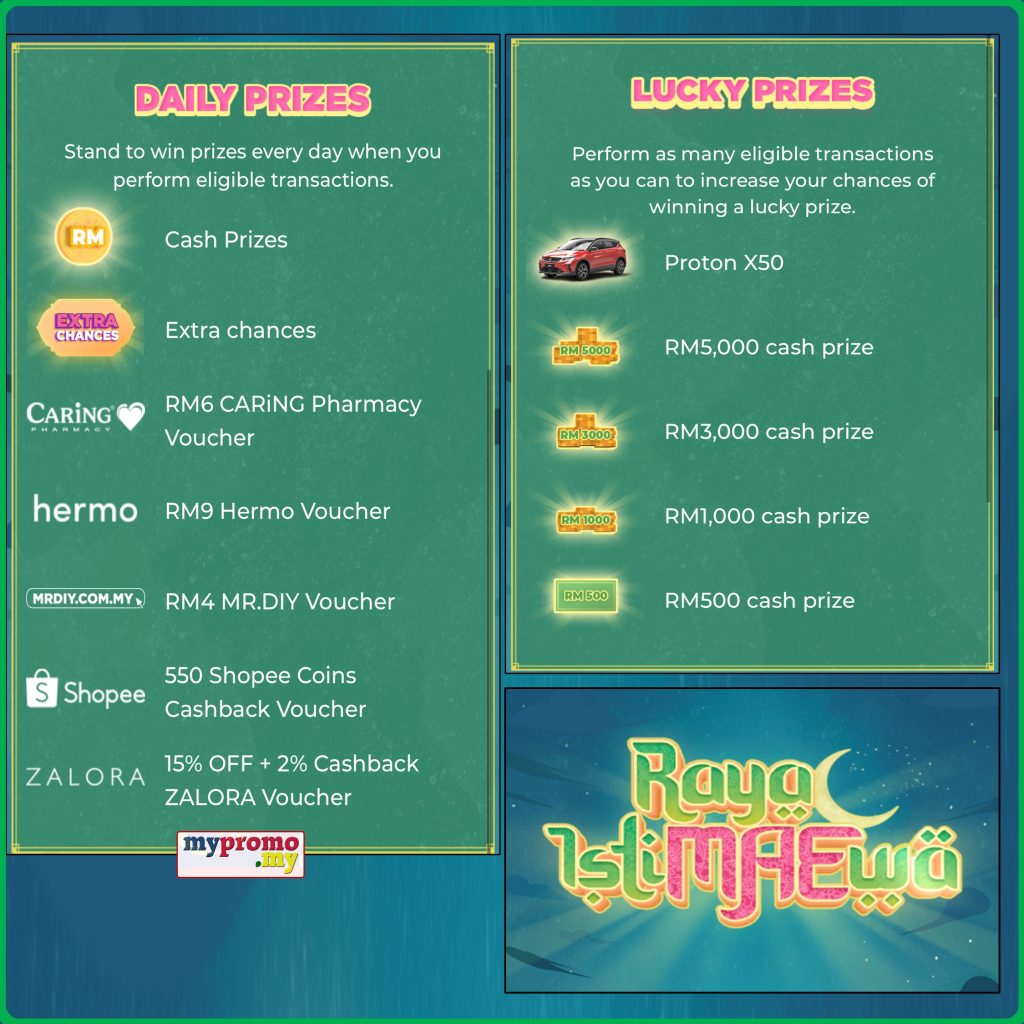 Perform as many eligible transactions as you can to increase your chances of winning a lucky prize.
Proton X50
RM5,000 cash prize
RM3,000 cash prize
RM1,000 cash prize
RM500 cash prize
DAILY Istimaewa PRIZES
Stand to win prizes every day when you perform eligible Istimaewa transactions.
Cash Prizes
EXTRA CHANCES Extra chances
CARiNG – RM6 CARiNG Pharmacy Voucher
hermo – RM9 Hermo Voucher
MRDIY.COM.MY – RM4 MR.DIY Voucher
Shopee – 550 Shopee Coins / Cashback Voucher
ZALORA – 15% OFF + 2% Cashback ZALORA Voucher
Get all the best deals via our Social Media! Follow Us!
Register for a MAE account and Get RM5 Free with Referral Code CGS0303
Create a free MAE account to start earning cashback! Sign up via the MAE app now and enjoy all the e-wallet features the app has to offer for free. Pay your bills, reload your mobile prepaid credit, save via Tabung and more!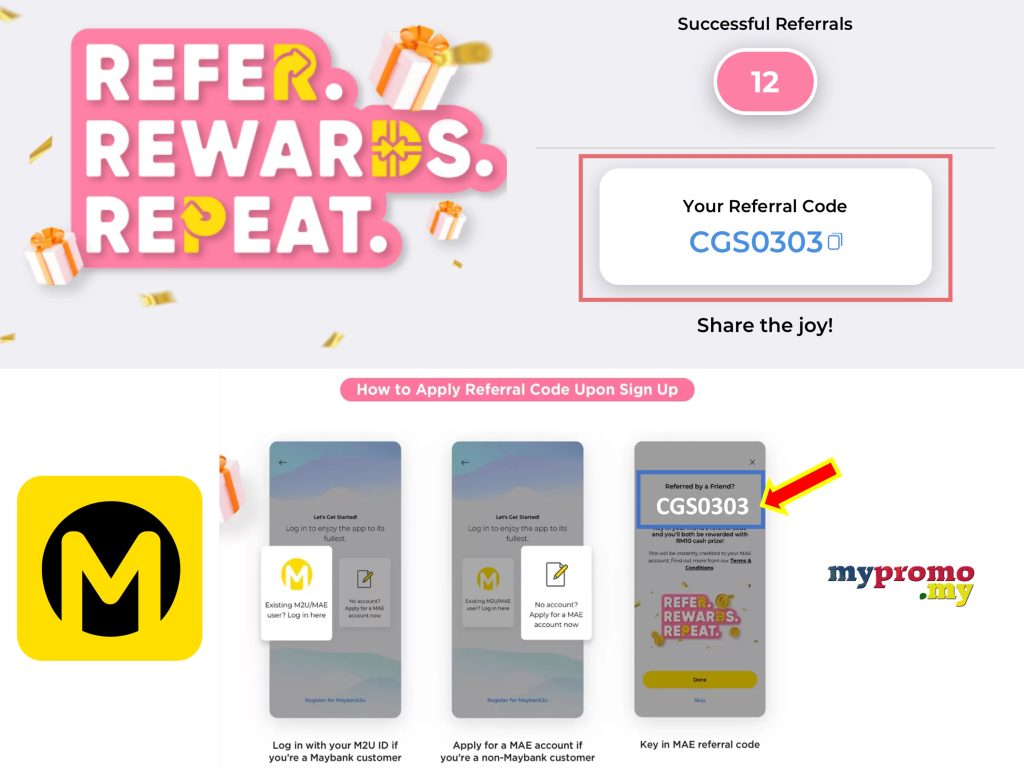 Register for a MAE account and Get RM10 Free into your account! No Maybank account? No worries, MAE is for everyone. Just follow the steps and RM10* is yours!
*Remember to key in referral code: CGS0303

Register for a MAE account and Get RM10 Free with Referral Code CGS0303
Android: https://play.google.com/store/apps/details?id=com.maybank2u.life
iPhone: https://apps.apple.com/us/app/mae-by-maybank2u/id1481028763
Easy Steps to Open Mae Account
Step 1: Download App
Step 2: Select "Apply for MAE account"
Step 3: Key in referral code CGS0303 and your details
Step 4: Snap photo of your ID
Step 5: Create your Maybank2u ID
Done! Your account will then be activated + RM5
Buka Akaun Maybank MAE dan Dapat RM5 Percuma
Daftar untuk akaun MAE dan Dapatkan RM10 Percuma ke dalam akaun anda! Tiada akaun Maybank? Jangan risau, MAE adalah untuk semua. Hanya ikut langkah dan RM10* adalah milik anda!
*Ingat untuk memasukkan kod rujukan: CGS0303
Langkah 1: Muat turun applikasi
Langkah 2: Pilih "Apply for MAE account"
Langkah 3: Masukkan referral code CGS0303 dan butiran anda
Langkah 4: Ambil gambar IC anda
Langkah 5:Cipta ID Maybank2u anda
Siap!, selepas itu, akaun anda akan diaktifkan + RM5
More Maybank Promotions: https://mypromo.my/tag/maybank
Scan & Pay with MAE Win RM100 Cashback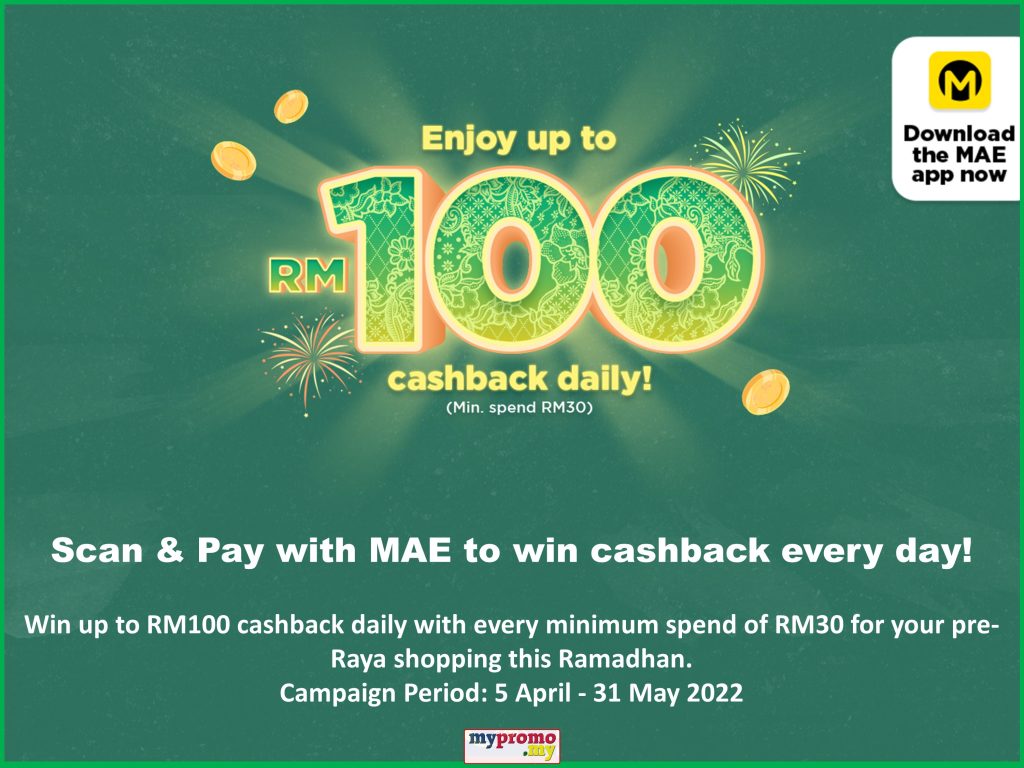 Scan & Pay with Maybank MAE to win cashback every day! Win up to RM100 cashback daily with every minimum spend of RM30 for your pre-Raya shopping this Ramadhan.
Campaign Period: 5 April – 31 May 2022
Scan & Pay at over 300,000 merchants nationwide for cashback daily!
To view the list of participating online merchants, click here.
Payment's a breeze with Scan & Pay.
Here's how to use it! Learn how to make cashless transactions with Scan & Pay on the MAE app for your Ramadhan shopping.
View full terms and conditions here
Campaign period is from 5 April 2022 to 31 May 2022 (subject to availability).
Each Maybank2u/MAE customer enjoys one (1) random cashback chance per day with a minimum spend of RM30 at all participating MAE and DuitNow QR merchants (including other banks and e-wallets) nationwide, upon payment with Scan & Pay via the MAE app or Maybank2u MY app.
To enjoy the cashback, the customer's source of funds for Scan & Pay must either be from their Maybank current account, savings account or MAE account.
Payment must be made via the MAE app version 0.8.5, or the Maybank2u MY app version 8.7 and above only.
Splitting of bills for the purpose of redeeming multiple cashback is strictly not allowed.
mypromo Telegram Channel
Want to receive  daily promos and deals via Telegram?
Join Our Channel Today

All Are Welcome!
Sign Up for New Accounts and Get Rewarded

mypromo.my: Referral Codes Center
Get Rewarded When you sign up with Referral Codes