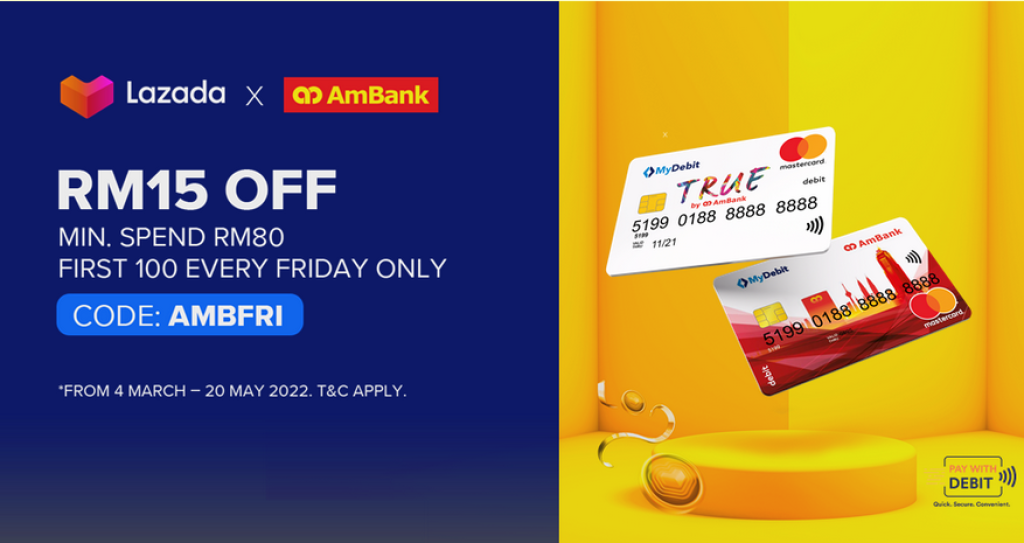 Debit Card x Lazada – AmBank Friday. Enjoy RM15 off with minimum spend of RM80 on Lazada App using AmBank Debit Card. Apply promo code AMBFRI at checkout.
Campaign period: 4 March 2022 – 20 May 2022
View Voucher Now
Terms & Conditions
This Offer is only valid for all purchases/transactions made with the AmBank Debit Card.
This Offer is valid on every Friday from 12.00am on 4 March 2022 to 11.59pm on 20 May 2022 (Malaysia time)("Campaign Period").
For this Offer to be applicable, all purchases/transactions must be made via Lazada App only.
Purchasers must enter promo code AMBFRI upon checkout to enjoy Ringgit Malaysia Fifteen (RM15) OFF ("Discount") with minimum spend of Ringgit Malaysia Eighty (RM80). This Offer is capped at the first one hundred (100) redemptions every Friday throughout the Campaign Period, on first come, first-served basis.
No cash alternatives or refund will be offered in lieu of the Discount.
The Discount is not valid in conjunction with any other vouchers, offer or promotions and product exclusion may apply.
Lazada reserves the right at its absolute discretion to amend these terms and conditions without any prior notice. AmBank gives no representation on the quality of services provided by Lazada. Any dispute related to this terms and conditions and/or Lazada's terms and conditions must be settled between the Purchasers in relation to this Offer with Lazada. AmBank shall not be responsible for resolving such disputes and such Purchasers are to liaise directly with Lazada for its related services. AmBank shall also not be responsible if Lazada's portal/web suffers any downtime or technical issues.
All other relevant Lazada terms and conditions at https://www.lazada.com.my/terms-of-use/ shall apply.
Click here for the full terms & conditions.
Start online shopping on Lazada app now!
Lazada x Ambank Saturdays
The offer is valid for all Lazada purchases/transactions made with a Ambank credit card issued in Malaysia. Offer is valid every Saturday only, from 12.00am to 11.59pm (Malaysia time) during Offer Period. The discount is applicable for spending on LAZADA's App only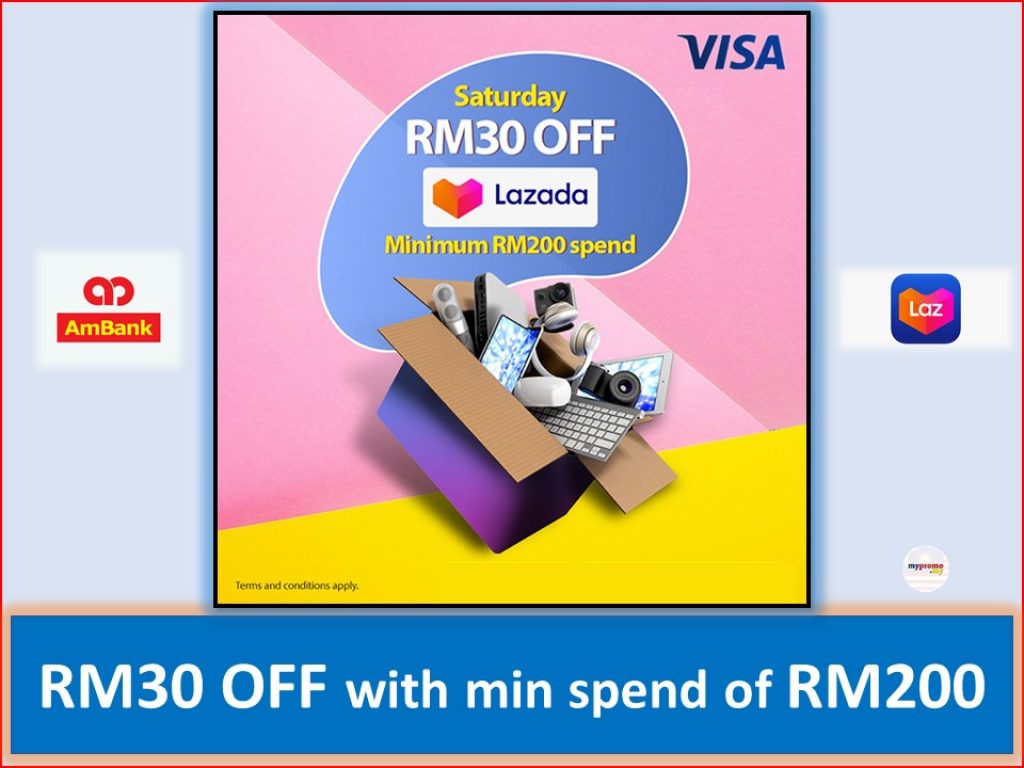 RM30 OFF with minimum spend of RM200 using Lazada's App every Saturday with your AmBank Visa Credit Card/ AmBank Visa Islamic Credit Card-i.

Collect your vouchers every Saturday from 17 April 2021 till 9 April 2022 and start shopping using Lazada's App @ http://laz-ambank.mypromo.my

This promotion is valid from 17 April 2021 till 9 April 2022
Get All Banks Promo: https://mypromo.my/lazada-shopee-bank-promo
Discount of RM30 off, with minimum spend of RM200; using Lazada App. 200 redemptions.
Tip* Be sure to collect your vouchers on Saturday 12.00am (usually the vouchers are released at midnight) No promo code required.

Lazada and Shopee x Bank Promotions List 2021
Get all bank promotions here.

Wednesday: Lazada x Maybank
RM15 Off Voucher. View Voucher to copy code.
Get all the best deals via our Social Media! Follow Us!

Sunday - AmBank x Shopee Top Up Promotion
Get RM8 off Voucher. Top Up minimum top up of RM80 on ShopeePay

Weekend: LAZADA x Maybank Happy Hours Promotion
RM18 OFF with a minimum spend of RM150. View Voucher to copy code.
Valid here : https://www.lazada.mypromo.my
TERMS AND CONDITIONS FOR AmBank CREDIT CARDHOLDERS:
The promotion is valid only from 17 April 2020 till 9 April 2022, inclusive of both dates.
Payment must be made using AmBankVisa Credit Card/-i
Collected vouchers will be automatically applied at checkout payment page upon entering the applicable AmBank Visa Credit Card/-i
Voucher is applicable for single use only but may be stacked with other brands', sellers' and Lazada campaign collectible vouchers.
The RM30 OFF discount is valid with a minimum purchase of Ringgit Malaysia Two Hundred (RM200), excluding shipping/courier charges and applicable only using Lazada mobile app. The discount is applicable for one (1) time redemption per Lazada registered customer per week and is valid only for the first two hundred (200) AmBank/ AmBank Islamic cardholders redemption per week on a first-come, first-served basis.
RM30 OFF discount is valid for collection and redemption every Saturday from 12.00AM on 17 April 2021 to 11.59PM on 9 April 2022.
The qualifying and participating cardholders are bound by the terms and conditions of Lazada and AmBank/ AmBank Islamic.
AmBank/ AmBank Islamic is not an agent of the partner and makes no representation as to the quality of goods and/or services provided. Any dispute about the goods and/or service is to be resolved directly with the partner.
AmBank/ AmBank Islamic reserves the right to terminate, amend or add to any of these terms and conditions from time to time with prior notice of at least five (5) calendar days' notice to cardholders before the new terms and conditions take effect.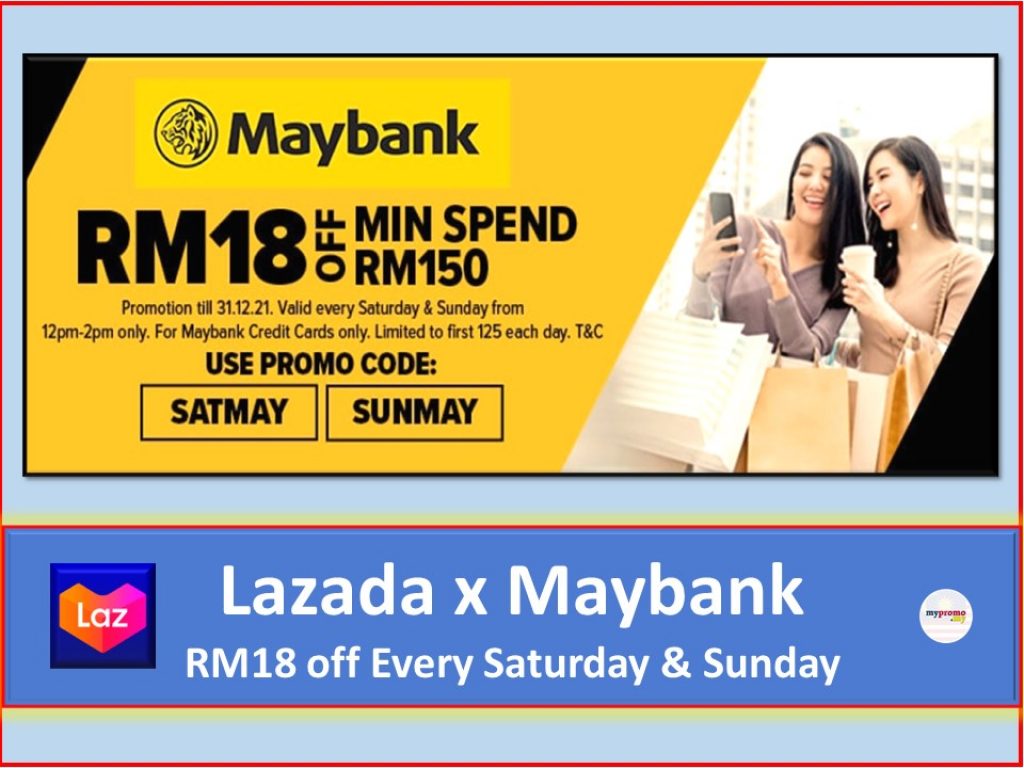 Maybank: Weekend Happy Hours Promotion
Enter Voucher Code Here: https://bit.ly/Laz-Cart
Plan your weekend shopping.
Use code to get RM18 off.
• Saturday Promo Code: SATMAY
• Sunday Promo Code: SUNMAY
Details: https://mypromo.my/lazada-mbb-weekend/
More Promotions, Offers and Vouchers from Shopee and Lazada