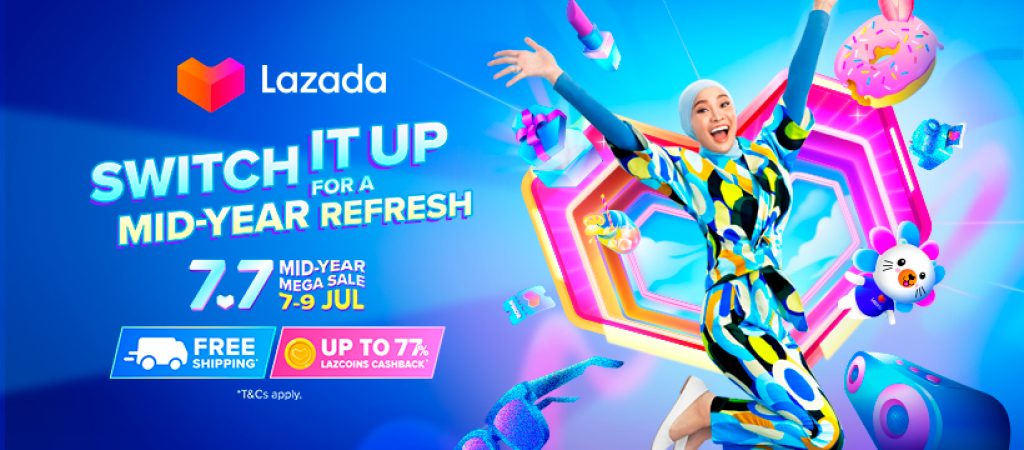 Lazada Bank Vouchers are back for Lazada 7.7 Mid-Year Mega Sale 2023. Collect these bank vouchers from 5th July – 7th July 2023 and use the vouchers on 7.7 Sale which is happening from 5th until 7th July to enjoy more discounts on your purchases!
How to Collect/Apply Lazada Bank Vouchers
Collect Voucher for 7.7 Sale

Lazada Mid-Year Mega Sale Bank Voucher
Collection 5-7 July
Go to Lazada Bank Voucher Page: https://mypromo.my/lazada/bank/vouchers
Collect up to RM50 Off bank Vouchers [from 7-9 July] ~ Limited stock, if you don't see the voucher, means, it's out of stock!
Add to Cart.
Check Out on 7.7 at midnight together with the voucher and Lazada Bonus!
Apply Voucher
Shop and add to cart: https://mypromo.my/lazada/77
Copy voucher code
Apply code here and check out with Lazada Bonus!
Get all the best deals via our Social Media! Follow Us!
List of Bank Voucher for Lazada 7.7 Sale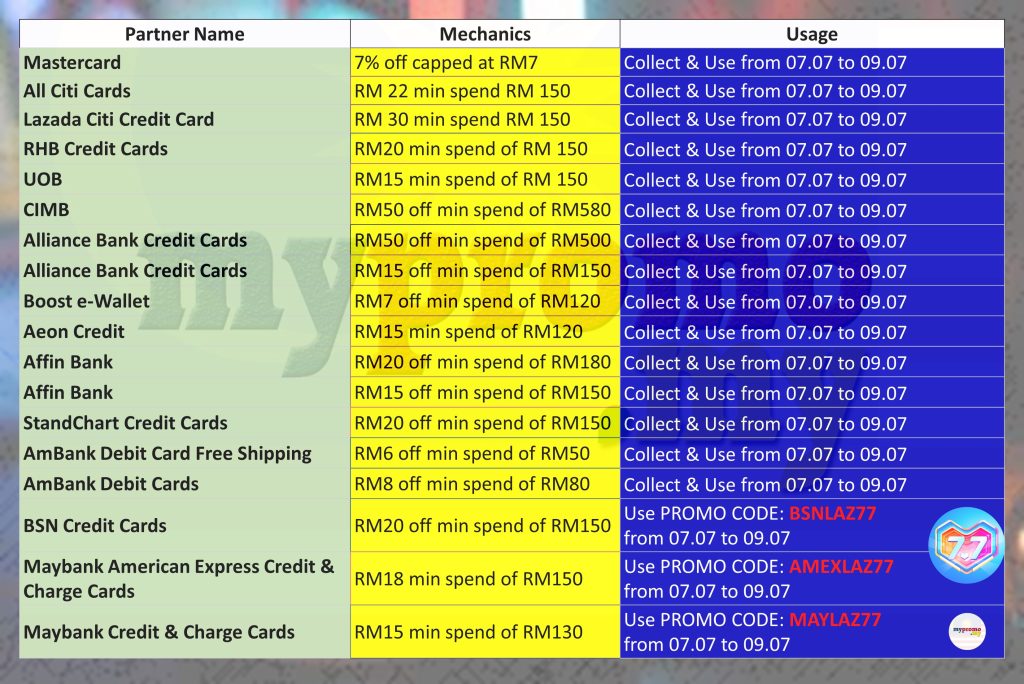 For specific bank vouchers, follow the link:
Citi – https://invol.co/clbv4o1
Boost – https://invol.co/clbv4jw
RHB – https://invol.co/clbv4na
CIMB – https://invol.co/clbv4ot
HSBC – https://invol.co/clbv4pm
SCB – https://invol.co/clbv4r3
Alliance Bank – https://invol.co/clbv4t1
AmBank – https://invol.co/clbv4uc
AEONCredit – https://invol.co/clbv4vh
Affin – https://invol.co/clbv4wl
UOB – https://invol.co/clbv4xh
BSN – https://invol.co/clbv4yf
Partner Name
Mechanics
Usage
Collect Here
Mastercard
7% off capped at RM7
Collect & Use from 07.07 to 09.07
Link
All Citi Cards
RM22 min spend RM150
Collect & Use from 07.07 to 09.07
Link
Lazada Citi Credit Card
RM30 min spend RM150
Collect & Use from 07.07 to 09.07
Link
RHB Credit Cards
RM20 min spend of RM 150
Collect & Use from 07.07 to 09.07
Link
UOB
RM15 min spend of RM 150
Collect & Use from 07.07 to 09.07
Link
CIMB
RM50 off min spend of RM580
Collect & Use from 07.07 to 09.07
Link
Alliance Bank Credit Cards
RM50 off min spend of RM500
Collect & Use from 07.07 to 09.07
Link
Alliance Bank Credit Cards
RM15 off min spend of RM150
Collect & Use from 07.07 to 09.07
Link
Boost e-Wallet
RM7 off min spend of RM120
Collect & Use from 07.07 to 09.07
Link
Aeon Credit
RM15 min spend of RM120
Collect & Use from 07.07 to 09.07
Link
Affin Bank
RM20 off min spend of RM180
Collect & Use from 07.07 to 09.07
Link
Affin Bank
RM15 off min spend of RM150
Collect & Use from 07.07 to 09.07
Link
StandChart Credit Cards
RM20 off min spend of RM150
Collect & Use from 07.07 to 09.07
Link
AmBank Debit Card
Free Shipping
RM6 off min spend of RM50
Collect & Use from 07.07 to 09.07
Link
AmBank Debit Cards
RM8 off min spend of RM80
Collect & Use from 07.07 to 09.07
Link
BSN Credit Cards
RM20 off min spend of RM150
Use PROMO CODE: BSNLAZ77 from 07.07 to 09.07
Apply
Code
Maybank American Express
Credit & Charge Cards
RM18 min spend of RM150
Use PROMO CODE: AMEXLAZ77 from 07.07 to 09.07
Apply
Code
Maybank Credit & Charge
Cards
RM15 min spend of RM130
Use PROMO CODE: MAYLAZ77 from 07.07 to 09.07
Apply
Code
SPECIAL MECHANICS
Mastercard
1 – 6 July excl. 5 July
Cashback
Capped at RM
Top up Lazada Wallet first time
Saved Card
7%
7
Top Up Here
Top up Lazada Wallet
Existing Saved Card
5%
5
Top Up Here
Citibank Cards
1 – 10 July
Cashback (RM)
Min. top up (RM)
Top Up Here
Top up min of RM200 into
Lazada Wallet to get RM18 Cashback
18.00
200
Top Up Here
AmBank Debit Cards
1 – 6 July
Voucher Disc (RM)
Save your AmBank Debit Card
for the first time and get RM10 Voucher
10.00
Top Up Here
Lazada 7.7 Top Up Wallet Promotion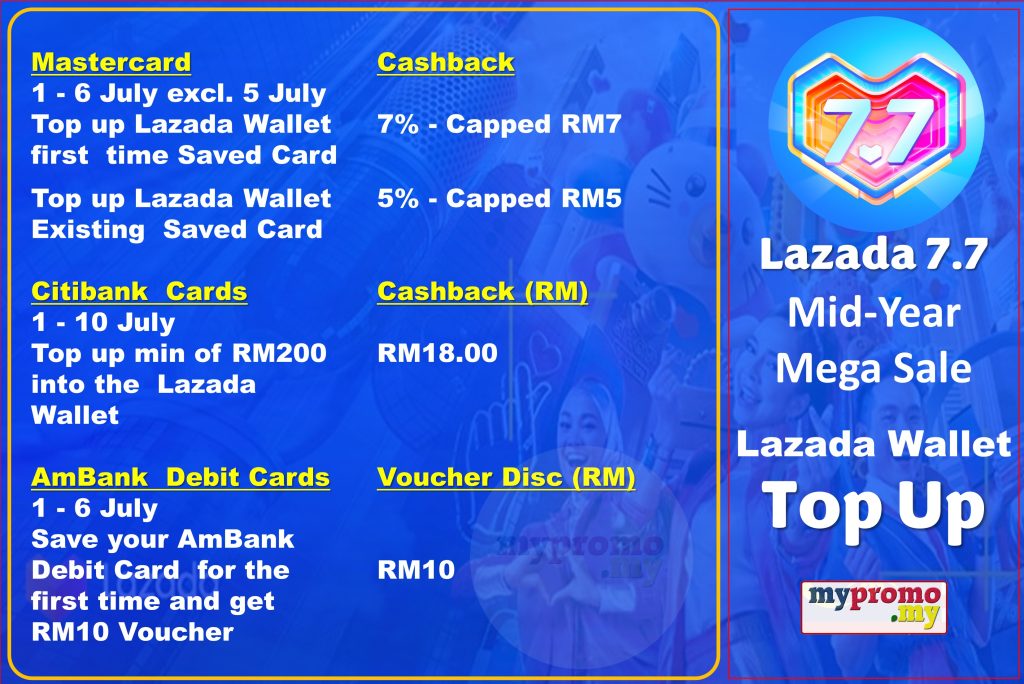 Top Up Here: https://mypromo.my/wallet-topup
Mastercard
1 – 6 July excl. 5 July
Top up Lazada Wallet first time Saved Card
Cashback: 7% Capped at RM7
Top up Lazada Wallet Existing Saved Card
Cashback: 5% Capped at RM5
Citibank Cards
1 – 10 July
Top up min of RM200 into the Lazada Wallet to get RM18 Cashback
Cashback: RM18 Min top up RM200
AmBank Debit Cards
1 – 6 July
Save your AmBank Debit Card for the first time and get RM10 Voucher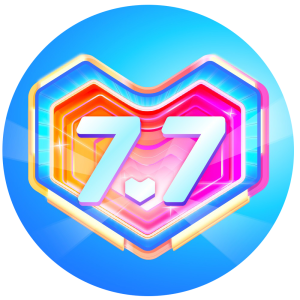 More Promotions, Offers and Vouchers from Shopee and Lazada