Telegram Channel
Updated Daily with the Best Deals and Offers
Get all the best deals via our Social Media! Follow Us!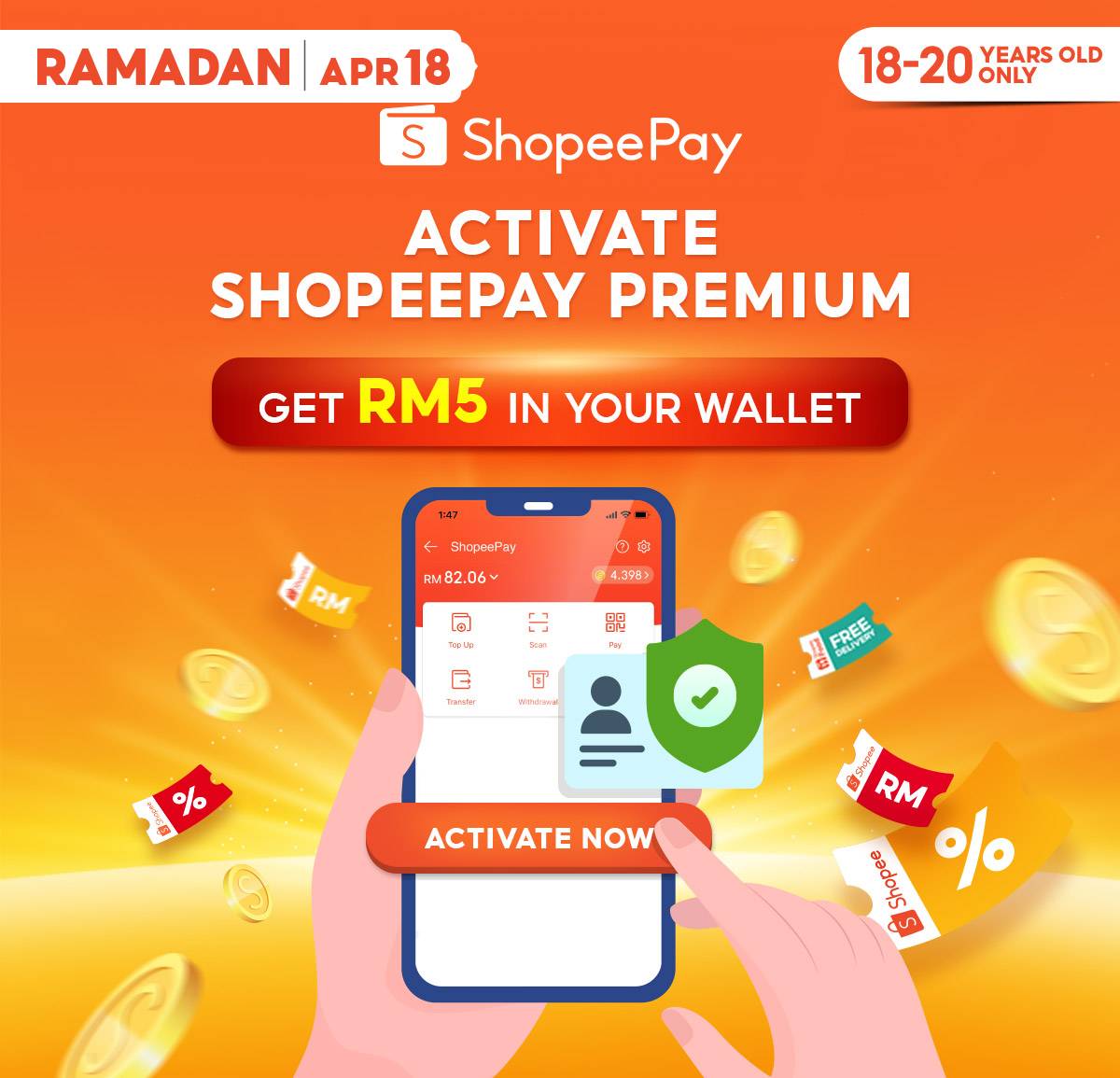 Do you know that soon you'll be able to claim RM150 and enjoy amazing rewards with ePemula via Shopeepay?
If you don't know already know, ePemula is an initiative by the Government of Malaysia to encourage cashless transactions among Malaysian youths aged 18-20 years old and full time university students. Know anyone or a dear friend who qualifies? Spread the news and share with your followers too!
Get a head start now and get RM5 in your ShopeePay wallet by activating your ShopeePay Premium today!
Here's how:
Activate your ShopeePay
Verify your account with your I.C.
Get RM5 credited into your wallet Stay tuned for more updates on this and learn more about ePemula here: https://shope.ee/400oTCUvcu

Claim your RM150 e-Pemula via ShopeePay
Activate ShopeePay & Get EXTRA RM5 Offer Now
Claim ePemula via ShopeePay and Enjoy these EXTRA Rewards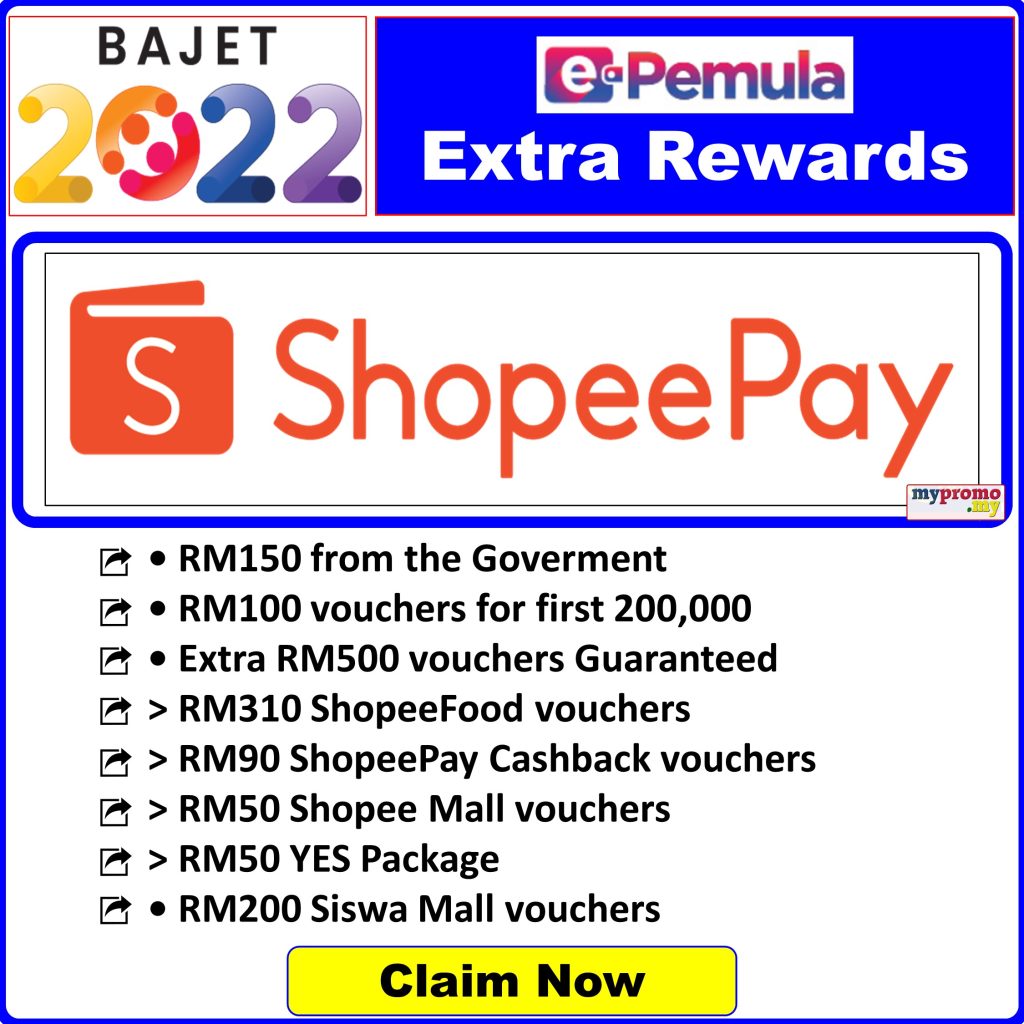 RM150 from the Goverment
RM100 vouchers for first 200,000
Extra RM500 vouchers Guaranteed

RM310 ShopeeFood vouchers worth RM310
RM90 ShopeePay Cashback vouchers
RM50 Shopee Mall vouchers
RM50 YES Package

RM200 Siswa Mall vouchers
Around two million youths will each receive a RM150 e-wallet credit through the e-Pemula/e-Start initiative which will kick-off in mid-April.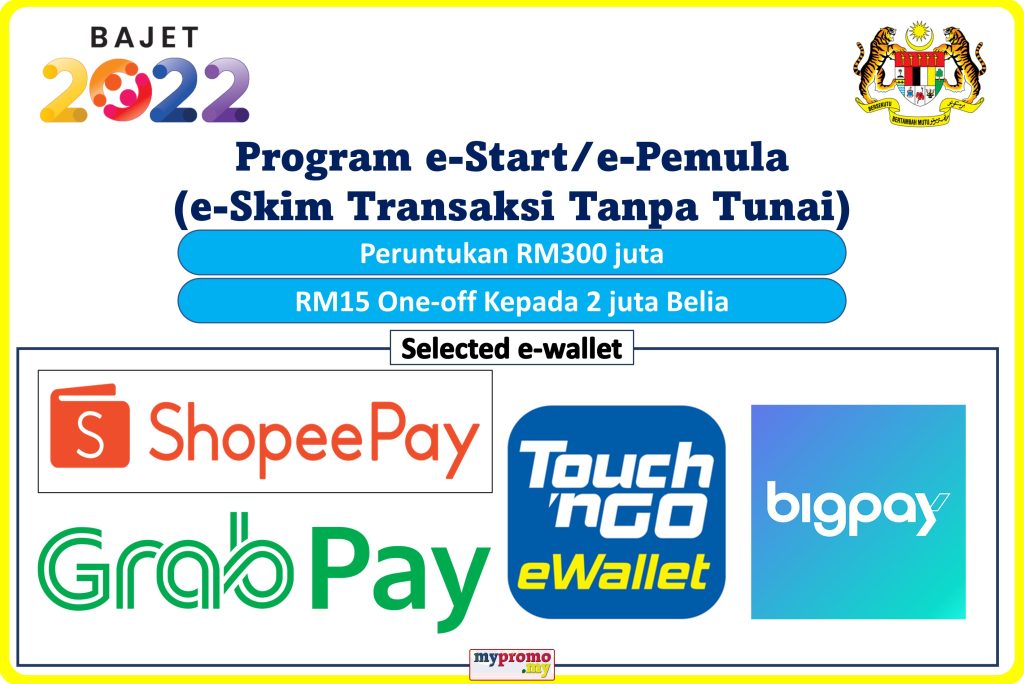 Finance Ministry, in a statement today said that eligible youths would get to enjoy the benefit through selected e-wallet providers, namely BigPay, GrabPay, ShopeePay and Touch 'n Go.

BigPay sign up promotion
Get RM10 into your BigPay Account!
"Currently, the four e-Wallet service providers have a network of 1.2 million retailers," said the statement.
Small and medium enterprise traders who have not registered with the e-wallet service providers involved to accept electronic or cashless payments are advised to do so to enable them to enjoy the benefit from the implementation of the initiative.
KUALA LUMPUR, March 27 – Over two million youths are expected to benefit from the soon-to-be-launched RM300 million e-Pemula programme, said Finance Minister Tengku Datuk Seri Zafrul Tengku Abdul Aziz.
e-Pemula is a cashless transaction scheme for youths aged between 18 and 20 years old, as well as full-time students in higher learning institutions, where RM150 will be credited on a one-off basis into their respective e-wallets.
Speaking at the virtually-held 'My Money & Me' financial management workshop in conjunction with the Global Money Week 2022 today, Tengku Zafrul highlighted that Budget 2022 had provided many funds and financing facilities specifically for youths.
"For example, if you are a young entrepreneur, there is the RM150 million Young Entrepreneur Financing Plan offered by Bank Simpanan Nasional and Agrobank.
"Additionally, since 2019, the government has been providing a RM900 allowance to students undergoing industrial training programmes to ease their financial burden," he said.
The finance minister also took the opportunity to remind the youths of the importance of practising positive financial management.
"To achieve financial well-being, you need to familiarise yourself with the concept of self-control and get acquainted with the world of investments, as well as takaful and insurance plans that will, to some extent, help ensure financial well-being," he added. [Source]
Sign up now - it's completely free. Use my referral code and you will get RM10 when you sign up! My referral code: B7EQSVZHJ7
Click on the button to copy the Referral Code. Paste the BigPay Referral Code.
Step by Step: SignUp with BigPay MasterCard and Get RM10
Step 1: Download the BigPay app: https://mypromo.my/bigpay
Step 2: Sign up paste in referral code: B7EQSVZHJ7
Step 3: Upload your IC and personal detail
Step 4: Wait for approval (could take up days)
Step 5: After approve, load RM20. Can use your credit card or debit card
Step 6: Wait for the card to be delivered to you
Step 7: Activate and enjoy RM10 reward for signing up!
mypromo Telegram Channel
Want to receive  daily promos and deals via Telegram?
Join Our Channel Today

All Are Welcome!
Sign Up for New Accounts and Get Rewarded

mypromo.my: Referral Codes Center
Get Rewarded When you sign up with Referral Codes