Telegram Channel
Updated Daily with the Best Deals and Offers
Get all the best deals via our Social Media! Follow Us!
If you have made payment via Boost eWallet, you'll have earned Shake Reward. Shake to receive your Rewards. One of the many rewards is Free RM5 Lazada Wallet!
How do you use this RM5 Lazada Wallet in your Boost ewallet?
Follow these few steps!
Shop or pay bill:
Pay minimum RM100
Select Boost as payment method
Pay and Done
Check your Boost ewallet transactions. Only RM95 will be deducted from your Boost ewallet and another RM5 is deducted from Lazada Wallet (from your shake rewards).
You can use RM5 Lazada Wallet in your Boost ewallet
• to pay bill
https://mypromo.my/laz/bill
• to checkout your items
https://mypromo.my/laz/cart
Don't miss this deal, sign up now:
https://mypromo.my/go/boost
A minimum spend of RM100 is required to utilize the Reward, and it must only be utilized when making payment
The Reward is valid for fourteen (14) days or until full usage/utilization, whichever comes first. Any unutilized Reward shall expire and be forfeited automatically without notice and the Customer shall have no claim whatsoever against eCode.
REGISTER / Sign Up For Boost
Register For Boost eWallet today and enjoy all the perks! Just follow simple Step by Step sign up instructions. Pay your bills conveniently with our digital wallet, without the hassle of using physical cash. Perform prepaid top-ups on the go and enjoy cashback after every top-up. You can reload mobile credit for others as well! Browse our wide variety of online shopping partners, and enjoy Boost Star rewards or Partner Wallet cashback!

Just follow these steps:
Follow the steps below to create a Boost account:
1. Download the app from the Google Play store or Apple App store. Follow this link to start: https://mypromo.my/signup/boost
2. Open the app and follow the instructions below to create an account :
Enter Invite Code: che23cx4
a) Click on "Register"
b) Enter your mobile number and Boost will send you an SMS with a 6-digit TAC code. Insert the 6-digit TAC. (If you did not receive an SMS, click on "Did not receive SMS" and we will re-send the SMS)
c) Key in your name & nickname
d) Key in your email address (Please be reminded that our system is CASE SENSITIVE)
e) Set up your 6-Digit transaction PIN so only you can log into your Boost Account or enable Fingerprint touch scanner (For selected phones only). To do so, touch scanner on your device to activate so only you can authorise all transactions in the app
f) Insert an invite code if you have one or skip the step and complete the registration
g) Lastly, please be sure to allow Boost to access your device's location and you're done!
Welcome to the Boost family!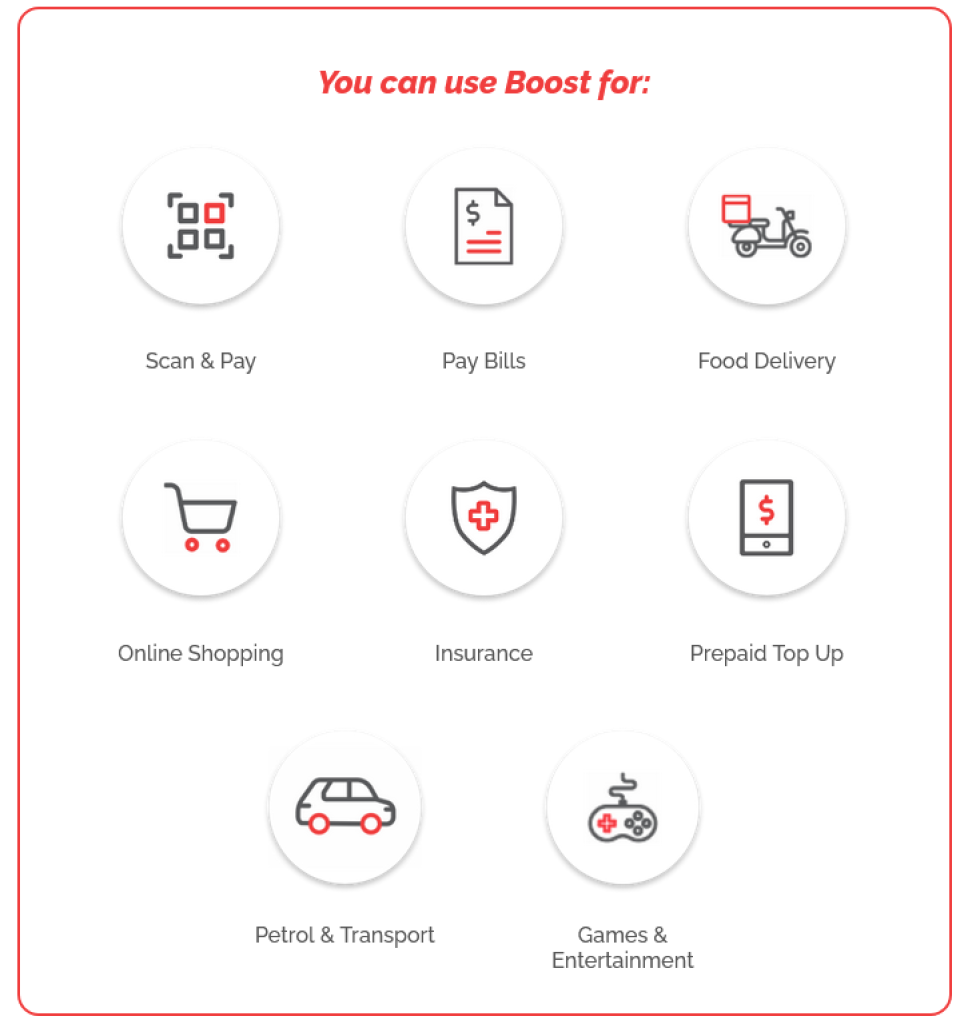 What is Boost?
Pay without the hassle of cash
Thick wallets are so yesterday. Now, you can pay for your purchases with your phone! Just use the "Scan & Pay" function to scan the QR code and pay away.
You can do this at selected locations nationwide such as food trucks, food courts, and even at pasar malam stalls!
Running out of money in your wallet? With up to 17 banking partners to choose from (such as M2U, CIMB Clicks, & many more), you can top up your wallet anytime.
mypromo Telegram Channel
Want to receive  daily promos and deals via Telegram?
Join Our Channel Today

All Are Welcome!
Sign Up for New Accounts and Get Rewarded

mypromo.my: Referral Codes Center
Get Rewarded When you sign up with Referral Codes